An interesting perspective arose at the dinner table last night, my youngest son (24) said that he had never known anything other than a Tory government & more importantly that he had never known a time when there wasn't either Tory austerity or a cost-of-living crisis!
My wife and I pointed out that he had but may not have noticed what he had until it was gone. We said that the Tories had been in power only 13 years, his answer that as an 11-year-old, he wasn't aware of politics as much as many 11-year-olds these days.
More importantly, under the last Labour government, things were actually quite good and therefore he hadn't felt the Tory effect on every aspect of our lives.
You don't know what you've got till it's gone
We replied that indeed under the last Labour "run" we'd had:
Much shorter NHS waiting lists.
Good level of local authority services, libraries, road sweepers, better bin collection, road menders, swimming pools, etc.
SureStart Centres for young families.
A good level of educational services including SEN support,
Low unemployment,
Minimum wage was introduced,
and many many more things that we were so used to being there that we didn't notice until they were gone.
Austerity
Then the Tories arrived, with some rubbish about a note saying there's no money left. What did they do? AUSTERITY, they cut everything:
Local authority funding.
SureStart Centres scrapped
They set the education system on the route of academies, putting in layers of fat cats to cream off the top.
They cut NHS funding & started the privatisation of the NHS, cutting staff numbers & increasing pressure on those staff that stayed.
They introduced the hostile environment blaming immigrants for problems with public services, when really it was themselves,
They allowed themselves to be infiltrated by the far right and UKIP. Cameron panicked and held the referendum that saw the disastrous Brexit.
Cameron's 'Big Society' saw real jobs being replaced with volunteers.
We saw the emergence of Food Banks because people just cannot make ends meet.
We saw energy costs sore way beyond affordability, forecourt prices hitting £2.00 a litre, yet the big energy companies continue to make obscene profits.
Utility companies putting shareholder dividends and profit before re-investment in their infrastructure.
Dumping of raw sewage into our watercourses and coast areas. whilst water companies pay out millions in dividends
Private rents going through the roof.
And now?
And where are we at now? The Tories are no longer able to govern with any sort of plan, instead everything they do is a knee jerk reaction to distract us from whatever calamity or scandal one of them has been caught up in.
They lie constantly, 40 new hospitals, lower taxes, cheaper food, shorter waiting lists, more police / nurses / doctors, all lies lies lies.
We have a huge drug problem amongst our youngsters because they have nothing else to do, that's down to the Tories and their cuts.
They've lost control of our borders and net migration from outside the EU has risen sharply since Brexit, again down to the Tories.
We've seen inflation go through the roof, massive increases in interest rates, food shortages and empty shelves in the supermarkets, yet food rotting in the fields unpicked, down to the Tories. You see the pattern forming here?
They haven't replaced the promised funding we lost from the EU, the farm subsidies etc. in short, the Tories have been a bloody disaster for the UK!
And where did the £350 million a week go that was plastered all over the Brexit bus?
Remember
But they have form, remember Thatcher the milk snatcher, remember what she did to the miners, the printers and car workers? Remember when mortgage rates were 15%, remember all those trapped in negative equity!
Remember when red wall towns had industry and employment and prospects?
Thatcher sold off:
The utility companies, water / gas / electricity.
She destroyed the industries that employed thousands with well paid jobs.
She introduced 'right to buy' without any clear plan to replace the lost social housing stock.
So, as we near the next general election, they will start to blame Labour for all of the Tory failings, their media supporters will try to brainwash the electorate and say how Labour will be worse.
They will buy votes with promises they cannot keep, free childcare that doesn't kick in for two years and when it does it's in stages.
Blame
They will try to shift the blame for everything that's going wrong onto anybody they can find, it's the French's fault for the delays at Dover even though all the French are doing is protecting the border and checking passports for those that enter the EU, which the Tories asked for, something that we hadn't had for years, because we had Freedom of Movement, meaning you could live/work/study/travel freely within the EU.
The Home Secretary, with no hint of irony or shame, recently said on Sky News that she didn't think it was fair to blame the chaos at Dover on Brexit!
If we are to save what's left of this country and if possible, rebuild the damage that 13 years of Tory mismanagement have wreaked upon us, we must start talking to our friends, family, colleagues and remind them of the facts, the facts that under a Labour govt, we had good times, ok they were not perfect, but, under a Tory govt we have only ever had bad times, high inflation, high taxes, high unemployment, low wages.
I got so carried away in my rant about the Tories, I forgot the original intention of the message. I was talking about my youngest son, compared to what my eldest son (30) had. My eldest had an EMA grant of £30 a week to go to college, he could get a bus home to our village after a night out, low student finance, etc. in the six years difference between both sons, one had good times with plenty of opportunities, the other had it all taken away! And all that was under the transition from Labour to Tory!
What can we do?
So, what can we do to change things for the better?
Well, I'm not going to mince my words, I'm sick of seeing this once great country heading down the pan! I don't care if it upsets you, the truth hurts, you can ignore me if you don't like what I'm about to say.
Unless the Labour, Keir Starmer and the other opposition parties get their acts together we will be stuck with the Tories for another 10 years of running the country dry.
We need someone to tell us what they will do to restore this country, its NHS, its schools, its public services to what we once had. Well-funded, well run, efficient.
We need someone to take on the energy and utility companies and regulate then properly in the public interest, we need properly funded subsidised public transport if we are to get people out of cars, a proper tax on energy profits could fund that subsidy.
We need a proper solution to advance the use of green energy, not reopen coal mines!
Why on earth are onshore windfarms banned? We have thousands of miles of motorways and train tracks, both of which are eyesores, well line them with wind and solar.
We need to restore freedom of movement, rejoin the customs union and single market, you can have your Brexit but make it so that it doesn't kill thousands of careers and businesses that used to live / work / study in the EU!
We need someone with the gumption to reform parliament and the House of Lords and ensure that its members are elected. On a fair regional basis. Why do we have all this pomp and ceremony, why do we have such utter waste?
We need someone to properly investigate the PPE contracts and those that are found to be wanting, need to recover the huge losses that were made.
We need a proper living wage, so people don't have to work all the hours god sends, or struggle to make ends meet.
We need to consider a basic income for all to rid our society of poverty once and for all.
We need to end the need for food banks and other charities, a properly funded social system that looks after people instead of sanctioning them for being late!
We need proper National social care system for the elderly and vulnerable, so that aren't scared to put the heating on, or buy food. Care workers must be paid a decent salary.
Consideration must be given to merging the care system with the NHS. They have done this in Nothumbria with great success. Why not across the whole country?
How do we do it?
Ok how do we do all that?
Firstly, make it illegal to trade in this country and funnel the profits elsewhere to dodge paying taxes.
Have a nationalised building programme to build not just housing, but solutions for green energy that are made in this country, creating jobs for us.
We need an open and transparent government, one that does blind us with stealth taxation, one that doesn't tell bare-face lies all the time.
We need a new govt solution to a long-term plan, NHS, education, transport, green energy, utilities, should all be taken back into public ownership, then a cross party committee should be setup to manage them for the future, not just 5 years, but we should be implementing 20, 30, 50 year plans that are stuck to no matter what colour party is in power. Five years of one party's ideas is just time to mess it all up. Not improve stuff.
It could be based on having a different electoral system with an element of proportional representation, so all votes count and then more cooperative working between progressive parties to tackle some of the problems mentioned above. Utilities, transport and green energy need different ownership solutions including cooperatives. This must command the support of parties that represent over 60 % of the population. That I believe is the best way for good policies not to be undone by a future non progressive government.
Finally, we need to get rid of this layer of fat cats creaming of the top. we need to reform management of education academies, NHS trusts, are not working, it is plain to see.
For instance, did you know that in Leicestershire there is a two-year waiting list to see a consultant for special educational needs kids at primary school. These kids need help now, not two years down the line!
The present government are just not capable to do any of the things we need above, all they are doing is making it worse.
if you agree with the above, then start shouting out too, start making waves, start tweeting your own versions of what you like here, let the politicians know what, we the people who pay their wages, actually want them to do for us.
Remember they work for us, and they rely on our votes, if enough of us start shouting they will soon start listening.
Importantly vote tactically to get a change of government. Vote for the party that will ensure we have a change of government.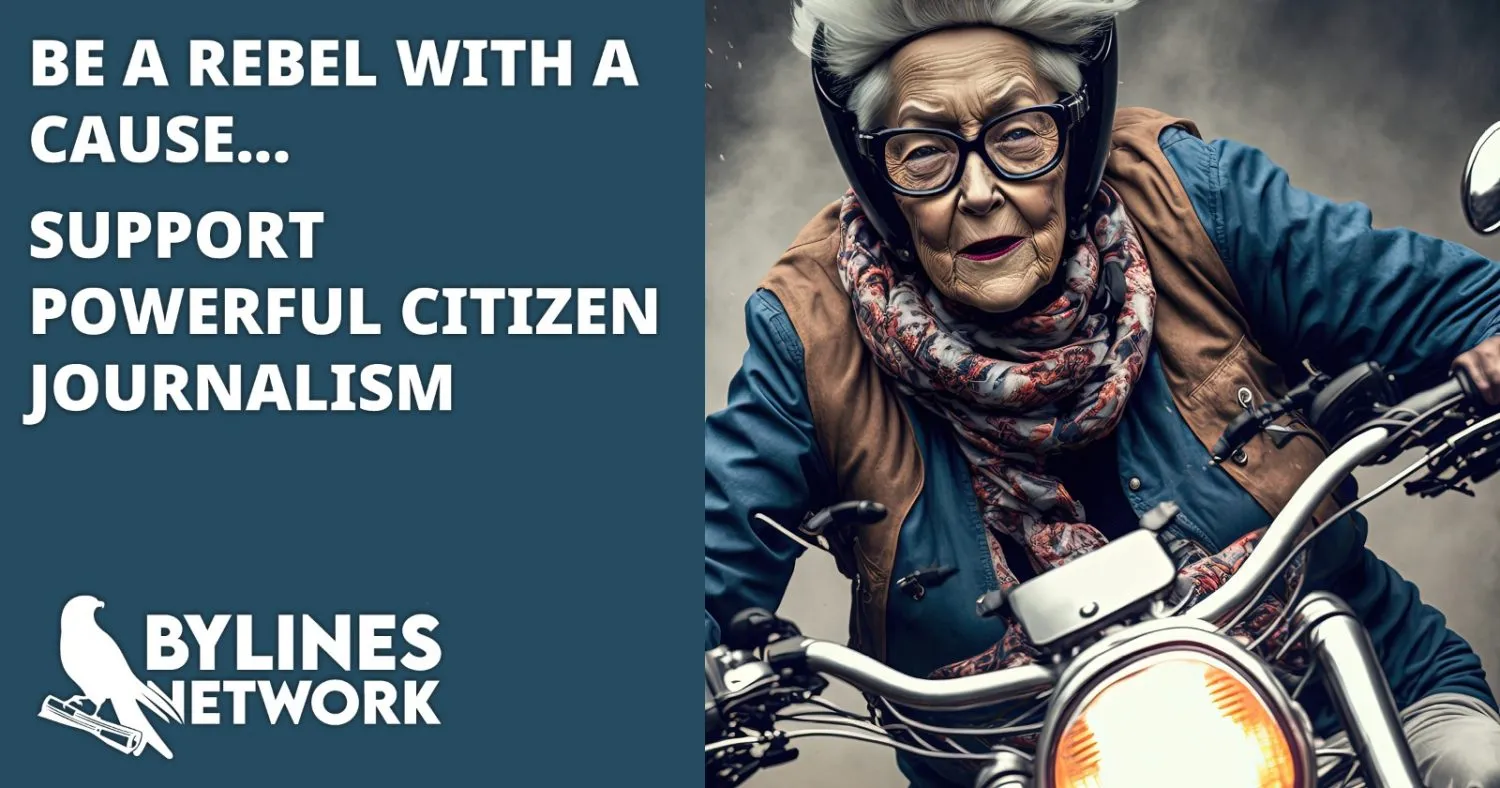 CLICK HERE TO SUPPORT THE BYLINES NETWORK CROWDFUNDER!