A special screening took place at the Tyneside Cinema to celebrate 40 years since the first broadcast of one of TV's most popular series.
The team behind the Official Auf Wiedersehen Pet Fan Site organised the screening of series 1, episode 1 "If I Were A Carpenter" exactly 40 years to the minute since it was first screened on ITV.
The special show in association with 'The Sunday for Sammy Trust' and North-East cancer charity 'FACT' (Fighting All Cancers Together) attracted fans from all over the UK.
The evening show
The evening also included a question-and-answer session with Lesley Saint-John who played Vicky in the series.
As well as introductions to Lisa Salkeld (who played Angela Patterson, Dennis's daughter)and crew members Mike Perry (set designer) Adrian Huckfield (Vision & VTR Engineer).
The loudest cheer of the night was for a surprise appearance by Jimmy Nail who shared his experiences of working on the series and thanked everyone for following the show that started his successful acting and musical career.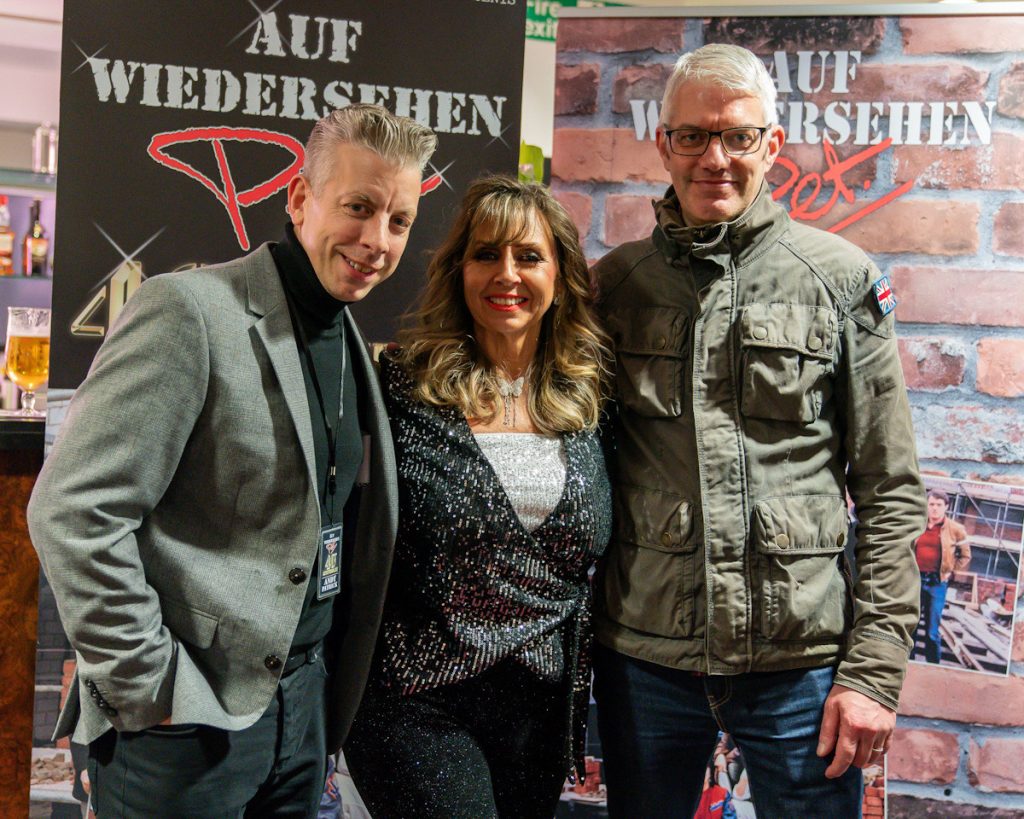 Organisers Lee Barratt and Andy Patrick were delighted with the audience reaction to the screening and thanked everyone for supporting the Auf-Pet website.
Andy said: "This has been a tremendous evening, we've worked very closely with Jimmy to get everything right for the fans on this very special Anniversary.
"The atmosphere was electric and their reaction when he walked into the theatre after a video message from Tim Healy was out of this world. Some fans were crying with excitement."
Lee agreed and said: "The fact that we sold out a cinema auditorium in just a few hours for an episode that everyone in the room knows word for word was remarkable.
"The show is as fresh as it was 40 years ago and I'd like to thank all of the fans, the crew who travelled the country to get here and of course Jimmy and Lesley for their entertaining interviews."
The series
The comedy drama series written by Ian La Frenais and Dick Clement in 1983 followed Geordie brickies Dennis Patterson (Tim Healy), Neville Hope (Kevin Whately) and Oz Osborne (Jimmy Nail) on their adventures working on a building site in Germany. The series has remained popular ever since and has seen the much-loved characters working in Spain, Cuba, and Arizona USA.
This article is based on a Press Release.