Once, in a fit of Christmas enthusiasm, we experimented with three days of exclusive holiday dining on red and green meals. Lobster, an obvious choice, was behind an unassailable paywall but good fun was had with popcorn and red and green food dye. Of all the new combinations of ingredients we tried, this for red and green biscotti has been the most loved and repeated. It was an extravagance, pistachios are a luxury, but it is delicious and not too fussy to make. It is an inspired North American recipe, but I have tinkered with it a little to make it slightly more almond tasting.
Red and Green Biscotti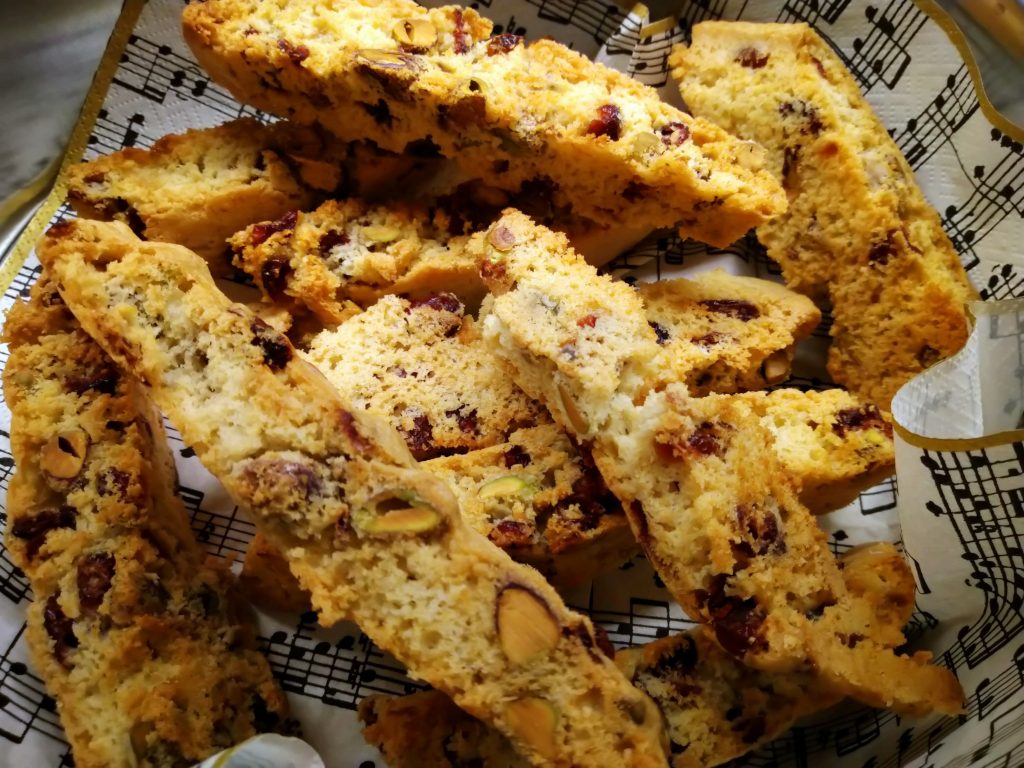 Ingredients
1/4 cup oil (sunflower works well)
¾ cup sugar
1 teasp. vanilla
1 teasp. almond extract
½ cup dried cranberries
1 ½ cups unsalted pistachios
2 eggs
1 ¾ cups plain flour
¼ teasp. salt
1 teasp. baking powder
Method
Mix oil and sugar. Add vanilla and almond, beat in eggs. Separately, combine flour, salt, baking powder, and then gradually stir into egg mixture. Mix in cranberries and pistachios. Divide mixture in half to form 2 logs. Bake on parchment lined tray approx. 35 minutes until light brown. Cool 10 minutes; reduce oven heat to 135 degrees C; a little below Gas Mark 1. Cut logs on diagonal into ¾ inch slices; lay on sides on parchment and bake 8 – 10 minutes.
Notes:
1. The mixture is very sticky to handle, and spreads to about double width during first baking.
2. A wavy edge bread knife cuts through nuts pretty well.
Happy Christmas!
---