In my reporting my impressions of Durham Miners Gala on 8 July 2023 from walking over Elvet Bridge at 8am, to walking back up the hill into town for a few bevvies and then up another hill and under the tracks to get a train north back to canny Newcastle at 9pm, and more bevvies, it's only what I saw or heard.
It's not a lot considering the kaleidoscope of activity going on all around.
What I missed
I missed all the speeches and music, except the waltzer noise from the funfair.
I missed my dad's mate Prof. Harry Rothman who was in town, I missed my sister and her gang who were in the County hob-nobbing late on, I missed Mary Foy MP and Angela Rayner who, it was said by Declan, was in great form on Friday night.
I missed the big parade and had no idea of the identity of the personalities on the platform.
I even missed Steve Howey ex-NUFC who was representing Show Racism the Red Card in the Unison tent.
It's that kind of event; you can be two yards away from your pal who you haven't seen for 10 years and find out the next day from social media.
Durham Big Meeting (as we always called it) is the kind of affirming traditional festivity that is clunking along like a restored vintage charabanc with a modern engine but whose MOT test is always a bit of a strain.
It's wonderful to see it moving, but it's a miracle of effort, goodwill, and organisation that it still runs.
What I saw
What I did see was the Colliery Bands marching down the hill towards the Racecourse, the activities in the big sweaty trade tent and a few bevies afterwards.
Here stalls selling a variety of essentials like International Brigade Memorial Trust T-shirts (got one), the feller from Barnsley with Thatcher door-mats and controversial t-shirts (got two), his mate next door with badges, (got some) and a card machine, the people from the Kurdish Women's Campaign selling scarves (got one/rendered cashless), who were overjoyed to see the "Women. Life. Freedom. Howay the Lasses" banner we had at NUFC Fans Foodbank's stall at St. James Park last season.
Most importantly, we were honoured to be next door to the Hassockfield Campaign to Set Her Free and remind people of the monthly Demo there.
There was Ben Seller's Durham Bookshop, the essential LBGT stall (got a t-shirt last year), the various campaigns trying to hand out newspapers from what looked like the 5th Form MI5 Infiltration Dept. and Sunderland Goals to Coals campaign.
I remember giving Charlie Methven the ex-SAFC Director an idea for a pan-NE Football Miners heritage project at a NE Football Writers Dinner which just goes to show that you should never trust a bloody Tory; then again maybe it was nothing to do with him or that.
But the moral is that we at NUFC Fans Foodbank always wanted to do a communal stall at Durham with our brothers and sister in the Sunderland Football Foodbank; we still do. Hunger doesn't wear club colours and in this mighty cause, we are united as one.
If they are reading this, please get in touch and we'll do it next year??
The Gala
Anyway, Durham from behind the stall is a wonderful way to observe the many tribes that inhabit this particular institution.
The t-shirts are a display of truculence, defiance, or a once-a-year opportunity to get away with things for which you would be hooted at in the streets if seen.
The very fine-handed man wearing "PROLETARIAN" on his shirt, would not I feel, have convinced the Cheka in 1919; the man who's shirt proclaimed that he would NEVER vote Labour said that he probably still would and the woman in her 30's wearing a colour t-shirt of Marshall Josef Stalin in full military uniform seemed to be talking suspiciously collaboratively to the (Trotskyite) organisation giving newspapers away slowly.
Maybe their MI5 briefing notes got confused there or hopefully traditional political foes are starting to find common ground again, or maybe they just don't have a clue about politics just so long as it offends their mammies.
Away from this game though, the real spirit of the Gala comes through.
Many Grannies were taking our NUFC Fans Foodbank badges for their Newcastle-supporting grandkids; many committed fans and opponents of foodbank dependence were happy to drop a few quid in our buckets for the chance to own one of the 200 black and white badges depicting hands shaking over a common cause and the accents became more local and their day out as a family, a village, and a community more evident.
Tents
I was impressed by the plethora of Trade Union Tents outside; in contrast to some of the nostalgia and ideology in our tent, there seemed to be an atmosphere of proper campaigning implementation in the RMT, CWU, PCS, Unison and all the other gazebos.
The original spirit of the Gala as a family day out with some steel behind it to remind the workers of their enemies and opportunities is nowhere more evident where campaigners who've been on strike for better conditions, and others who support them, have the time to chat.
Their staff who encourage passers-by to join a trade-union, as an essential part of a decent productive and civilised society, are doing more now for that than all the dogma put together.
The bitter lessons of the miners struggle for a decent society is as evident to a teacher, nurse or civil servant now more than ever and I think is exemplified by the experience of a mate of mine.
My mate
That feller says that when he was a young man, he was a bit wild maybe, he went to work, went to the match, went to the bar and indulged in the odd bit of sexist banter at the age of 17-19 but when he joined the union, became a delegate and met people from all over of all backgrounds, orientations, races and opinions he developed into a better man and a campaigner.
He changed for the better.
This man went on to head the Spirit of Shankly fans group at Liverpool campaigning for Hillsborough to be recognised for what it was and is, and Ian Byrne is now MP for Liverpool West Derby.
He's the author and power behind the Right to Food campaign that will yet change our society for the better which is supported by Newcastle City Council and 20 others.
His immense strength of character and grace under pressure allowed him to triumph over some people in the local Labour Party who attempted to deselect him last year even though he was recognised as "Parliamentarian of the Year 2021" by the Patchwork Foundation, the year after he drove the bus to Tyneside to deliver 1000 PPE masks which we redistributed to local care homes.
He still found the energy to represent his people with utter dedication on one hand and defy the French Government at UEFA with the other, when they tried to traduce football fans and deflect from their scandalous dereliction of duty at the Champions League final in Paris in 2022.
Ian Byrne and Dave Kelly of Unite, his co-founder of Fans Supporting Foodbanks show that Trade Unions are the ladder for our future political leadership and a method by which people will achieve a better future for their members and families.
You know that this is true as sure as no-one really reads all the terms and conditions on Google or Apple updates or anywhere else until it's too late and you know who you'd rather trust with your future.
Anyway, Ian was there with us, took the badges offered for him and his brother and pals and looked happy and content with life in general.
Accordingly we got the cans out to combat the terrible heat and wished each other well, saying we'd see him later.
We never did of course, Durham after the Speeches is, as they say in Marseilles "en-fete", or hereabouts "crackers".
What we got up to
By this time I'd been joined by stalwarts of the Trade Union movement, my Dad, his pal Norman and Declan's Dad Gerry.
We marched out of the field, wearing raincoats, a backpack full of t-shirts and a programme for my Mam searching a place suitable for men of a certain seniority with bad legs, bad backs, and worse attitudes.
I spotted a table at a quite trendy looking place called "19Twenty", which did not seem to be a destination for those who wished to discuss post WW1 socialist ideals but did an excellent pint of Dortmunder Lager for the atrocious £6.30 (but worth it for the sit down at the table).
TC pushed the boat out and ordered chips so all was well and we drank fast as we watched a brass band march up the hill, the power of the music a bit of a rebuke to the total victory of branding all around.
We were summoned to Ye Old Elm Tree, for a session with Davy, Vin, The Regans and others including some bloke dressed a Morris dancer whose name I will protect to spare his families embarrassment.
TC borrowed a fiddle off Ged, and we set to work replacing the sweat we'd lost in the day and listening to the sound of conviviality.
It's fair to say that Durham was always as much about celebration as policy and I saw more young people dressed more for Ibiza than a rally and vodka at picnics is a hell of a way to deal with 28 degree humidity but still…they've earned their right to party.
There is an irony of walking past a pub called Revolution Bar with ideologists who are as well behaved as cadets and with others who are as decadent as debutantes that would normally depress, but the fact that this swirling mass of ages and difference all get on and enjoy themselves can only inspire hope.
Durham Politics
The Bloody Media, (them not us), will always attempt to "other" people who do politics.
Durham isn't like that, it knows politics is the medium by which ordinary people can unite to force peaceful change and improve society.
It shows there can be hope for a society where we don't have to do protest anymore, because when all is won, civilisation will be taken for granted, people will have money in their pockets and food banks will be a memory.
Then we can have a party. My preference for that day will be Dub Reggae in Leazes Park until dawn but, until then try to get to Durham next year.
Take cans and comfortable shoes. Avoid silly t-shirts. Join a union while you may, don't wait 'till your dying day….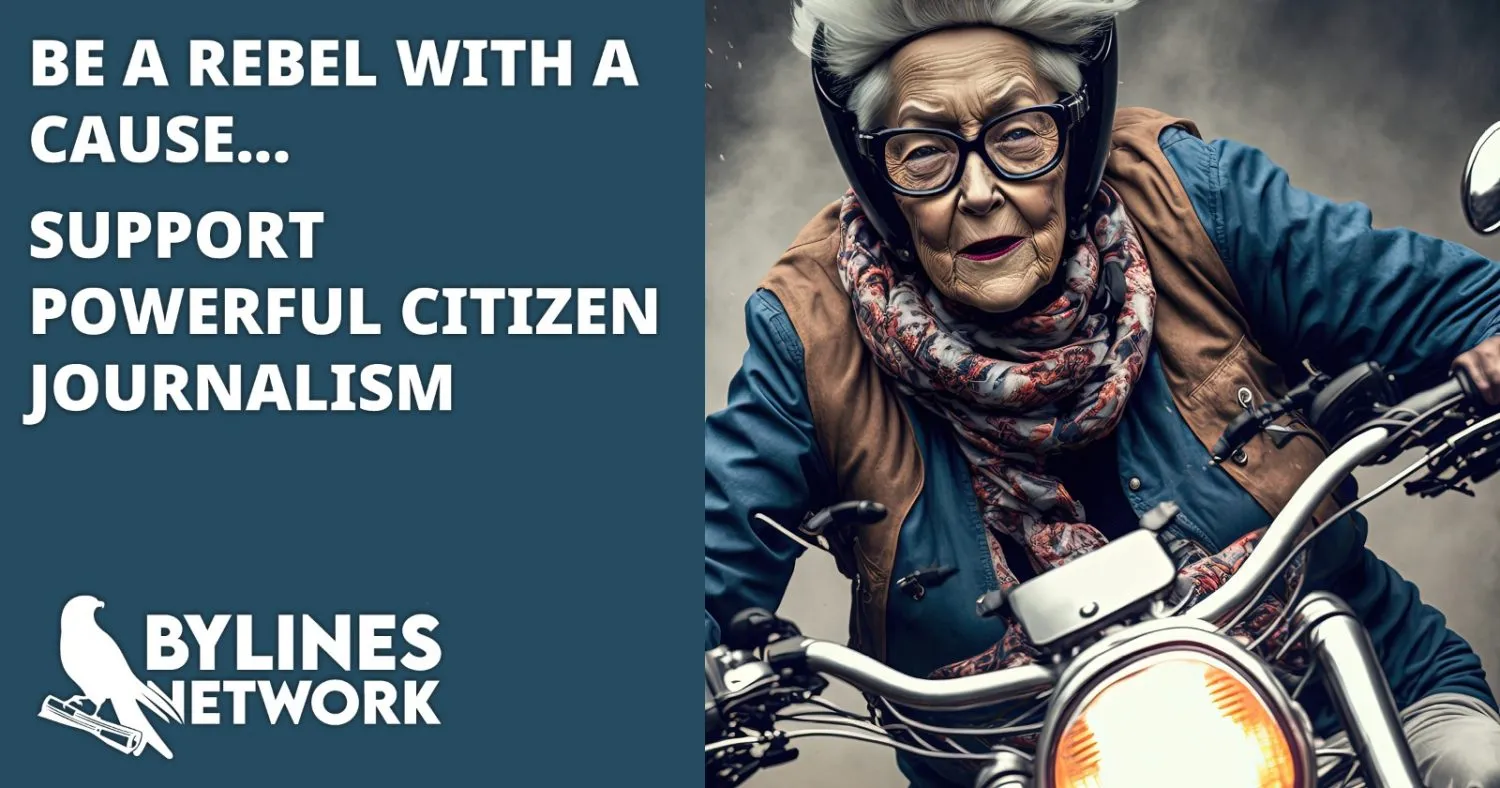 CLICK HERE TO SUPPORT THE BYLINES NETWORK CROWDFUNDER!