I have lived in Newcastle all my life, apart from 90 weeks (9 terms) at Sheffield, a few months in Spitalfields and a three month trip around the world in 1987, returning with a fake Hawaiian shirt (bought in Woolworths of Waikiki) and enough for my 42p bus fare home.
I have learned much in that time, enjoying the blissful pleasure of living in the greatest and most civilised city on earth, but when our esteemed editor asked for an opinion of our Easter traditions, I realised that I had, aside from chocolate eggs and hot cross buns, nothing. I didn't and don't go to church, I didn't know there was an "Easter Day", I never observed Lent, I ate Easter Eggs whenever one was presented to me, not waiting for some Sunday, didn't know about Ash Wednesday until I saw the presenter on CNN with it on his forehead and such things like Simnel Cake, Easter Bunnies and Maundy Thursday only created confusion, derision or inconvenience. The latter especially, as nightclubs in Newcastle used to have to close on Good Friday so technically there was no boozing after midnight on Thursday..the poor bouncers explaining it all were probably sick of the liturgical debates on the doors, but did fancy crucifying someone. Unfortunately, there was never a nightclub here called "Pascha", (Greek for Easter) which could follow the gracious example of the Tyneside Irish Centre which, maybe as recompense for the outrages of the mid-Lent St. Patrick's Day, still closes on Good Friday except when there's a home match – in Newcastle, football comes first. So the many faithful and holy may need to forgive my heathen soul for all of the above and not paying attention at school and never believing a word of their story and for thinking the bell ringing at my cousin's wedding for transubstantiation was a fire alarm…
Fake traditions
But I'm not bothered; as a seasoned observer and organiser of many traditional folk events, I believe the great majority of traditions are fake or at least emphasised. Real traditions like April Fools Day are now virtually criminalised. I remember the great traditional "Northumbrian" fiddler Willy Taylor saying he mainly played Scottish and Irish tunes because his radio, up on the hills above Wooler, could only receive Radio Eireann, (and "Take the Floor" on Radio Scotland), but that folk truth was ignored compared to the "new tradition". I believe that the "5 a Day rule" for digestive healthiness was most probably invented by the fruit and vegetable growers of California. Otherwise how can the toughest and healthiest people on earth, the Masai, the Mongols and the Innuit, who live on meat and seal blubber survive? "Traditional" ciabatta bread was only invented in 1982 by an Italian baker in response to the French baguette, which was defined and formalised only 103 years ago. Our stotty is yonks older than them both..! Many of the "ancient" royal traditions we have were invented by Lord Stamfordham (son of the Vicar of in Northumberland) just after WW1 and, (hoping Wikepedia is correct), the grandson of a family from Benton, Newcastle. He implemented the changing of their royal name to Windsor from Saxe-Coburg und Gotha and made sure the Tsar was abandoned to his fate to avoid potential Bolshevik infection, otherwise Easter might have been a casualty here as well as the King.
Tradition in economics and finance
Fake tradition even permeates the strict disciplines of economics and world finance. We are all suffering the ravages of inflation, and the austerity that preceded it is still starving people in our communities. Today I saw a woman in Aldi in Walker paying for a £1.15 sandwich and asking for a pound cashback. A pound because she couldn't afford a fiver. The rotten Chicago School Monetarist dogma that obsesses the Tory Party and their international collaborators in the Federal Exchange, assures us that inflation is the absolute enemy of economic progress and that therefore full employment is undesirable because in a service economy (like ours) the major expense is wages, which can only be held down successfully by deliberately creating unemployment. They actually believe that, but I doubt they'll ever say so in public. They actually have calculated the rate of wage growth that is required (3.5%) to hold inflation to a 2% level. Therefore the existing rate of wage growth in the UK now of 7.1% private sector and 4.5% public sector is too high for them, despite inflation exceeding 10%. Aside from the sheer stupidity of pauperising consumers in a service economy and the inherent cruelty of the desperate poverty they cause, the 2% figure is based on another fake tradition. The analysts from Invesco Perpetual who gave these figures to me in a meeting on the 28 February say that the best they can determine the origins of that rigid 2% target came from a bank in New Zealand who just described it as a vague aspiration in 1987 with no proof or mathematical analysis. Everyone must have nodded their heads and just gone along with it and the terrible doctrine spread. They may have held off Covid, but this infection is still causing worldwide havoc.
Why we can't have a 4% target, full employment, high wages and happiness? Why can't we have Easter Eggs but no crucifixions? Why can't humanity shake off the stupidity of fake traditions and resolve to switch on their collective brains and cooperate to clear up the mess, feed the people, liberate the helpless and bring civilisation to humanity.
Anyway, Easter never did us any favours here.  The debate at the Synod of Whitby in 664 about the dating of Easter and the conflict between the Celtic Northumbrian doctrine aligned to Egyptian monasticism and the Roman Imperial Catholic Church, in my opinion, saw the beginnings of the destruction of Bernicia and the re-imposition of the filthy rule of Rome, which we'd managed to see off for good in 410 following centuries of resistance to imperial genocide. If we're going to regain some old traditions, it's not the Easter Trees made by baffled Chinese workers and the green bunnies in TK Maxx that are the problem. May Northumbria rise and may new traditions prosper. Maybe Gregg's abandonment of the Hot Cross Bun is the call to arms? Howay the Lads!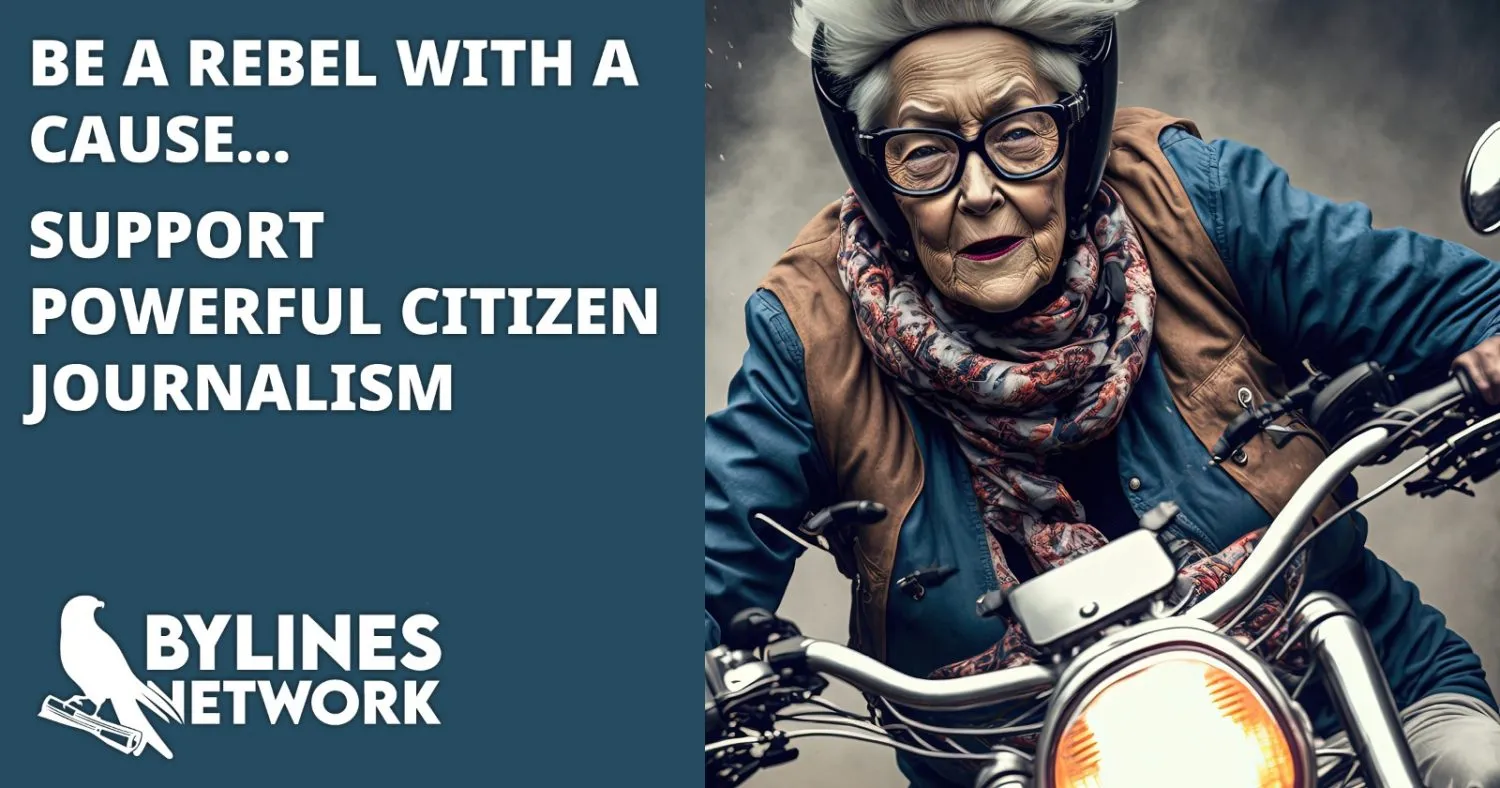 CLICK HERE TO SUPPORT THE BYLINES NETWORK CROWDFUNDER!