I've been wanting to write about the Irish health system ever since we arrived in the Republic in the middle of 2020, but I felt unqualified to do so until recently. I've now got to see a good deal of the Irish system from the inside, and for the worst possible reason: I've got cancer.
In my dispatches from North Dublin, I have sometimes said that the UK and Ireland can act as 'control' for each other in a number of ways. As a single country that separated at Irish Independence in 1922, they had a similar basis for law and political systems, which have diverged somewhat since. They also had a similar basis for essential public services such as health, but in 1948, the UK instigated the National Health Service, and Ireland did not. What we have today in Ireland is therefore what we used to have in the UK before 1948; a patchwork of health provision from the State (the HSE or Health Service Executive), from charitable organisations, and from private insurance.
Irish healthcare funding
It's important to look at the issue of healthcare funding because, as we know, there are fears that the NHS is being undermined by a government that believes that private provision is preferable. It's also of interest here in Ireland because of the possibility of a United Ireland. One of the issues that worries people in Northern Ireland is that they might lose the NHS and end up in what they see as an inferior system. But is it really inferior? The comparator that the UK populace is encouraged to use is that of the United States, where people really do go bankrupt because they can't afford healthcare, but in Ireland, the rest of Europe, and Canada, there are systems that contain an element of private insurance and tick along reasonably well. I can now talk with some experience of one of those.
On the way to a diagnosis
In July 2022 I started getting abdominal pains. By the end of the month, I was in considerable discomfort and struggling to eat much at all. I went to my GP. Ireland is one of the few countries where you pay for primary care; each GP visit costs €60. It is bizarre at first to go to the receptionist's desk and pay for your consultation or blood tests, however, like 47.5% of Irish residents, we have private healthcare; it's just part of my husband's benefits package with his job, and it allows us to claim back half the cost of those GP visits by taking a photo of the receipt and sending it off to the insurance company via their app. For the rest of the population, long waiting times are a problem. Another estimated 37% of the population can access a GP free of charge because of their low income. Appointments for children are also free.

When you are a lady of a certain age with abdominal pains, the first thing they do is check out your gynaecology, then your bowels. So I booked in for a hysteroscopy – a fibre-optic investigation of the uterus. However, my husband's employer was in the middle of changing our insurance company as of August 1st. The gynaecologist had no availability in July, and I couldn't even log in to the new insurer's website until August 1st. (Coincidentally that was also the date that I was taken to the Emergency Department at our local hospital, but that is an episode I prefer to gloss over.) Eventually I got an ultrasound, an MRI scan and finally a hysteroscopy, booked for the end of September. I worried the whole time, because my mother died of ovarian cancer in 2004, and her symptoms were a lot like mine. The operation was a simple day case under general anaesthetic. Afterwards, the consultant came to my bedside and told me he had found nothing except a small benign polyp, which he had removed, and he fully expected my symptoms to resolve. They didn't. At a follow-up appointment he told me the scans were also normal. He sent me his bill. I claimed it via the insurer's app. It's wise to have a bit of float in your bank account to allow for the spend and reimbursement.

About a month later, I had a colonscopy. Anyone who has had this done – and in the UK you are invited for a routine colonoscopy at the age of 55 – will know that the 'prep' of two days with no food and lots of laxatives – is far worse than the procedure. I had already had a routine colonscopy done in England by a couple of cheerful nurses and technicians, and they hadn't found any problems. In Dublin, as a private patient, my colonscopy was actually done by a Professor. She introduced herself very informally with her first name, but all the same, she was a senior consultant with teaching duties and a long publication record. And it was this same professor who saw me afterwards, while I was tucking into tea and toast, and told me that everything was ok but she had removed a couple of small benign polyps from my bowel. It seemed like a pattern.

As the pain wasn't much better after all this, I went back to my GP. I also told him that I had lost 17kg (2st 9lbs) over the summer just because I couldn't eat. He felt my upper abdomen and said it seemed swollen and tender. He referred me to an 'Upper Gastro-intestinal tract' surgeon, who ordered a CT scan, and that was when the problem became apparent. After wielding my bank card once again in the radiography suite, and lying in the huge drum of the scanner, an area of my abdomen lit up with the iodine tracer. I was back in the surgeon's office within two days, and he broke the news to me that it looked like I had a lymphoma. This was not his expertise, so he referred me on to a Haematologist and ordered another CT scan, this time of my neck and thorax, where lymphomas sometimes lurk.
I was at the beginning of a long journey.
To be continued.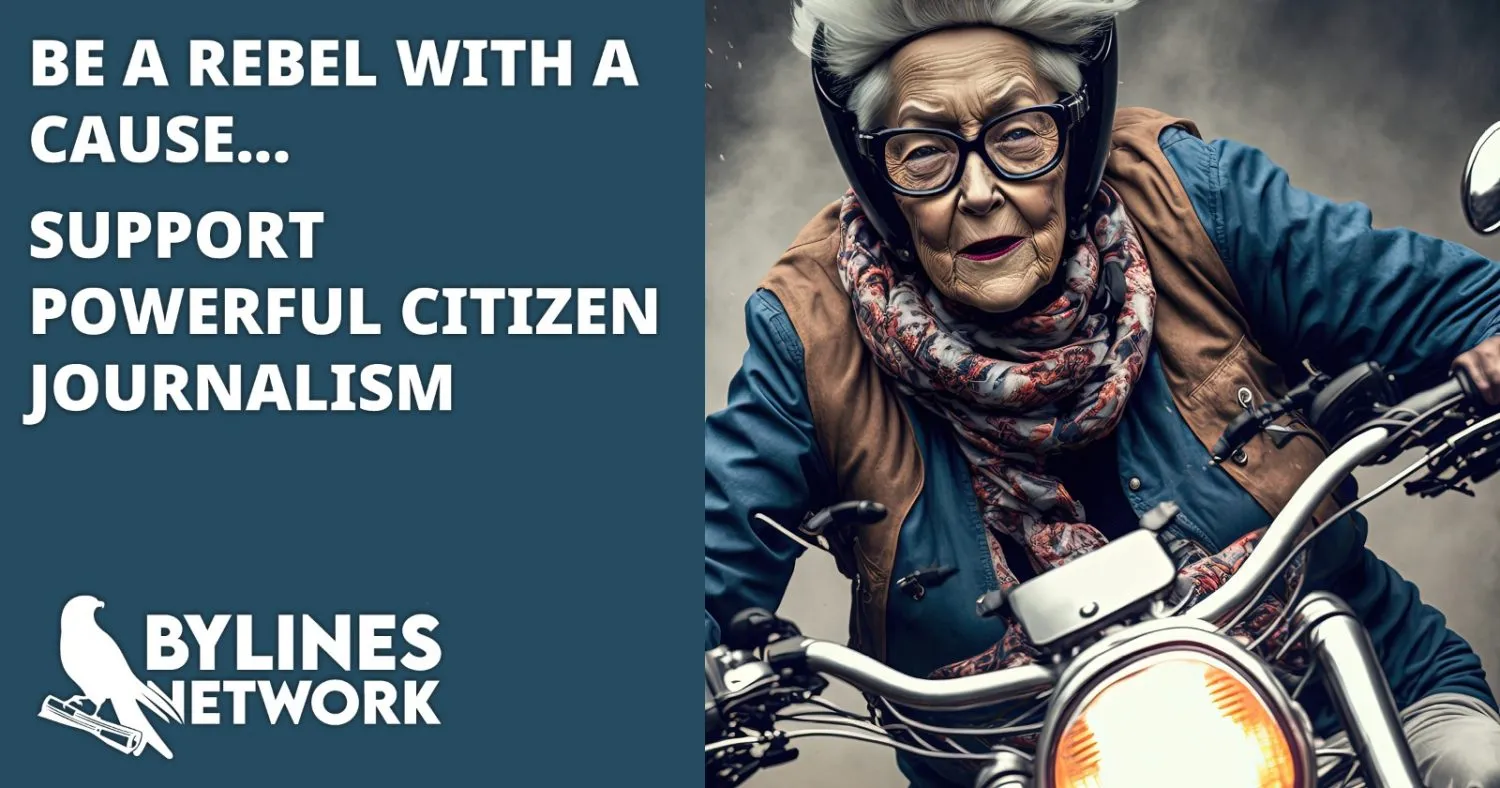 CLICK HERE TO SUPPORT THE BYLINES NETWORK CROWDFUNDER!