After my initial inpatient treatment, the subsequent chemotherapy days are once every three weeks in an outpatient facility within the same hospital. At time of writing, I've had five of six treatments of the course.
Chemo day goes like this: I arrive at about 9:15am and register with the admin desk.
After a few minutes I get called to give a blood sample.
Then there's a wait of about two hours while the sample is processed and the results get back to the ward.
I use this time to have a latte and a bun at the hospital café.
Sometimes I wander in to say hello to the lady who runs the 'Daffodil Centre,' the Irish Cancer Society's information room by the hospital entrance.
When I get back to the ward, I wait for a meeting with one of the doctors who has checked that my blood counts are relatively normal and I'm ok to proceed with chemo.
If the doctor is happy, my chemo drugs are summoned up from the pharmacy and there's another wait.
How to pass the waiting time
There's a game that my wig, Brenda, and I play when we're sitting in the chemo unit waiting room.
We stealthily look around the room and we try to spot the wigs.
Nobody calls them 'Irish Jigs' here. I don't see very many, although one girl has such perfect blonde locks that I suspect her immediately. I wonder if anyone is glancing suspiciously at Brenda.
Anyone who remembers me from my first visit will know that my hair is thicker and much less grey than it used to be. Literally too good to be true.
The same patients appear every time. We must be on the same three-week cycle. There's the Chinese woman with her young interpreter, the elderly couple, the Goth girl, the old man with his son. And there's Oisín. At least that's what I'll call him. I hear the nurses call his real name when it's his turn for bloods, or a doctor's consultation, or the chemo treatment itself.
Oisín is a hipster about forty years old. He always dresses head to toe in black, from his t-shirt, to his Guinness fleece, his immaculate black jeans to his funky lace-up boots. They look like vegan boots. Oisín looks like a vegan. He has a goatee beard and trendy glasses with black frames. But the thing you would use to describe Oisín, should you want to, is his hair. It's long, and very curly, and dark, but greying at the temples, and pulled back from a distinct widow's peak into a luxuriant man-bun.
By the time the catering trolley arrives with chicken curry nobody wants, I've invented an entire backstory for Oisín. He lives in the hipster district of Stoneybatter, or maybe Phibsborough, in one of those tiny terraced houses that change hands for three-quarters of a million, where he works as an IT consultant, or an independent film-maker, or a humanities lecturer at UCD. Or perhaps he runs a funky club, or manages a couple of indie bands. He is impossibly cool. Oisín is doing a lot of texting. Sometimes he takes a voice call. 'Aha,' he says. 'Mhmm. Yeah, right, tell him I'll call him back'. I wonder if he might be an artist, or a guitarist. I glance at his hands for paint flecks, or for fingernails longer on one hand than on the other, but I spot no evidence.
But cancer is a great leveller, and like me, and all the regulars, he's sitting here waiting for the same kind of treatment. Nobody talks to each other here. It's like being on the Tube.
'Look,' I say to Brenda. 'If we are on the same Chemo regime, why has he still got his hair, when mine has gone? There's no way that's a wig, am I right?'
Brenda has seen Oisín, I'm sure of that, but she won't glance in his direction now.
'Ask him,' I urge. 'Ask him why he's still got that hair.' Will I come here one day and find my fellow patient as bald as an egg?
Of course, Brenda refuses to ask. So the waiting-room silence continues.
Day patient treatment begins
By about 2pm I'm in one of the chemo chairs and the infusion begins.
People have got this idea that chemotherapy is tough. So far, mine has not been tough.
We have this idea that everyone is going to feel sick and feverish and prostrated with fatigue.
I think that's an old-fashioned view; these days the protocols have been refined to the nth degree.
I get an anti-nausea drug first, then an anti-histamine to combat the 'protein shock' that is possible with a targeted monoclonal antibody therapy like Rituximab. (I used to work for the company that developed the manufacturing process and analytical procedures for Rituximab, it was the first monoclonal antibody on the market.
A cardigan is your friend

One thing worth noting is that once you are connected up to an intra-venous drip, you can't add or subtract layers of clothing, and in my experience, hospitals in Ireland are cold.
Taking off your sweater before chemo begins, and draping it over your shoulders, is one way of keeping comfortable, but beware of anything you have to pull off over your head, because it's fairly certain that your wig will go with it, adding to the general horror of the day.
During the infusion I eat a sandwich and drink a cup of tea. I nod off for a while, probably due to the anti-histamine, but it could be because I am trying to read 'Bleak House.' I feel fine. I drive myself there and I drive myself home. It's no trouble at all. Here are the worst things about my experience:
There's a lot of sitting around waiting for blood test results. Boring!
The hospital sandwiches are not nice. I've got into the routine of bringing my own.
I get a bit stiff sitting in the same chair for several hours.
The hospital charges me €9 for parking – but I was there from 9am to 6pm, so I suppose that's reasonable.
Medication and prescription charges, and the bills
I go home after each chemo session with a prescription to fill at the local pharmacy the following day.
It includes a daily anti-viral, to stop me from getting shingles from my own Herpes Zoster virus, allopurinol to protect me from tumour lysis, an anti-emetic to stop me feeling queasy, a bucketload of prednisolone steroid tablets, and a high-tech syringe of 'Granulocyte Colony-stimulating Factor'; a biotech drug used to stimulate my production of white blood cells, which have been knocked back by the chemotherapy, leaving me immunocompromised and having to impose my own personal lockdown.
As you might expect, there's a charge for the prescription, but it's not the same as in the UK, where the drugs are free but you pay an administration fee for each item.
In Ireland you pay for the drugs, but not the admin.
The day after my first chemotherapy, my husband kindly offered to pick up my prescription for me, and the pharmacist helped him fill in a form to register me for the Drugs Payment Scheme card. This caps my prescription charges at €80 per calendar month, which is a blessing.
And so the three-week routine goes on.
In between chemo sessions I present myself on Day 10 to have blood taken, so the consultant can see just how low my white cell counts get at the absolute nadir of bone marrow activity. These blood tests seem to be free!
Nevertheless, I can't stop the hospital sending me bills.
In mid-April I got a bill for the biopsy I'd had in January, despite having filled in all the forms, on the day, while actually sitting in the biopsy suite.
Sometimes I am just not coping with what is happening to me.
I'm tired and I'm worried and I just can't be bothered.
I've taken to bringing these bills into the hospital at my next visit and waving them at the lovely admin lady on the haematology day ward. 'Look, I don't know why they have sent me this, I've already filled it all in, this is my handwriting,' I say, trying to pull off a helpless I'm-new-here-and-don't-understand-the-system look. She flips to the back of the form. 'Ah, they just forgot to get you to sign it,' she says. I sign it, and hand it back to her to go to the Patient Accounts Department in the hospital's internal post.
The main reason I'm talking about this is to dispel some of the fear. If it comes to you, do not be afraid.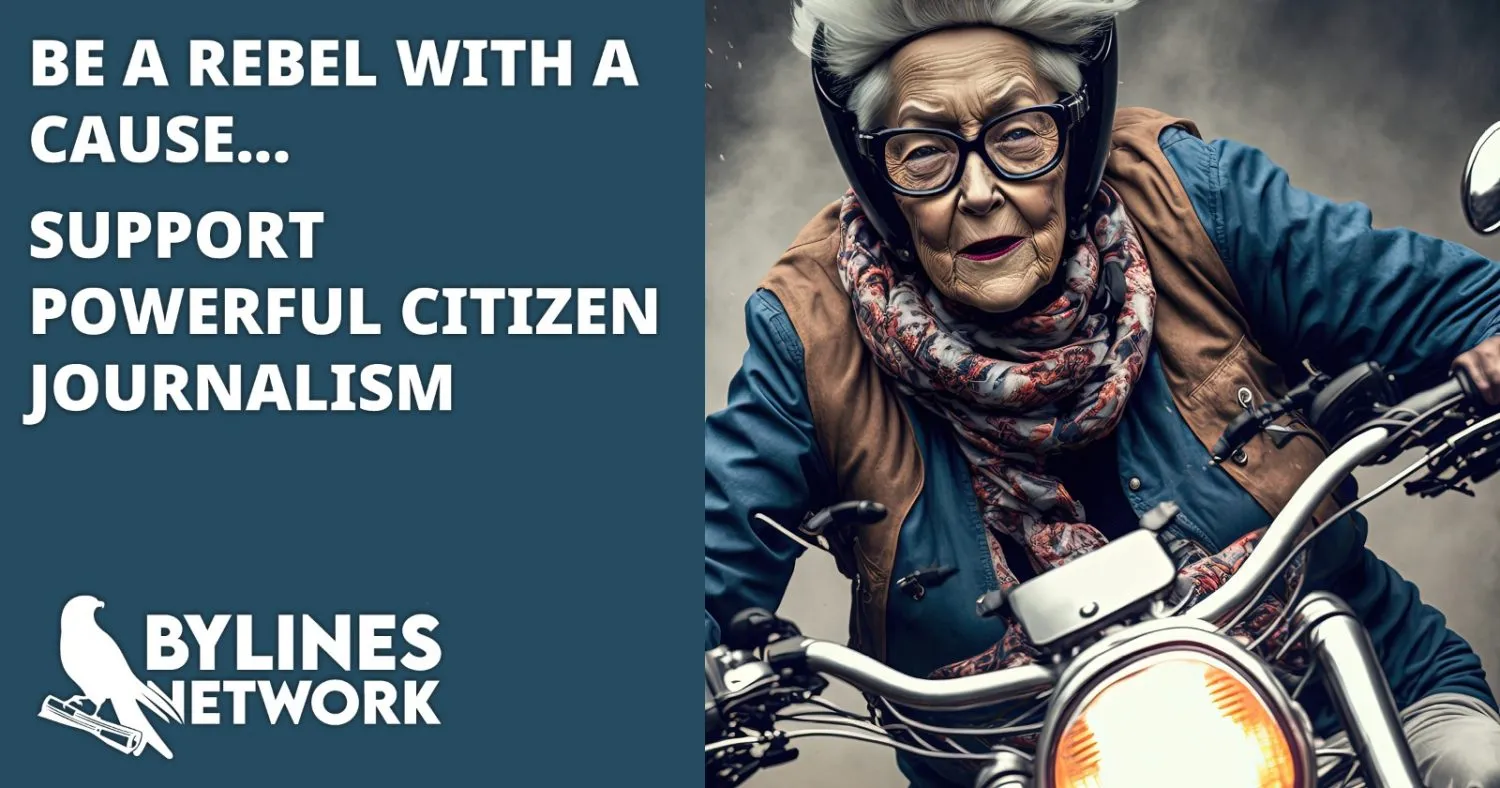 CLICK HERE TO SUPPORT THE BYLINES NETWORK CROWDFUNDER!