Matt Vickers, MP for Stockton South is up in arms.
Matt Vickers is up in arms because the Planning Inspectorate has given the green light to a plan by developers Theakston Estates Ltd to build 300 houses in Yarm in his constituency. He expressed his outrage on his Facebook page on 18 December:
"This decision is disgraceful and wholly misguided and will cause nothing but misery for local residents and commuters.
"Yarm is being over developed, concreting over green space and causing congestion. Residents have been let down by a Labour council that took too long to put a local plan in place, then when it finally did it wasn't fit for purpose and more broadly by a planning system that desperately needs reform. I'll be taking this issue up with the Housing Minister immediately."
Of course, it's not hard to see why developers would set their sights on Yarm – picturesque small town at the confluence of the Leven and the Tees, its own castle, good schools, charming Victorian railway viaduct, great bars and restaurants … permanently gridlocked high street …
If you live in Yarm, you'll understand its attractions. Attractions that are threatened by overdevelopment. Maybe you were one of the people who lodged an objection to this plan. Or contacted your MP to let him know how you feel about it. So, it's good that he's got your back. The question is, can he do anything about it?
But first the background to the current controversy. Theakston Estates lodged a planning application with Stockton Council in 2018. This application was rejected. The Council already had a Local Plan in place, which had identified particular areas within the borough where they wished to promote development, and which didn't include Yarm (although the land parcel at the centre of the current controversy had outline planning permission for 100 houses). Having a Local Plan in place is important, as it is the yardstick against which planning applications are judged.
Now the directors of Theakston Estates Ltd may have been a little disappointed by this rejection but will not have been surprised given that they had previous with this sort of thing. In 2016 a company called Theakston Land Ltd (a subsidiary of Theakston Estates) had lodged an application with Redcar and Cleveland Council to build four hundred houses on greenbelt land on the edge of Flatts Lane Country Park at Normanby. This was rejected, but this was overturned by the Planning Inspectorate in 2017 (as reported by the BBC).
(Concerned residents in Yarm may be further alarmed to hear that permission was subsequently given to increase the number of houses on the Normanby site by 36, as the Northern Echo reported in May 2021).
Matt Vickers' Facebook post on 18 December 2021, unfortunately gets off to a bad start when he muddies the waters by indulging in some Labour council bashing. This served only to confuse some of his readers who mistakenly believed that the Planning Inspector was someone at the council, and so pointlessly expended a lot of hot yelling about the Council Tax.
Vickers did not feel the need to inform them that the Council had denied planning permission, and that the developers had won their case only on appeal. But Vickers at least recognised that if he wanted to get anywhere, it was the government that he needed to complain to (even if some of his constituents believe he's going to complain about the Council). Specifically, he will be going to present his case to Secretary of State for Housing, Communities and Local Government, Michael Gove.
Quite what he will say to him is less clear. It is within the minister's gift to take over a planning appeal inquiry (in exceptional circumstances). But, even if that were an option, he would need to have been approached before the appeal was heard by a planning inspector, not after. As Vickers didn't apply to Gove before the appeal inquiry, there's no obvious point in doing it now, unless he believes that venting his impotent rage at Gove will somehow help his constituents.
Moreover, before he gets there, someone will hopefully point out to him that what is 'in desperate need of reform' is the 2011 Localism Act, put in place by a Conservative government. The problem for people in Yarm is that the 2011 Localism Act introduced the principle of 'the presumption of development' and the purpose of the Act was to make it easier for developers to build and make up the shortfall in annual house building figures.
The 2011 Act was indeed up for reform recently, but not quite in the direction that Vickers might hope. Far from limiting the putative excesses of property developers, the proposed reforms were intended to provide them with wider opportunity to challenge decisions made by Local Planning Authorities (LPAs). When the government backtracked on it in May 2021, it wasn't because they'd had a change of heart, but rather because it was local concerns over planning reform that led to their by-election defeat in the hitherto safe seat of Chesham and Amersham. They realised it was a vote loser.
But Gove may well send Vickers on his way with a copy of a 2019 parliamentary research briefing which explains his options to him.
That briefing paper also provides some statistics on the work of planning inspectors:
In a nutshell, the majority of appeals to the Planning Inspectorate relate to housing, and generally in any year more than 40% of those for major developments are successful (and the Yarm development falls into that category). So despite the fact that Stockton Borough has a local plan in place the planning inspector is not averse to setting that aside at will.
What that document also points out, however is that any interested party is entitled to make representation at a planning appeal inquiry. The Appeal decision shows that four people did so – one of the councillors for Yarm ward, and three local residents. (Vickers himself did not attend. He was in the House of Commons on those days). This raises the question as to whether, at that point, any other interested party might usefully have made representation to the inquiry. Is there anyone else who has a particular interest in housing development in the area?
Well, yes, as a matter of fact there is. Consider this extract from a guide to the powers of the Tees Valley Mayor:
So, Ben Houchen has "specific powers" regarding housing development within the Tees Valley. Surprising, then, that, in public at least, he has had no comment to make on the housing development in Yarm and did not attend the appeal inquiry. Nor did he make any written submission.
On the other hand, the inquiry was attended by one Chris Harrison, who is on the board of the South Tees Development Corporation. Here's Harrison standing in for Houchen at a virtual presentation on the Teesworks scheme:
Harrison earned his place on the board by being a director of one the Teesworks' partner companies – Northern Land Management Ltd. Harrison is also the director of several other companies, one of which is Theakston Land Limited, which, you will remember, was the subsidiary of Theakston Estates Ltd that was at the centre of the controversial development at Normanby. Theakston Land has two directors, the other being Martin Corney, who is also a director of Theakston Estates and also of Teesworks Ltd.
Harrison appeared at the inquiry on behalf of Theakston Estates: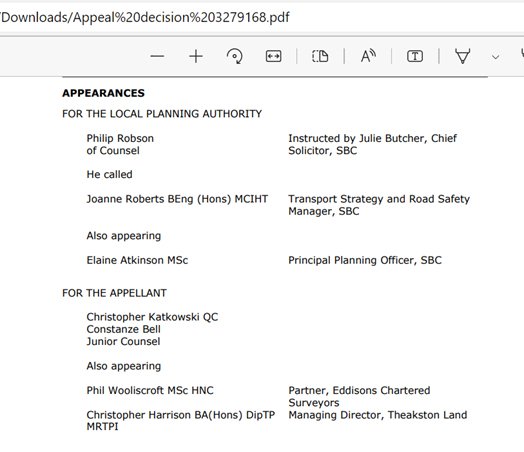 All of which may help to explain Houchen's reluctance to become involved on behalf of the planning authority. There is another fact, a more personal one, that may be materially relevant here. Northern Land Management, the STDC partner, has a third director – one Ian Waller. Ian Waller is also a director of Theakston Estates . One thing that is particularly interesting about Waller is that his name also appears in the Electoral Commission's register of political donations:
Thus, Houchen may be said to be somewhat conflicted over the Yarm development. And, we should add, this also applies to the proposed garden village development at Skerningham just outside Darlington, where the companies involved are all owned by Corney, Waller and others.
Houchen, then, cannot be relied upon to help Vickers out of his difficulty. Should he consult the parliamentary research briefing we mentioned earlier, he will discover that the only viable option now open to him is judicial review i.e. to take the case to the High Court. Unfortunately, while this is a possibility, the briefing paper is less than encouraging about the prospects of success. Having explained the technical detail, it ends with the rather dispiriting conclusion that "… the High Court will not readily overturn the decision of a Planning Inspector."
So, if Gove, Houchen, and the High Court won't deliver for the people of Yarm, who's left?
If anyone has Swampy's telephone number, Matt Vickers MP may be pleased to hear from you.
Ben Houchen and Matt Vickers MP have been approached for comment