Dr Meryl Batchelder initially became enthusiastic about the need for increased environmental education in schools back in 2016, when she found time to read the Paris Agreement on climate. This legally binding international treaty has a whole section on climate change education, training, and public awareness. Having realised the pace at which our planet is changing, Meryl, who is a science teacher, decided that the science curriculum did not adequately prepare young people for the future. Consequently, she began linking her teaching to the UN Sustainable Development Goals and the Goals were then rolled outcross the other departments in her school. 
In 2019, Meryl had the opportunity to complete an online course to become a UN accredited climate change teacher. This gave her the confidence to talk to more people and to grow her network. Gradually climate and sustainability education have taken up more and more of Meryl's time. She believes that the Department for Education have missed many opportunities to promote understanding of the climate crisis in both and with the general public. They have some good ideas, such as the recently launched National Education Nature Park, but this is optional, so we need formal educational policy that ensures young people have the understanding and skills they need for sustainable futures.
Where do you work currently?
"I work at a middle school in Northumberland and a TeachSDG Ambassador promoting education of the Sustainable Development Goals. Although I continue to work part time as a teacher in school, I've recently also become an Ambassador for the Ministry for Eco Education to encourage more teachers to embed sustainability in their teaching."
What are the main features of the climate crisis as you see them?
"I always try to look at big issues from the perspective of the young people I teach who are aged just 9-13.  We need to educate them on the causes and consequences of global heating, but they also need to understand how we can mitigate it and adapt to life on a warmer planet. There is no mention of climate change, global heating or Net Zero in the national curriculum before GCSE level. Although many schools do include aspects of them in schemes of learning, a survey by Teach the Future in 2020 showed that 70% of teachers were not confident about teaching about climate change. We need to ensure that they are confident and can teach about what is happening and why. 
"Young people across the world are already being exposed to extreme weather including droughts and severe storms, alongside rising sea levels.  Biodiversity loss, which goes hand in hand with the climate emergency; the UK is one of the most nature depleted countries in the world. In addition, Climate Justice is another huge issue and climate migration is likely to increase year on year. Impacts are disproportionate between the Global North and South, with the Global South having done less to cause climate change but are suffering more from it. 
"What's most important is that young people should be aware there are real solutions to these big issues.  Through education we can help then to develop STEM skills to promote critical thinking, problem solving, nature connectivity, analytical competence, and social responsibility. I find that I rarely use the word 'hope' but often talk about building resilience and courage."
What should we be doing to alleviate the crisis?
"We need change on two fronts. We need changes in our individual actions in our own lives, conscious decisions about where we take holidays, do we use renewable energy providers, what foods we eat, which companies we buy goods and services from etc. As children grow older, they need to understand the consequences of our own actions.
"We also need system change, because young people can't easily drive changes in legislation or policy, but education can help them to develop understanding. Young people do have a voice and we should hear it and raise it high as they are the ones that will feel the hardest impacts of our changing climate.  What's the point in teaching them about sustainable transport systems, the need for renewable energy or the problems with overconsumption if there is no support to address these at a local or national level."
What do young people think about the climate crisis?
"I've found that a few children have high levels of eco-anxiety, in my classes about 10% have shown some signs being quite concerned for their own future or that of the wildlife they love. Many understand the issues, but, according to a survey by Global Action Plan they also see over 1,200 adverts a day, encouraging them to buy things they don't need so they still want new clothes, trips abroad or fast food so it's difficult for them to understand that we can't keep levels of consumption growing on a finite planet.  A smaller fraction of children doesn't really appreciate how serious the situation is, or think it's too late to act, or can't grasp that a sustainable future means we all have a role to play.
"The earlier we start talking about sustainable lifestyles, the better.  The Sustainable Development Goals can help as they provide a blueprint for people and planet.  Sustainability can be woven through the curriculum and there is huge potential to promote deeper understanding. It is important, so let's put it in from Early Years. In the coming years, all jobs will involve skills for sustainable futures but, at present, there is no planned progression of skills for sustainability through the education system.
"There are many teachers trying to fit sustainability into a crowded curriculum, but it is not being done across all schools and is not monitored by the DfE or Ofsted.  There are endless opportunities, but teachers often do not have the time to find suitable resources or find themselves, understandably, focussing on exam performance. There are courses, which teachers can go on but a lack of time for teachers or other pressures take priority. There is also only very limited funding to aid school estates to decarbonise."
What do you do regarding Climate Education?
"For a couple of days each week I now work for the Ministry of Eco Education, which is a free curriculum for teachers.  It uses hand-picked resources from hundreds of organisations, the best of climate and sustainability education, which are then used to consider big questions.They consist of a series of around 8 lessons around 7 themes: energy, nature, waste, water, transport, food, and society.
"This helps teachers with little time to spare as they can chose a question, click on a link, and learn with their students.The lessons are totally flexible, and teachers can dip in and out of the topics or pick questions they think their classes will enjoy learning about.  The lessons can be used for early years to Key Stage 3."
What would a good National Curriculum look like?
"The Ministry of Eco Education curriculum has been well received and 2,700 schools have access to the lessons.  The national curriculum is very knowledge-based but doesn't help the development of skills for sustainable development. We should weave sustainability throughout the curriculum and the Ministry of Eco Education has done that, but I really believe this approach could be coming from the Department for Education. There is currently a bill going through parliament that aims to ensure all schools provide young people with a robust climate education."
What should we be doing in the Northeast? How can we use our heritage of energy production from coal to inspire us to be a major region for renewable energy production? What good news stories are there in our region?
"Northumberland County Council have just released their climate and sustainability school resources pack.  It's unique in that it covers climate and sustainability in our region and what the County Council is doing to get achieve Net Zero by 2030. This makes the information regionally relevant to schools in the area and means young people know how to act sustainably in different aspects of life such as energy, food, nature, transport, or waste.
"The Northeast was the centre of the Industrial Revolution and responsible for driving huge technological development. Then the handling of the collapse of coal mining was dismal. However, the region is already a leading light for wind power, sustainable industries, forestry and driving eco education forward. We have so much to be proud of from our heritage and a lot to look forward to in the future."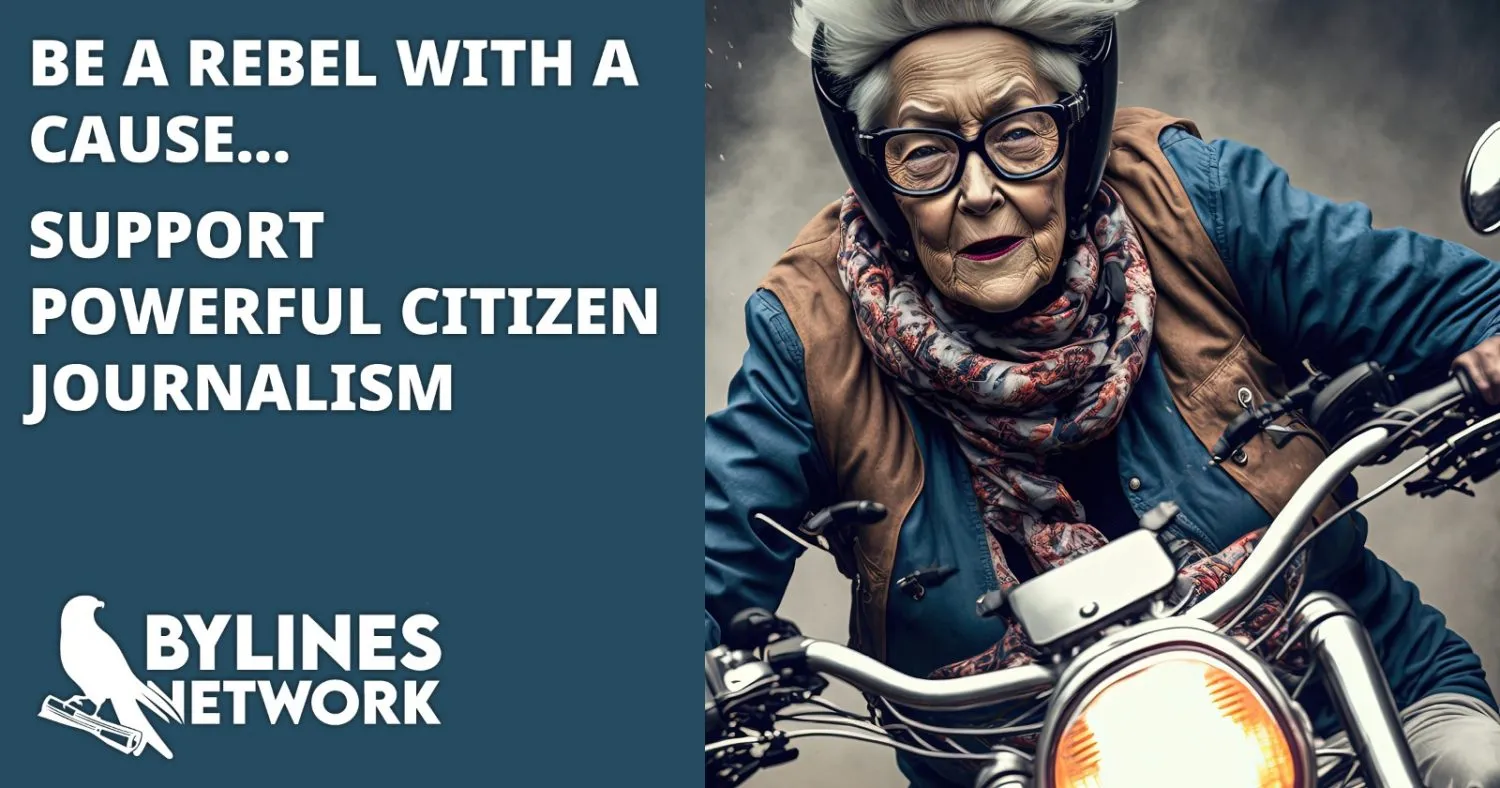 CLICK HERE TO SUPPORT THE BYLINES NETWORK CROWDFUNDER!