Durham Police have concluded that there is no case to answer over Keir Starmer's alleged breaking of Covid rules in April last year. Starmer had previously offered to resign if found guilty of wrongdoing.
The police have now said that the investigation is concluded, saying:
"A substantial amount of documentary and witness evidence was obtained which identified the 17 participants and their activities during that gathering.
"Following the application of the evidential Full Code Test, it has been concluded that there is no case to answer for a contravention of the regulations, due to the application of an exception, namely reasonably necessary work.
"Accordingly, Durham Constabulary will not be issuing any fixed penalty notices in respect of the gathering and no further action will be taken."
Robert Peston tweeted:
"Honesty and integrity matter"
Here is Keir Starmer's tweet a few minutes ago:
And the letter sent by Durham Police to Mary Kelly Foy, MP for City of Durham. She, as with the others was also cleared of any wrongdoing.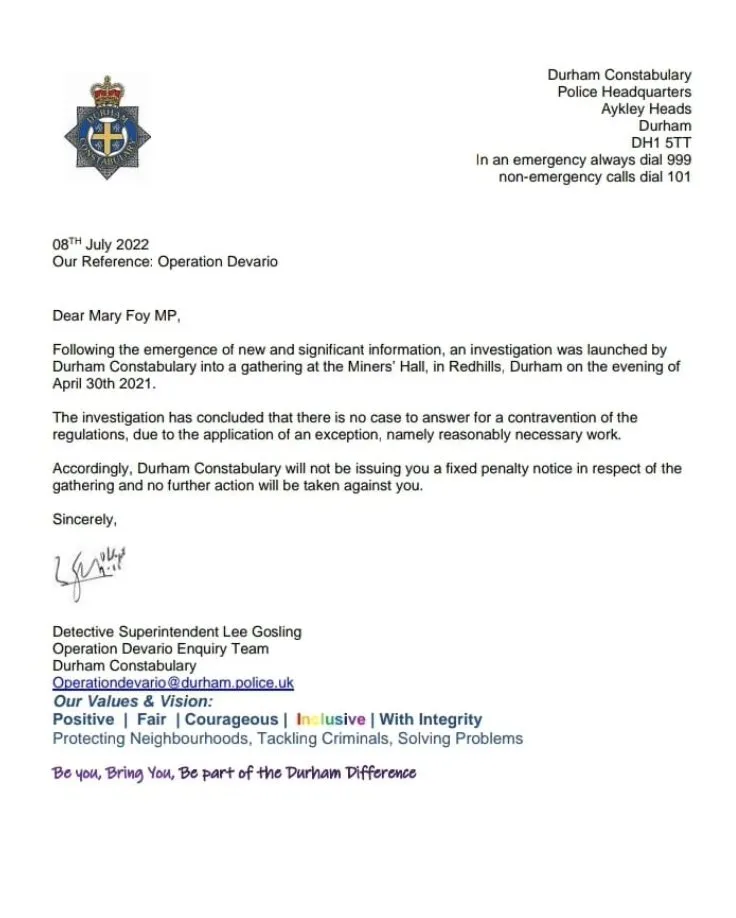 North West Durham MP, Richard Holden had been vocal about Durham Police's involvement. The local Labour Party called for him to apologise in May this year.
---
We need your help! The press in our country is dominated by billionaire-owned media, many offshore and avoiding paying tax. We are a citizen journalism publication but still have significant costs. If you believe in what we do, please consider subscribing to the Bylines Gazette 🙏