In a recent Grassroots for Europe round table discussion (in conversation with Richard Corbett, Laura Parker and Jackie Jones) Peter Foster, public policy editor of the Financial Times, comments that Labour politicians talk easily about the improvements they will make to the Tories' Brexit, without however having engaged sufficiently with the EU to find out whether, how and on what terms its wish-list items can actually be obtained.
In his Chatham House speech, David Lammy talked impressively about the need to establish a 'structured dialogue' with the EU. Lammy and other shadow ministers have been seen visiting EU capitals and meeting EU leaders. Foster however, in his forthcoming book What Went Wrong With Brexit and What We Can Do About It (Canongate, September), comments that: 
"David Lammy, the shadow foreign secretary, was only marginally more convincing than Hunt when delivering a speech at Chatham House in January 2023. He reiterated that with Labour the UK would 'not rejoin the EU, the single market or the customs union' while promising that – within those red lines – there is 'real progress we can make . . . to fix the Tories' bad Brexit' and 'increase trade with Europe'. To a point. But merely tinkering with the TCA within those red lines will not transform the UK's trade prospects." [p 143].
The palliative gains that Labour envisages are worth having, and extremely helpful in some areas. In the big picture, they are still way short of what we need.
Labour in danger of repeating the error of Frost and Johnson
Talking to the Grassroots round table, Foster expressed some exasperation about these promises and expectations, and the apparent lack of due diligence behind them. Labour seems in danger of repeating the error of David Frost and Boris Johnson, assuming that, whether the UK chooses to be hard-nosed or ingratiating in negotiation, the EU will for its part find reason to be obliging and accommodating of UK wishes.
Foster points out that in several of these detailed cases, the EU will choose whether to set a political price for its economic favours, decline unilateral favours (such as opening itself again to competition by UK service providers) where there is no positive counter-inducement, or, as often happens in trade negotiation, take a long time to agree little – as with his example of Canada's architects.
Gain-to-pain ratio
Foster further points out that the gain-to-pain ratio for Labour – the gain of measurable economic benefit versus the pain of political vulnerability to Brexiter sniping and recrimination about 'betrayal' or 'vassal status' – may not be particularly favourable; meanwhile, as effort is focused on low-ambition items, the bigger picture of UK-EU regulatory alignment which is so vital for future trade and investment, may continue to steadily decline and incentives to invest in the UK will accordingly continue to deteriorate.
One of the worst features of Keir Starmer's neo-Brexiter posturing has been his tendency to use words implying unilateral agency in UK-EU relations, such promising as Labour prime minister to "tear down non-tariff trade barriers".
Economic benefits?
A year ago a group of pro-European voters in East Oxford wrote to their MP, Anneliese Dodds, asking for Labour's estimate of the economic benefits expected from its Brexit mitigation package. Essentially the same package of improvements and mitigations have been mentioned by Labour in its rare Brexit policy statements since mid-2022. Dodds never replied. By that time economists such as Jonathan Portes had already commented that the promised mitigations would fall well short of eliminating Brexit's effect on trade and GDP.
Two things seem to be going on here.
One is that we are regularly assured by the official pro-European Labour lobby, the Labour Movement for Europe (LME), that the party's positions on Brexit are not set in stone ("a floor, not a ceiling") but will evolve positively as conditions evolve, especially after Labour has won the next election. LME has published a template motion that local parties are invited to submit for debate at the coming annual conference, accepting Brexit but seeking a package of further mitigating moves. Except that these improvements, which LME invites the Constituency Labour Parties to pursue via the party's internal processes, seem to largely coincide with what Starmer and Lammy have already committed Labour to pursue. (Some people may remember how New Labour spinners were once castigated for recycling old spending commitments as new promises).
The second thing is a tacit but implicit promise that with Labour in power and a big change in the whole mood of EU-UK relations, a much more comprehensive mitigation package will be possible which is acceptable both to UK majority opinion and to the EU, but somehow without any requirement to retract Starmer's iron commitments to the red lines. Labour, this suggests, will have electoral permission to raise its ambitions, while their chances of successful negotiation will at the same time have become more favourable.
This is an ambitious and complex scenario which is reliant on a series of contestable assumptions.
"Mushy debate"
Foster comments, showing some irritation:
"One of the big problems here is that people say, quietly, oh, yes there'll be more movement from a Labour government after they win an election. But I wonder if they actually understand what that means. If you want to soften something in your Brexit policy to the point where you actually make a material difference in the discussion, you need to go to a load of places that they either haven't interrogated or don't fully understand. That's the problem. And it's the same problem we have with the Tories. It's a mushy debate that's based on UK positions and UK desires that are not filtered through the reality of an iterative negotiation with the European Commission, and an organisation that has 27 member states who have moved on, who don't want to relive the psychodrama."
Lammy's "structured dialogue" may need to get a move on if it is to be a preparation for effective negotiating when in government. If one subordinates considerations about the national economic interest to macho posturing for Daily Express readers in the red wall (where polls and council elections now indicate that attachments to Brexit may be in decline), it becomes that much harder to make progress on iterative diplomatic legwork in Brussels – especially when negotiators in Brussels are liable to notice what one has said in the Daily Express.
Difficult and costly
Furthermore, the Labour government is likely to inherit custody of an economy in or on the edge of recession with continuing high inflation, weak tax revenues and vulnerability to renewed crises in public finances – not an ideal context to conduct such an exacting task as negotiating the partial or substantial reversal of Brexit. But, Foster warns us, leaving the heavy lifting of negotiation, persuasion and decision to a second Labour term – if there is one – exposes the country to further years of Brexit-generated deterioration and regulatory decoupling which will make the process of reversal itself steadily more difficult and costly.
A faster, earlier, deeper Labour rethink is needed
There could, of course, be an active strand of domestic regional intervention, public investment, and industry policy by a Labour government to address some real and recognised discontents which are known to have fuelled the Brexit vote. One could maybe call it 'levelling up'. Or one could call it being tough on the causes of Brexit. But this would still have to be undertaken into the continuing headwind of Brexit's intrinsic harms, under the constraints of inflation and recession.
In the round table discussion, the former European Labour Party leader Richard Corbett urges the need for greater boldness and ambition by pro-Europeans in pressing for a faster, earlier, deeper Labour rethink, starting before rather than after the general election. This is, I think, consistent with the logic of Foster's argument.
At this moment it could seem that time is on the side of pro-Europeans, in terms of steadily improving public understanding of the accumulating weight of evidence of harm. But it may not be on their side in terms of the conditions of the possibility of corrective action.
That is one reason why it may be unwise to assume that the major rethink that many of us now tacitly recognise to be unavoidable can be safely parked in limbo until after the election.
"Step by step to rejoin"
The European Movement's slogan is 'step by step to rejoin', which has seemed ecumenical enough to accommodate most gradations of pro-EU opinion. It fits well enough with the current media-political orthodoxy, in which some are allowed to push back the possibility of thought of rejoin to (at least) a distant decade or generation, while in the meantime first steps can be so slow or tentative as to leave any prospect of eventual rejoin shrouded in a haze of uncertainty v though Brexiters will doubtless still see any constructive action as a slippery slope and the thin end of a wedge. 
But this whole gradualist vision (perfectly familiar and habitual, of course, in an old Fabian tradition of Labour thinking) may rely on a seriously complacent assumption about the capacity of the UK economy and society to absorb the continuing cumulative self-inflicted damage of Brexit. As Foster puts it:
"The Labour Party is being as disingenuous about its Brexit plans and what they can deliver as the Tories were. Because what you're going to end up with is a load of political pain for very little economic gain. If you say let's have a mobility agreement, well, you're not going to get one with quotas and restrictions, it's going to be an EU-wide deal. And, yes, the Tories are going to say that's free movement by the back door. You've got to make the argument for having those people come here, lots of young people: well, I don't think this Labour Party is much braver than the Tory Party is on immigration; are they going to stand up and have the argument?"
Grassroots for Europe webinar and Foster's book
Foster will be discussing his book with Alexandra Hall Hall at the Grassroots for Europe webinar on 13 September.
The presentation of Foster's book, by both author and publisher, are not without a certain enigmatic, ambiguous and contradictory element, reflected in some of the quoted pre-publication responses. It becomes apparent by the end that Foster intentionally leaves the reader with a degree of freedom in deciphering his ultimate message.
Some have said that the book is literally inconclusive in the sense that the final chapter has actually gone missing. Those who prefer to read the book and work out its conclusion by themselves may wish to stop reading at this point. Nearly all of the book is written within the explicitly stated assumption of Conservative and Labour red lines, that the UK cannot and will not resume its membership of the EU (or even of single market or customs union) for at least a generation.
The first and longer part of the book sets out what the consequences of Brexit have been for the UK, and what they are liable in large part to continue to be for as long as we remain outside the EU. The second and shorter part examines the possible steps which are open to us to mitigate this situation within Brexit red lines. Agreeing with earlier analyses, Foster concludes that these mitigations, even in the most favourable outcome, will be of limited benefit. There will be other things that a government can and should do to reform and improve the state we are in, but even so it is indicated that things may not be easy.
The book ends, a touch abruptly, with the words: "In the best sense, the UK now needs to come out fighting". But to fight what, or fight for what?
It would be respectable and reasonable, of course, for Foster in his professional role as an FT journalist to simply provide a careful and penetrating exposition of the key facts about Brexit's effects and the mitigation options, and leave us to draw our own practical conclusions as we variously see fit. In reality, beneath a few light touches of camouflage, I think the book tells us, or rather shows us, pretty clearly why the UK badly needs to rejoin the EU as soon as possible.
Foster's intention is, I surmise, to deliver this message to sectors of opinion which have not previously embraced this conclusion but are now getting closer to doing so, given a compelling brief and without overly aggressive partisan prompting. The book ostensibly assumes that our national politics are to remain imprisoned for years to come within the Brexiter red lines which the prime minister in waiting has undertaken to respect.
The book's actual content is a massive and overwhelming case that this ought not necessarily to be so and that we need a fundamental rethink. The blurb calls the book "the explainer we need to move on". Those sound like, and indeed are, words that feature prominently in the dogmatic soundbites from Starmer, Lammy and Rachel Reeves that have counted for the past two years as Labour's Brexit policy. In their locutions we are supposed to "move on" from questioning whether Brexit was the right decision, and refocus our efforts on its proper execution.
What Foster's book however shows is that our urgent fight should now be to move on and out from the mental and material prison of Brexit itself.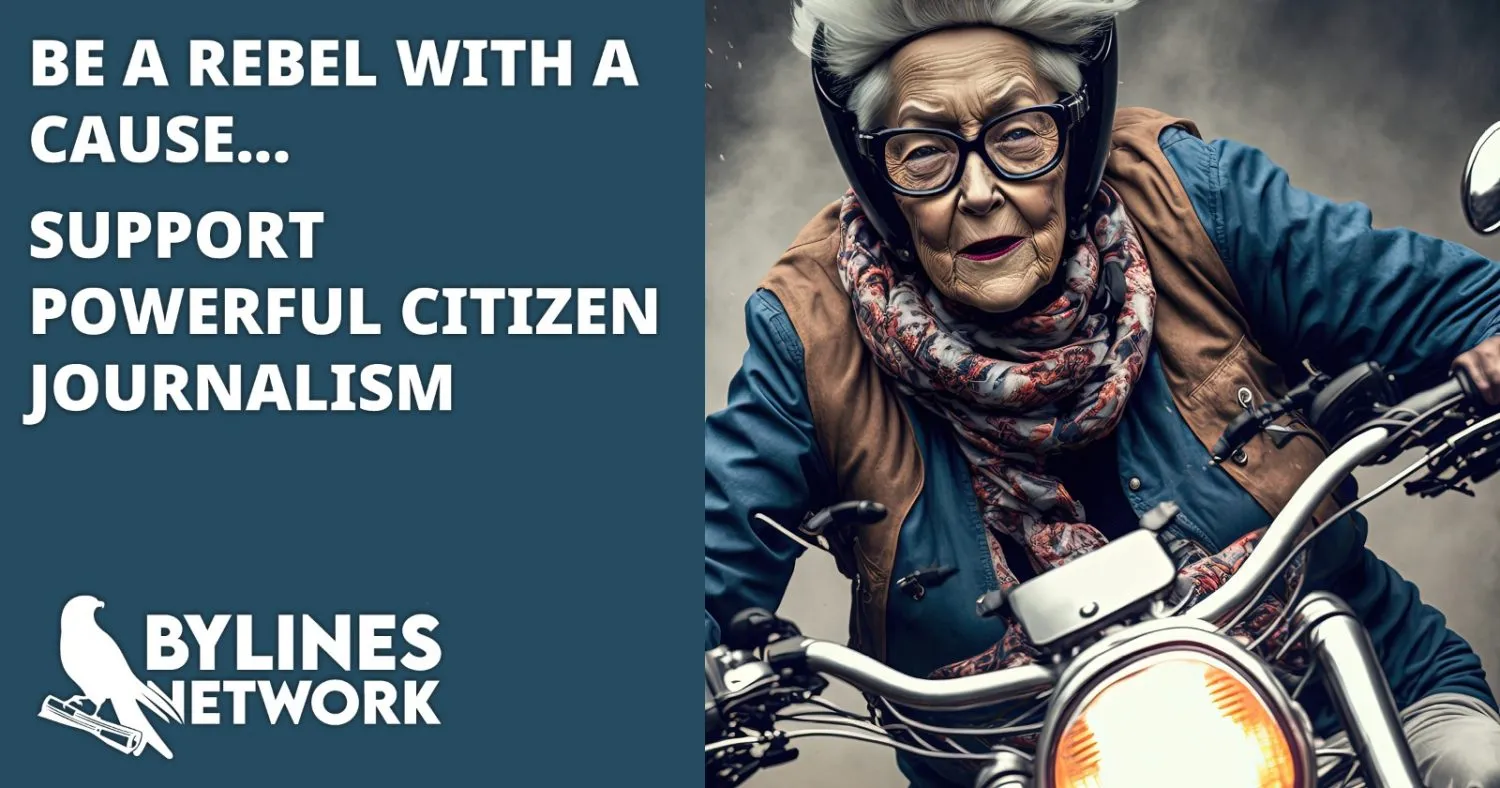 CLICK HERE TO SUPPORT THE BYLINES NETWORK CROWDFUNDER!