We have seen in this series already that the so-called Great Reform Act, brought in by North East based Prime Minister Earl Grey in 1832, broke the logjam in terms of electoral reform.
In so doing only gave the right to vote to an extra 200 000 men of property added to electorate propertied males, mostly the 40s freeholders in the counties and the £10 householders in the boroughs.
This raised the total electorate from 435 000 to 632 000, all males.
Electoral reform
However, as the 19th century successive acts of electoral reform in 1867 and 1885 did give considerably more men the vote, including in the later reform, a section of the male working class.
Meanwhile the 1872 Reform Act finally brought in the secret ballot, so putting an end to the practice of wealthy candidates using intimidation to help them to get elected. But what of women? What voting rights had they gained by the late 19th century?
The answer of course, is none.
So, women across the country were coming together determined to change that and the Northeast was no exception.
As the long struggle for universal male suffrage developed in the 19th century, so it was two women from North-east England who kick-started the parliamentary struggle for female suffrage.
Josephine Butler from Dilston in Northumberland and Emily Davies, the daughter of the Rev. John Davies of Gateshead helped to put forward the first women's suffrage petition to parliament in 1866.
Some 1 500 women signed this petition including Emily Davies, who was one of two women chosen to present it to the radical M.P. John Stuart Mill. The petition was successfully presented, and while it failed in bringing any women the vote, at least it raised the issue and laid down a marker for other campaigners in the future.
Mona Taylor
A forceful campaigner for women's right to vote appeared by the end of the 19th century in the form of Mona Taylor, who came from Chipchase Castle, near Wark, between Bellingham and Hexham, on the River North Tyne.
It was Mona, who in 1900 established the Newcastle and District Women's Suffrage Society. Soon Mona was active speaking at meetings in factories, workplaces, and on occasions sometimes on those very same streets, she would walk in her campaign to bring women equal voting rights to men.
It was ten years earlier when Mona Taylor had already been campaigning for a long time that she formed the Newcastle and District Women's Suffrage Society having organised a conference of workers at Newcastle, ten years earlier and she also chaired meetings when Millicent Fawcett the region on behalf of the Central National Society for Women's Suffrage.
The following year Mona became Vice President of the CNSWS and wrote a leaflet entitled, 'Why Women Want Suffrage' and it is reported that the CNSWS was very pleased with her as 45 000 of these leaflets were distributed.
Soon Mona began to find several influential supporters and they began to get together to plot their campaigning. It was in the Drawing Room café in Fenwick's department store in Newcastle that these machinations took place. The Drawing Room was a genteel setting for this potentially revolutionary movement but, as we shall see, not all the women, who were becoming known as 'suffragettes', were to be quite so genteel in their tactics.
The tactics that were used by later Suffragettes included burning down the pavilion in Heaton Park, cutting telephone wires, burning down the pavilion in Heaton Park, pouring corrosive liquid down letter boxes, smashing windows in the Globe Theatre in Gosforth, and breaking windows in an office of the Northumberland Education and causing more damage in various places around Tyneside including Barras Bridge Post Office, Kenton railway station and Gosforth Golf Club.
Middle class women
In some respects, it was middle class women including Lady Parsons, the wife of Sir Charles Parsons at whose works in the east end of Newcastle, the first turbines in the world, big enough to light up a whole city, had been developed, who tended to be prominent in the movement for women's votes in the early years.
However, it is also argued that as the movement grew so the Suffragette movement in the region did become more working-class.
This was part of the reason why the Newcastle Society was the first local society to work with the National Union to campaign for a change in election policy from support for the Liberals to the Labour Party.
This was not accepted nationally, but recognition was given to the strong position of Labour women in the movement in the Northeast.
Northeast connections
Kathleen Brown and Emily Davison were two more prominent campaigners for the right of women to vote with Northeast connections. Kathleen Brown did a lot of the organising, especially of more militant action and ended up in prison for her pains.
In July 1909, in July, Kathleen was released from prison and was welcomed back to Newcastle as a great heroine. Indeed, she was met at Newcastle Central Station by an enormous crowd of supporters along with 3 landaus and 2 brakes, all decked out in the Suffragette colours of green, white, and violet.
The huge crowd then went to the Turks Head Hotel where they had a celebration tea, served by staff who all wore 'Votes for Women' badges. There is now a plaque to Kathleen Brown on the Turks Head Hotel on Grey Street in Newcastle.
At the Haymarket, to the north of Newcastle city centre, there had already been a meeting before Kathleen arrived home, and the crowd went from the Turks Head Hotel to the Haymarket for another meeting, when Kathleen spoke about her experience to the crowd.
Emily Davison
Emily Davison was not born in the Northeast, but rather in Blackheath in Essex. However, her mother was from Northumberland and Emily's roots were in the Northeast. Emily joined the Women's Social and Political Union in 1906 and by 1909 she had given up teaching to become a full-time worker for the militant Women's Social and Political Union.
Emily was a great believer that actions spoke louder than words. And she was certainly very active in her role with the WSPU.
Indeed between 1909 and 1912, she was imprisoned no less than seven times and in all but one occasion she went on hunger strike, being forcibly fed during three imprisonments.
This often ended with an unpleasant rubber tube being forced down her throat with cold soup being forced into her.
The Liberal government also brought in the so-called 'Cat and Mouse' Act, which saw Suffragettes like Emily being released so that they would eat again, only to be re-arrested and put back in prison shortly afterwards.
After each spell in prison, Emily rested at Longhorsley in Northumberland, Emily's mother having returned to her native county to run a bakery and a sweet shop. Emily spoke about women's suffrage on her trips back home and became closer to the Newcastle WSPU members.
Emily Davison Imprisoned
In 1912, Emily spent her longest spell in prison, spending six months in prison having been arrested in December 1911 for setting fire to pillar boxes, which was quite a common way of Suffragettes protesting. As usual, Emily went on hunger strike and was forcibly fed.
What is perhaps more interesting, given her final fate, Emily also managed to throw herself over a balcony on three occasions.
No wonder Emily is still known today for her personal motto: 'deeds not words'.
Indeed, it has been argued that she saw the need to suffer extreme hardship as part of the struggle and, again considering what was to come, it is perhaps more ominous that she stated that she had decided that there was a need for a martyr.
It has been noted that in an unpublished letter, Emily wrote: "the sacrifice varies according to circumstance.
It may be loss of livelihood, position, wealth, friends, relatives and not least common, loss of health or even possibly life itself."
Emily's death
So it was that Emily went to the Derby on 4th June 1913, willing to take a great personal risk to further the cause. And it was at the Derby that June day that Emily met her death, when she was trampled underfoot by the king's horse Anmer, after having tried to pin something representing the WPSU to it.
However, it remains a mystery to this day as to whether Davison deliberately chose to commit suicide.
In 1986 a trunk was found and inside were located the possessions which Emily had had with her on that fateful June day. It had belonged to Emily's solicitor and contained her personal effects. They included both a race card, which was marked with the winners of the previous races and a return train ticket. And, if Emily was preparing to die, why would she have marked all the winners of the day's previous races?
A respected writer on the incident, David Neville, has also pointed out that, "the most telling evidence has been produced thanks to modern technology. Image enhancement of the film of the tragedy taken by newsreel cameras clearly shows Emily trying to rein down the horse. Her intention, it seems, was to attach to the horse a WSPU flag which she had wrapped around her body".
Martyr of the movement
It is also notable that Emily had practiced attaching a WPSU flag to horses galloping on Morpeth Common in Northumberland, but these were not bred and trained to go as fast as those in the Derby.
Over one hundred years later, it is hard to know what the real motivation for Emily was, that fateful June day, but what is certain is that Davison would indeed become the martyr for the movement, which she had predicted would be needed for it to succeed.
After a huge funeral in London, on June 13th, her body was then brought north by train for burial in the family plot Morpeth the following day, where she was buried on a hill in the churchyard of St Mary the Virgin.
Whilst not perhaps as well known as the work in other regions, the Suffragettes from Northeast England played their part in bringing the cause of women's votes to the attention of the lawmakers of the day.
Their demands were reinforced by the way that many women kept the factories running during the First World War, as the men were away fighting in Belgium and France and female workers such as the Munitionettes, young women who made munitions for the army, proved beyond doubt that women deserved to have the vote alongside the men.
Consequently, in 1918, the vote was given to all women in the country over 30 and in 1928, to all women over 21. Women had finally gained parity with men. It was just a pity that Emily Davison was not around to see it…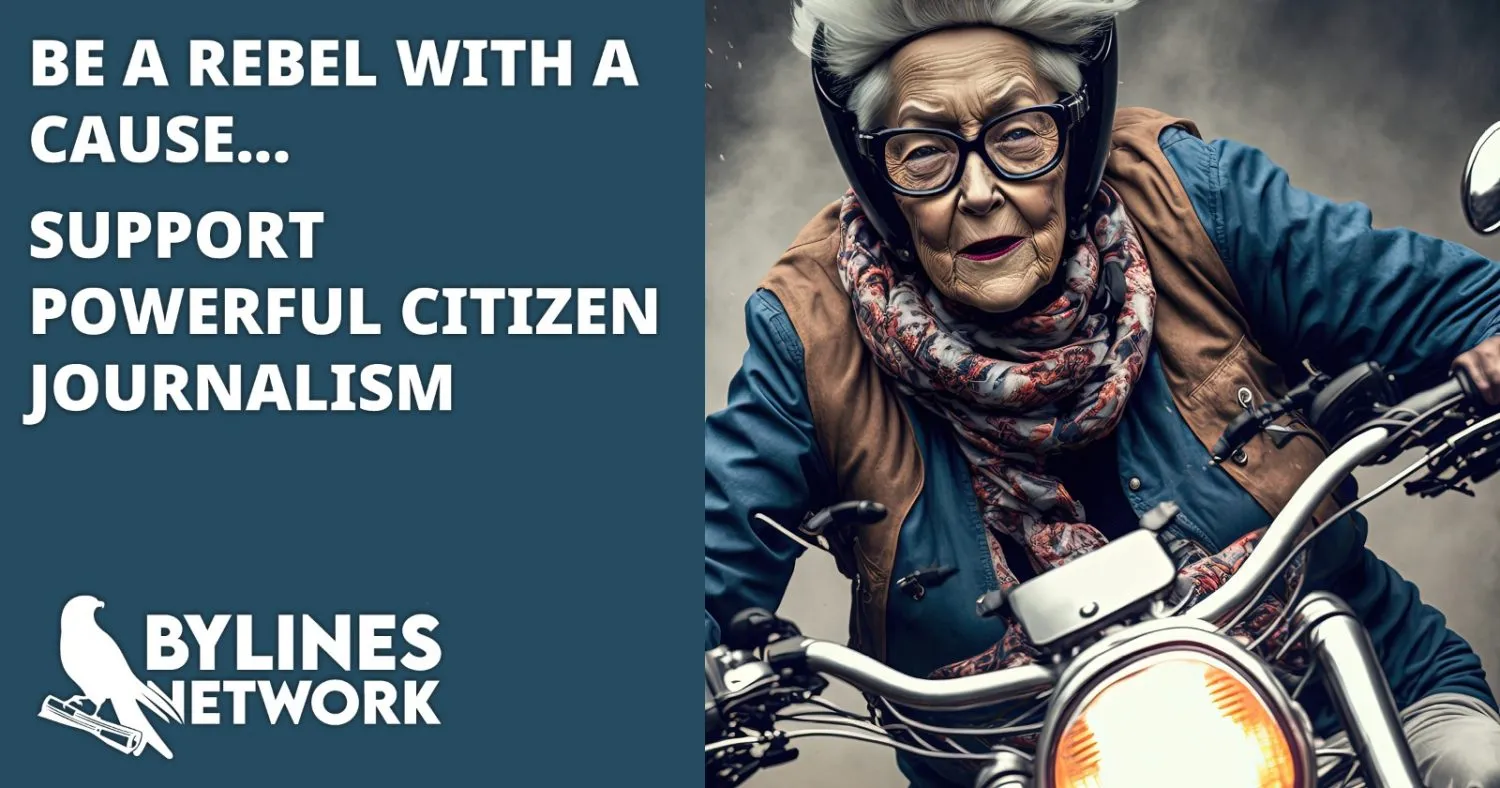 CLICK HERE TO SUPPORT THE BYLINES NETWORK CROWDFUNDER!