With the recent friendlies at St James' Park between Saudi Arabia and Costa Rica on 8th September and then against South Korea on 12th September, it seemed like a timely occasion to review what life is like in that Middle Eastern kingdom and what has happened there since the takeover of Newcastle United by the Saudi PIF in October 2021.
There are some who would claim that the Kingdom of Saudi Arabia is a place where human rights are not respected and that the regime is a murderous regime, which starts illegal wars and is responsible for many human rights abuses. But is all that true? Let's see what has been happening and look at the hard evidence.
How has Saudi Arabia been reported in recent times?
Part I of this survey covered the period from 7th October 2021 to 22nd June 2022. Part II examined what happened in Saudi Arabia during the rest of 2022. Part III took us from January to April this year. So, what has been happening in Saudi Arabia since April this year?
On 4th May, the Financial Times reported that United Nations experts had condemned what were described as the 'imminent' execution of Saudi protesters. The next day, De Zeen also picked up on this story, noting that the United Nations Human Rights Council had issued a statement denouncing the planned executions of three people because, it was reported, they had opposed the Neom mega project in Saudi Arabia, a huge city being built in the desert.
In a statement published in early May, a group of independent United Nations Human Rights Council experts urged the Saudi authorities not to carry out the executions. It was further reported that the three men under threat of execution, all members of the Huwaitat tribe – Shadli al-Huwaiti, Ibrahim al-Huwaiti and Ataullah al-Huwaiti – had been reportedly sentenced to death by Saudi Arabia's Specialised Criminal Court on 2 October 2022. The statement from the UN was reported as saying: "UN experts today expressed alarm at the imminent risk of execution of three members of the Huwaitat tribe in Saudi Arabia and urged authorities to halt the process."
Two days later Middle East Eye was reporting that the Saudi regime had been accused of forcibly displacing members of the Huwaitat tribe, who it was said had lived for centuries in the Tabuk province in northwest Saudi Arabia, to make way for the $500bn Neom city. Furthermore, it was reported that the UK government was, "facilitating collaboration between British businesses and the planned Saudi megacity Neom, despite allegations of serious human rights abuses taking place to make way for the project." It was also noted that at least 47 members of the Huwaitat tribe had been either, "arrested or detained for resisting eviction, including five who have been sentenced to death, according to a report by the UK-based Alqst rights group."
Another two days later, on 9th May, The Guardian ran a story about a letter written by a family member to the US secretary of state, Antony Blinken, about the plight of Abdullah al-Derazi, describing how Abdullah had been swept off the street and disappeared for three months in August 2014 for protesting, 'crimes' he was alleged to have committed when he was 17 years old. Abdullah was said to be one of two Saudis who had been, "arrested and allegedly tortured for crimes they were accused of committing as minors are facing an imminent threat of execution, in what human rights experts say is a sign of the kingdom's violation of its own promise to end death penalty cases against child defendants." It was stated that the letter to Blinken said: "Saudi Arabia's government is deaf to our cries, but it will listen to you. You can help bring our sweet and sensitive boy home and prevent him being taken from us forever."
On 23rd May, Middle East Eye reported that Saudi Arabia had executed three men, Hassan bin Issa al-Muhanna, Haidar bin Hassan Muwais and Mohammed bin Ibrahim Muwais, in the eastern region of the country, without having previously published any information on their cases. Middle East Eye went on to note that three men had been alleged to have joined a camp outside the country "in service of… terrorist organisations against the kingdom", possessed and been trained in the use of weapons and bombs, stored arms with the intent of "violating internal security", and smuggled wanted individuals outside the country. However, the European Saudi organisation of Human Rights said in a statement that, "the three cases were not monitored at any of the judicial stages, as the Saudi government did not publish any official news about the arrest, or their being wanted."
Two days later, it was reported by Data Centre Dynamics that following Human Rights Watch calling on Microsoft to suspend its plans to invest in a new cloud data centre in Saudi Arabia now more than a dozen more human rights groups had joined in the protest. Joey Shea from Human Rights Watch was quoted as saying that, "The Saudi government's record of violating privacy rights with impunity poses a grave danger to data stored within its borders. Microsoft needs to conduct a thorough human rights due diligence process and publicly detail how it will mitigate the potential adverse human rights impacts associated with Saudi Arabia hosting the data centre."
Additional groups
The additional groups were said to be:
Access Now
ALQST for Human Rights
Democracy for the Arab World Now
Eko
Euro-Med Human Rights Monitor
FairSquare
Front Line Defenders
Gulf Centre for Human Rights
Heartland Initiative
IFEX
Kandoo
MENA Rights Group
Project on Middle East Democracy
Ranking Digital Rights
Red Line for Gulf
SMEX
The Yemeni Archive
Other reports
It was also reported that the company had first announced plans for a new data centre and cloud region in the country in February 2023, but the plans had been met with concerns over the risk of human rights abuses, with Human Rights Watch the first organisation calling for it to suspend plans in April 2023. It was said that there were concerns that, "Saudi Arabia has a history of infiltrating technology platforms to spy on human rights platforms, as well as using cyber surveillance software. It is also criticized for its lack of stringent data protection laws."
On 29th May, Al-Jazeera reported that Saudi Arabia had executed two Bahrainis accused of plotting what were described as "terrorist" operations, according to the Saudi Ministry of Interior. This raised the number of similar executions to nine in May alone. It was said that the Bahraini nationals had been identified as Jaafar Sultan and Sadiq Thamer, who had been charged with "joining a terrorist cell led by a man wanted in Bahrain", the ministry said in a statement. It was further reported by Al-Jazeera, that Majority-Sunni Saudi Arabia had sent troops to Sunni-led Bahrain to crack down on a mainly Shia protest movement. This protest movement had begun during the Arab Spring in 2011, inspired by revolutions in Tunisia and Egypt. Al-Jazeera also noted that, "the recent rise in executions in Saudi Arabia comes as the kingdom has attempted to soften its image through sweeping social and economic changes as part of its "Vision 2030" reform agenda."
On 13th August, The Guardian reported that a prominent Saudi scholar and Snapchat influencer had been arrested by the Saudi authorities. It was further reported that this arrest was part of what experts were saying was evidence of the kingdom's extreme crackdown on social media users. The report went on to add that, "the arrest of Mohammed Alhajji, a public health expert who completed his dissertation in the US, follows the disappearance and recent arrests of other prominent influencers for "crimes" that include the perceived criticism of the crown prince, Mohammed bin Salman, and support for women's rights." 
The Human Rights Watch
On 21st August, it was reported by the BBC that according to a new report by Human Rights Watch, Saudi border guards were being accused of the mass killing of migrants along the Yemeni border. It was further noted that the report stated that hundreds of people, many of them Ethiopians who cross war-torn Yemen to reach Saudi Arabia, had been shot dead. According to the BBC, migrants told them that they had had limbs severed by gunfire and had seen bodies left on the trails. The BBC stated that Saudi Arabia had previously rejected allegations of systematic killings.
The BBC also went on say that "the Human Rights Watch (HRW) report, titled They Fired on Us Like Rain, contains graphic testimony from migrants who say they were shot at and sometimes targeted with explosive weapons by Saudi police and soldiers on Yemen's rugged northern border with Saudi Arabia. Migrants contacted separately by the BBC have spoken of terrifying night-time crossings during which large groups of Ethiopians, including many women and children, came under fire as they attempted to cross the border in search of work in the oil-rich kingdom."
So, there is evidence about what was happening in Saudi Arabia from May 2023 until August this year. Are those who accuse the Saudi regime of having a bad human rights record being fair?
In November 1967 Newcastle University became the only university in Britain to honour Dr. Martin Luther King Jr. in his lifetime. One of King's most famous quotes was that "the silence of the good people is more dangerous than the brutality of the bad people." In June of this year, a report from FairSquare suggested that local politicians and media sources in the Northeast really should have more to say about the human rights record of Saudi Arabia. Were the authors of the report correct to say that?  What should we say and what should we do in response to the Saudi regimes record on human rights?
Now that we have seen in this four-part series what is happening in Saudi Arabia, it would certainly be interesting to hear from elected representatives from in and around Newcastle about how they think they should respond to the evidence. That would be most helpful in taking the debate forward.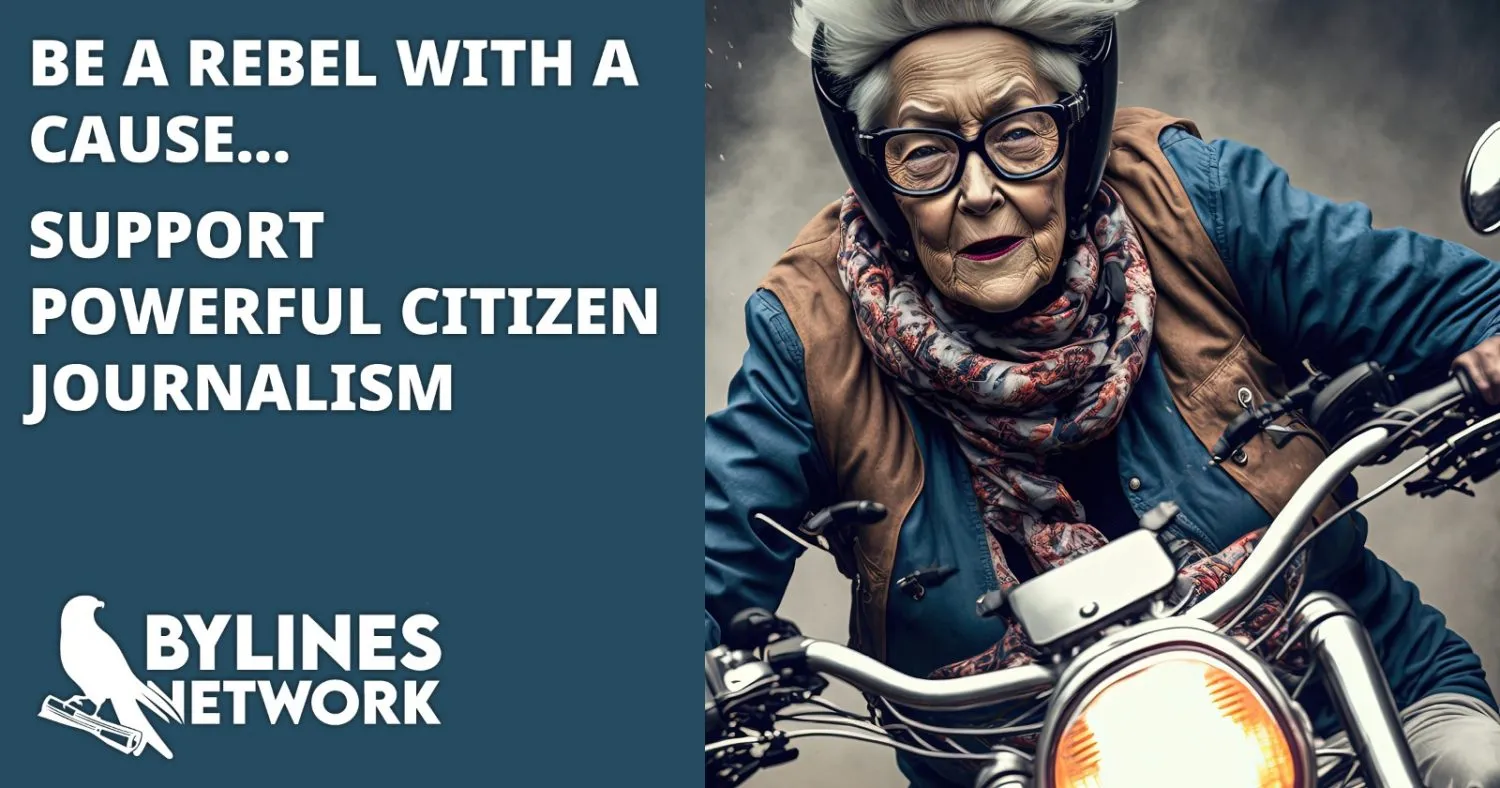 CLICK HERE TO SUPPORT THE BYLINES NETWORK CROWDFUNDER!