7th October marked the second anniversary of the takeover of Newcastle United by the Saudi PIF, and so it seems like a timely occasion to review what life is like in that Middle Eastern kingdom and what has happened there since the takeover of Newcastle United by the Saudi PIF in October 2021. There are some who would claim that the Kingdom of Saudi Arabia is a place where human rights are not respected and that the regime is a murderous regime, which starts illegal wars and responsible for many human rights abuses.
But is all that really true? Let's see what has been happening and look at the hard evidence. How has Saudi Arabia been reported in recent weeks?
September reports
It was reported in the Independent on 9th September that Tyson Fury had been urged to use his platform to highlight Saudi Arabia's "disturbing" human rights record after he claimed the Middle East country will host all the big sporting events within the next decade.
On the 14th of September, the Mirror newspaper reported that a US Senate committee hearing had been told that, "Newcastle United's majority owners had "facilitated and benefited from human rights abuses". The story went on to say that Human Rights Watch were calling on the US government to investigate and regulate Saudi Arabia's Public Investment Fund after an address to the Permanent Subcommittee on Investigations (PSI) which alleged the investment vehicle was "directly involved" in human rights abuses linked to crown prince Mohammed bin Salman. The report continued by stating that Human Rights Watch had said that Bin Salman "has shown a clear interest in expanding his influence beyond Saudi's borders, often through high-profile business deals with sports teams and leagues."
On 15th September, the Financial Times reported that the UN had told banks including Citi, Goldman Sachs, and BNP Paribas that their financing of Saudi Aramco may be in violation of global human rights rules because of the state-run oil company's contribution to climate change. The report went on to note that a panel of UN appointed human rights specialists had sent letters to Aramco as well its financiers, following a 2021 legal complaint by environmental campaign group ClientEarth that had accused Saudi Arabia's oil company of the largest ever climate-related breach of international human rights law by a business.
On 23rd September, CNBC reported on comments by Crown Prince Mohammad Bin-Salman, in an interview with Fox News, where he stated that, "if sportswashing is going to increase my GDP by 1%, then we will continue doing sportswashing". It was noted that human rights organizations had immediately seized on the comments, with a director at Human Rights watch saying, "we've now heard from the top that this is state policy".
The following day it was reported on TBS News that Middle East Eye had reported that Saudi Arabia had sentenced a girl of secondary school age to 18 years in jail and imposed a travel ban.  This was said to be for posting tweets in support of political prisoners, according to the human rights group ALQST, which documents human rights abuses in Saudi Arabia.  It was said that the Saudi Specialised Criminal Court had handed out the sentence in August to 18-year-old Manal al-Gafiri, who was only 17 at the time of her arrest.
October reports
On 2nd October it was noted in The Guardian that, "Five years after killing a journalist in cold blood, Saudi Arabia is stronger than ever". The report went on to note that after the murder of Jamal Khashoggi, the US had vowed to hold Saudi Arabia accountable, but that in fact, Biden had done the opposite. It was further noted that five years ago, Jamal Khashoggi had walked into the Saudi Arabia's consulate in Istanbul to pick up a document he needed to marry his Turkish fiancée, but that the journalist had never walked out. It was claimed that inside the consulate, he had been ambushed by a 15-member Saudi hit team, who had suffocated him and dismembered his body with a bone saw. It was then said that the death squad had then slipped out of Turkey on two charter planes owned by Saudi Arabia's sovereign wealth fund.
The report further stated that since then, Mohammed bin Salman, described as Saudi Arabia's crown prince and de facto ruler, who, it was noted, according to US intelligence officials, approved Khashoggi's assassination, had managed a near complete rehabilitation of his increasingly autocratic regime. It was noted that, "Prince Mohammed has met with Joe Biden, Emmanuel Macron, and other world leaders; he's positioning Saudi Arabia as a global tourism destination; and he's ploughing ahead with plans to build Neom, his $500bn futuristic city in the desert. The prince has spent more than $6bn on investments in football teams, golf tournaments and other sports deals. He's pouring billions more into Silicon Valley tech companies – all part of an effort to whitewash the kingdom's abysmal human rights record."
On 3rd October, Al Bawaba News reported that Saudi King Abdullah bin Abdulaziz, had ordered the appointment of Turki bin Khalid Al Sudeiry as the President of the Human Rights Commission at the rank of a minister. It was also noted that a Saudi statement had said that the Commission, which had been formed the previous month, aims at upholding civil rights in the kingdom "in the light of Islamic Sharia laws."
On 5th October, NBC reported on a top Senator calling on the United States to stand up for human rights in Saudi Arabia. It noted that Senator Chris Murphy (D-CT), was a member of the Foreign Relations Committee and a critic of the looming Saudi-Israel deal.
The following day another angle on Saudi Arabia's activities was highlighted in The Guardian, noting that Antonio Guterres, the UN Secretary General, had warned that oil companies and states were lobbying hard against attempts to close their businesses. The article went on to suggest that "Saudi Arabia's huge recent investment in football is part of a strategy aimed at increasing its influence and muting opponents. Last year, Saudi Aramco, which is largely state-owned, made a profit of $161bn (£134bn) – the biggest ever recorded by an oil and gas firm."
It was reported in the Metro on 12th October that Sir Rod Stewart had announced he would not be playing in Saudi Arabia amid hopes his stance would 'shine a light' on those facing injustices there, including the LGBT+ community. It was further noted that the 78-year-old singer had previously said he had turned down more than a million US dollars to play in Qatar before the World Cup in the Middle East country last year. It was also reported that Sir Rod had written on Instagram that he was, "grateful that I have a choice whether to perform in Saudi Arabia. So many citizens there have extremely limited choices – women, the LGBTQ community, the press. 'I'd like my choice not to go… to shine a light on the injustices there and ignite positive change.' "His statement had followed a report in the Mirror which had claimed the country's human rights record is the reason why Sir Rod had turned down a performance there – despite being offered a 'much higher' amount than for the Qatar gig.
Meanwhile, the following day Glasgow Live reported that Calvin Harris had been slammed for his decision to perform at a music festival in Saudi Arabia by human rights groups. It was further noted that, "The Scottish DJ will take to the stage at the MDLBeast Soundstorm event in Riyadh in December. The 39-year-old's decision to accept the lucrative pay offer to play at the festival was condemned by Amnesty International UK due to the country's human rights abuses."
On the same day, 13th October, a press release from Access Now, an NGO promoting accessibility, reported on Scoop News, a New Zealand -based media outlet, noted that the United Nations' Internet Governance Forum (IGF) should not be held in Saudi Arabia in 2024 due to, "the country's abysmal human rights record. The government's protracted history of civil society oppression would make it unviable for civil society to participate in the meeting freely and safely, excluding the very voices that give legitimacy to the Forum".
Access Now
It was further reported that through an open letter, Access Now, Association of Progressive Communications (APC), and civil society partners were calling on the IGF to reverse the decision to hold the IGF in Saudi Arabia and urgently review the decision-making process. The release went on to state that, "it is unsafe and absurd to announce Saudi Arabia as the host country for the 2024 Internet Governance Forum," said Marwa Fatafta, MENA Policy and Advocacy Manager at Access Now. "A government that oppresses and persecutes women activists, silences critics, and obliterates free press cannot be granted the opportunity to stand in front of the world's stage — propped up by the United Nations — and purport to welcome a diversity of civil society and other actors 'as equals' to address the most pressing internet-related issues of our time."
The press release also claimed that the government of Saudi Arabia, "uses online technologies to muzzle and intimidate activists, human and women's rights defenders, and members of the media, and violate the rights of the people who live there through censorship and surveillance."
Access Now went on to claim that the IGF is a "global multi-stakeholder platform that facilitates the discussion of public policy issues pertaining to the internet," and cannot function in an arena that excludes or threatens women, LGBTQ people, and civil society.  "Civil society's voices are needed to shape online spaces and inform their governance," said Peter Micek, General Counsel and UN Policy Manager at Access Now. "The senseless decision to host the Internet Governance Forum in Saudi Arabia where these voices will be excluded will not lead to a safe, inclusive internet — it will threaten it."
More October reports
On Friday 20th October, it was reported in The Telegraph that Chelsea Women's team manager Emma Hayes wanted Saudi assurances on gay rights before any World Cup is awarded to the country. The report went on to state that, "Fifa should seek assurances from Saudi Arabia about the safety of LGBTQ+ players and supporters before considering choosing the Gulf state as the hosts of the 2035 Women's World Cup, says Chelsea manager Emma Hayes." It was further noted that the Saudi Arabian Football Federation's (SAFF) technical director of women's football, Monika Staab, had said in London that week that, "the country, in addition to pitching for the 2034 men's World Cup, should push to host the women's tournament the following year. That would put the UK and Saudi Arabia on collision course with this country also looking to host the 2035 women's showpiece."
On 24th October, EU Observer proclaimed that Tirana Hassan, the executive director of Human Rights Watch had warned that, "Quiet diplomacy' doesn't work" and that governments are, "increasingly trading human rights for short-term political expediency." Hassan also said that "it is vital leaders in Europe publicly speak out in defence of human rights, while holding wrong-doers accountable for their crimes."
Hassan also stated that, "we have seen Europe and other countries try and put peace before justice, or put their economic rights, their economic interests before human rights," claiming that such a strategy, "only emboldens repressive regimes in China, Egypt, Saudi Arabia, Sudan, Tunisia and elsewhere, while enflaming tensions and conflicts. If we take a step back, we can see how we found ourselves in these positions. It's because the world and world leaders didn't respond to crises and systemic abuses when they could have".
On Friday 27th October, The Guardian headlined a story thus: "The reality behind a fight in Saudi Arabia: human rights abuses shadow Fury's visit". It was further noted that was difficult to be indignant about simple sporting greed, when activists claimed police repression of women is worse than ever at the heart of Saudi society.
It was further noted that in March 2022 the Saudi state had passed the Personal Status Law, perpetuating the male guardianship system and codifying expectations that women will obey their husbands. Felix Jakens, from Amnesty UK, was reported as telling the author of the report that, "it makes their financial support conditional on wives submitting to their husband. Women also need the consent of a male guardian to get married. So, they're actually entrenching discrimination against women."
On the same day, Human Rights Watch released a statement saying that, "FIFA Broke Own Human Rights Rules for World Cup Hosts' Saudi Arabia Shouldn't be Rewarded for Its Repression". The report went on to claim that global soccer governing body FIFA had broken its own human rights rules in announcing a plan for hosting the next two men's World Cups that effectively eliminates bidding and human rights due diligence.
It was further noted that on October 3rd, FIFA had announced that the 2030 World Cup would take place in Morocco, Portugal, and Spain with games in Uruguay, Argentina, and Paraguay. It was further claimed that each of these countries had serious human rights violations. It was also stated that within hours after FIFA published its arrangements for the 2030 World Cup, Saudi Arabia had announced its ambitions to host the 2034 World Cup.
So, there is evidence about what was happening in Saudi Arabia from early September until the end of October.
Are those who accuse the Saudi regime of having a bad human rights record being fair?
What should we say and what should we do in response to the Saudi regimes record on human rights?
In November 1967 Newcastle University became the only university in Britain to honour Dr Martin Luther King Jr. in his lifetime. One of King's most famous quotes was that "a man dies when he refuses to stand up for that which is right. A man dies when he refuses to stand up for justice. A man dies when he refuses to take a stand for that which is true."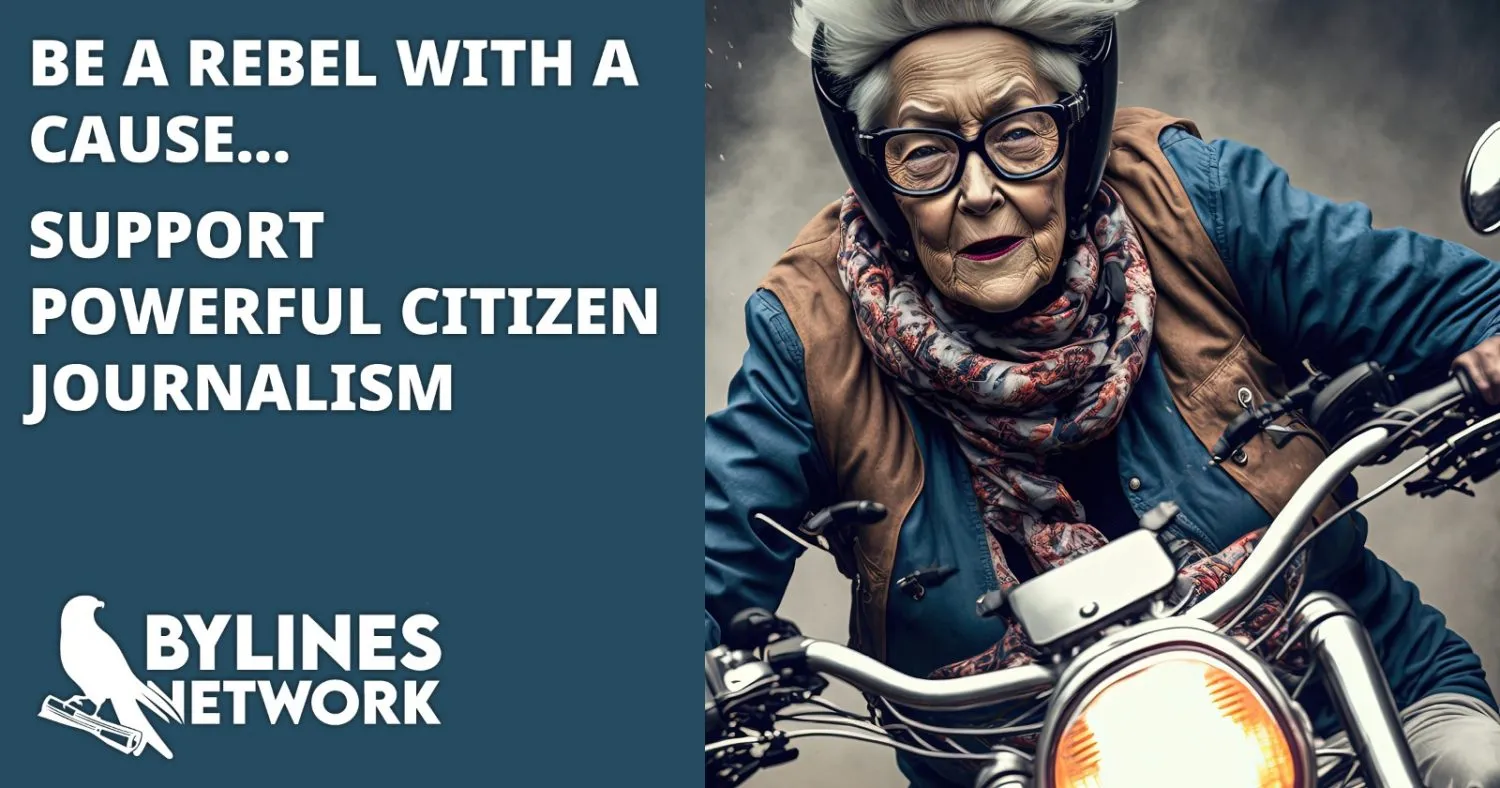 CLICK HERE TO SUPPORT THE BYLINES NETWORK CROWDFUNDER!