With upcoming friendlies at St James' Park between Saudi Arabia and Costa Rica on 8 September and then against South Korea on 12 September, it seems like a timely occasion to review what life is like in that Middle Eastern kingdom and what has happened there since the takeover of Newcastle United by the Saudi PIF in October 2021.
There are those who claim that the Kingdom of Saudi Arabia is a place where human rights are not respected and that the regime is a murderous regime, which starts illegal wars. But is all that true? Let's dive deeper and look at the hard evidence. How has Saudi Arabia been reported in recent times?
Part I of this series covered the period from 7th October 2021 to 22nd June 2022. So, what happened during the rest of 2022?
BBC News report
On 24th June 2022, BBC News reported that the Saudi regime had freed their youngest prisoner who faced execution. It was reported that Murtaja Qureiris had been facing the death penalty, having been arrested at the age of 13 for his involvement in anti-government protests, although he was finally sentenced to a prison term.
New Arab report
13 days later, the New Arab reported that the fiancé of murdered journalist Jamal Khashoggi had been urging US President Biden to cancel his visit to Saudi Arabia. It was noted that, "US intelligence services said Khashoggi was killed and dismembered in a gruesome murder ordered by Saudi Crown Prince Mohammed bin Salman" and that during the Presidential race of 202, Biden had pledged to make Saudi Arabia a pariah state because of the murder. Kashoggi's fiancé, Hatice Cnegiz, had written, "you can imagine how shocked and disappointed I was to learn that you would break your promise and travel to Saudi Arabia to likely meet with the crown prince — the person who US intelligence determined was responsible for ordering Jamal's murder".
On 5th August, Middle East Eye reported that the United Nations had warned that the Saudi Arabia execution of two Bahrainis, Jaafar Mohammad Sultan, and Sadeq Majeed Thamer, could be 'arbitrary', as they had allegedly been tortured and forced to make confessions. It was also noted that the UN experts were again calling on Saudi Arabia to halt executions of men convicted of terrorism charges and to investigate allegations they were tortured into confessions.
Report by Arab News
Interestingly, it was reported by the Saudi-based Arab News on 10th August 2022, that the Arab League's Human Rights Committee had praised Saudi Arabia for its efforts to strengthen the mechanisms to protect human rights, as it honoured its former president, Hadi Al-Yami, a member of the Saudi Shoura Council.
Yet a week later, the Gulf Centre for Human Rights was reporting on what they described as, "a mockery of justice".
This concerned the news that human rights defender Salma Al-Shehab had been sentenced to 34 years in prison. It was further noted that Selam had been sentence to 34 years for, "her online activities, noting that it is the heaviest sentence that any peaceful activist has ever received."
The Independent noted on the same day that Salma was a Leeds University student and had been sentenced for having a Twitter account and for sharing posts written by activists and dissidents.
Amnesty International report
Two months later, on 10th October 2022, Amnesty International were reporting that three young men in Saudi Arabia were facing imminent execution, despite assurances from the regime on re-sentencing juveniles to prison terms.
It was additionally noted that, "at least three young men in Saudi Arabia are at imminent risk of execution after an appeal court confirmed their sentences between June and October this year, Amnesty International said today.
Following their grossly unfair trials, the organization is calling upon the Saudi authorities to commute the young men's sentences as the world marks World Day Against the Death Penalty."
Report by Middle East Eye
Two days later, Middle East Eye reported that the detective accused of being involved in the cover-up of Jamal Khashoggi's murder had been appointed to the country's top terrorism court, according to Democracy for the Arab World Now (dawn).
In stating this, Dawn was said to be citing a Saudi government document, showing that the decree, originally issued on 9th June, had appointed Awadh bin Ali bin Ayedh al-Mayshar al-Ahmari to serve as the president of the Specialised Criminal Court.
Report by De Zeen
On 17th October, De Zeen reported that Al Qst, a human rights organisation that documents and promotes human rights in Saudi Arabia, were reporting that three men forcibly evicted from the Neom site in Saudi Arabia had been sentenced to death. Neom is an urban area being developed in the Tabuk region in the northwest of Saudi Arabia. It was also mentioned that the three men were members of the Huwaitat tribe and had been detained in 2020 for opposing the eviction from their land to make way for the new urban area.
The following day the Financial Times described the plights of expat workers at KPMG Saudi Arabia. The FT reported on a dozen current and former employees at the Big Four accountancy firm's Riyadh office who had described living in fear of being summarily fired and worse.
October 2022
There was a lot going on in mid-October 2022, as on the same day as the news about KPMG was reported so the BBC was reporting that another person had been given a lengthy prison sentence for their use of Twitter.
It was noted on BBC News that Saad Ibrahim Almadi, 72, who had joint US and Saudi citizenship, had been sentenced to 16 years in prison for his use of Twitter.
According to the BBC, his son alleged that Saad had been held in conditions that had amounted to torture since his arrest by Saudi authorities. It was said that the Saudi court that has found him guilty of, "trying to destabilise the kingdom and of supporting and funding terrorism".
Lamadi's son Ibrahim was reporting as saying that the only evidence finally presented to the court consisted of 14 tweets which the BBC said it had seen, included criticism of the demolition of old parts of the cities of Mecca and Jeddah, concern over poverty in the kingdom, and a reference to the murdered Saudi journalist Jamal Khashoggi.
November 2, 2022
On 2nd November 2022, the Saudi-based Arab News was again portraying the regime there in a positive light. It reported that the Saudi Press agency had said that the President of the Human Rights Commission (HRC), Dr Hala bint Mazyad Al-Tuwaijri, had highlighted Saudi Arabia's latest efforts and reforms in human rights, and that the President of the Human Rights Commission claimed that, "the reforms in the Kingdom also aim to raise the quality of life in the country, protect various segments of society, and empower women." The Human Rights Commission is an arm of the Saudi government and on its website, it describes its work as The Saudi Human Rights Commission protecting and promoting, "human rights in accordance with international human rights standards in all fields, with increasing awareness and contribution to ensure fulfilment based on the provisions of Islamic law."
On the same day, The Independent reported that Saudis in the US were being targeted as kingdom cracks down on dissent. It was claimed over the previous five years, Saudi surveillance, intimidation, and pursuit of Saudis on US soil had intensified as the kingdom increased repression under its de facto ruler, Crown Prince Mohammed bin Salman. These claims had been made by the FBI, rights groups, and two years of interviews with Saudis living abroad. Additionally, it was noted that some of those Saudis had said that FBI agents had advised them not to go home. Replying to an enquiry from Associated Press, the Saudi Embassy in Washington was said to have replied: "The notion that the Saudi government — or any of its institutions — harasses its own citizens abroad is preposterous."
Noted in The Guardian
A week later, it was noted in The Guardian, that a 34-year-old American woman had been detained in Saudi Arabia having posted on Twitter that she and her young daughter had been lured to the kingdom and trapped there since 2019.
It was reported that Carly Morris had told relatives three years ago that she had been planning to travel to Saudi Arabia for a brief period so that her eight-year-old daughter could meet her paternal grandfather. However, things did not go to plan.
Morris then became locked in a years-long struggle to take her young daughter back out of the kingdom over the objections of her Saudi ex-husband and she was now detained in Saudi Arabia.
It was noted that Morris' efforts to leave have been made more difficult by Saudi Arabia's strict male guardianship laws.
Press release by the United Nations
On the same day, the United Nations issued a press release, saying that the Special Rapporteur about human rights defenders had said that she was increasingly concerned for the health and life of imprisoned Saudi human rights defender Mohammad Al-Qahtani, who was reportedly being kept incommunicado after his family filed a complaint about attacks on him by inmates.
The Special Rapporteur on human rights defenders, Mary Lawlor, was reported as saying that she was, "concerned at reports that his family has lost communication with Mohammad Al-Qahtani since 23 October 2022, after filing a complaint about attacks on him by other inmates," and went on to say that she was, "calling on the relevant authorities in Saudi Arabia to inform his family of his whereabouts and current state of health, and to allow access by his family and lawyers."
November 9
The next day, 9th November, reports emerged of two Pakistani men being executed in Saudi Arabia. Amnesty International noted that these were the first such executions since the country's Human Rights Commission had announced a moratorium on the use of the death penalty for drug-related crimes in January 2021.
In response to the executions, Diana Semaan, Amnesty International's Acting Deputy Director for the Middle East, and North Africa, said: "This striking escalation in the country's use of the death penalty this year reveals the true face the Saudi authorities are hiding behind the so-called progressive reforms agenda they are presenting to the world.
"Trampling on the official moratorium on drug related crimes, they arbitrarily took the lives of two Pakistani nationals. The lives of individuals on death row for drug-related crimes and other crimes are at risk. Regardless of the crimes committed, no one should suffer this cruel, inhuman, and degrading punishment."
Report by the Metro
On 22nd November, it was reported in the Metro that Saudi Arabia had executed 17 people, using swords, in just 12 days. It was noted that this had happened, despite assurances from Crown Prince Mohammed Bin Salman, to curb the use of the death penalty. It was said that I, what was described as a record high for total capital punishments in a year by the kingdom, 17 men had been killed for 'drug and contraband offences.
The next day, People 's Dispatch reported that serious concerns had been raised about the whereabouts of a prominent Saudi human rights activist.
The Washington Post
On 30th November, the Washington Post also reported on how Saudi Arabia had resumed capital punishment for drug-related crimes after an unofficial two-year moratorium on such executions.
It was argued that Saudi Arabia had been changing rapidly since 2017, when Crown Prince Mohammed bin Salman rose to power and moved to modernize the kingdom, with the influence of conservatives curbed removal of power from religious police who patrol the streets and more rights granted to women.
However, it was also noted that other promised reforms had failed to materialise, "including Mohammed's vow to curtail the use of the death penalty in a country that has long been among the world's leading executioners."
Report by Amnesty International December 16
On 16th December, Amnesty International reported that Saudi authorities were forcibly returning hundreds of thousands of Ethiopian migrants having arbitrarily held them in indefinite detention in inhuman and cruel conditions.
It was said that this was done simply because they did not have valid residency documents, a situation exacerbated by Saudi's abusive kafala system.
The Council on Foreign Relations noted that, "the kafala system is a legal framework that has for decades defined the relationship between migrant workers and their employers in Jordan, Lebanon, and all Arab Gulf states but Iraq" and goes on to say that "there is growing recognition that it is rife with exploitation.
"The lack of regulations and protections for migrant workers' rights often results in low wages, poor working conditions, and employee abuse. Racial discrimination and gender-based violence are endemic."
Report published on December 21 2022 by Middle East Eye
On 21st December 2022, Middle East Eye reported that Saud Al-Faraj, 42, had been convicted in June 2021 of participating in protests, running a terrorist cell, and killing police officers among other charges and that he had been sentenced to death in October 2022.
It was noted that Faraj denied the charges and was appealing against his conviction. It was said that Faraj had written a 19-page handwritten defence seen by Middle East Eye, describing how he was held in solitary confinement for 630 days and repeatedly tortured for refusing to confess.
Faraj was quoted as saying that, "I would not be able to list all the violations I faced by the officials. I have never harmed anyone, and my clean criminal and moral records can attest to this."
Mirror newspaper report on December 28
On 28th December, the Mirror newspaper reported on a condemned dad of eight saying that he did not know, "when they will cut off his head".
It was further reported that Jordanian national Hussain Abu al-Khair had been driving his cab over a border between Jordan and the Gulf state when he had been seized in 2014 with 20,000 pills of Captagon, which is a stimulant used in the Middle East.
The report went on to state that rights groups had argued that the taxi driver had been an unwitting drugs mule who was being punished while the powerful drug lords in the ultra-conservative Sharia state remained at large.
The Mirror also reported that rights groups had said that al-Khair had been suspended from his feet as agents beat his legs, stomach, head, hands, and face and that he had also been insulted and degraded and forced to sign a confession, which led to an end to his brutal treatment, but was now threatening to cause him to be executed.
Are the accusations against the Saudi regime fair?
So, there is a wealth of evidence about what was happening in Saudi Arabia from July 2022 to the end of December 2022.
Are the accusations against the Saudi regime fair?
As was mentioned in Part I of this series, in June of this year, it was suggested by Fair Square in a report, that local media sources and politicians in the Northeast really should be speaking out more about the human rights record of Saudi Arabia.
Were the authors of the report correct to say that? What is the best way for us to respond to the Saudi regimes record on human rights?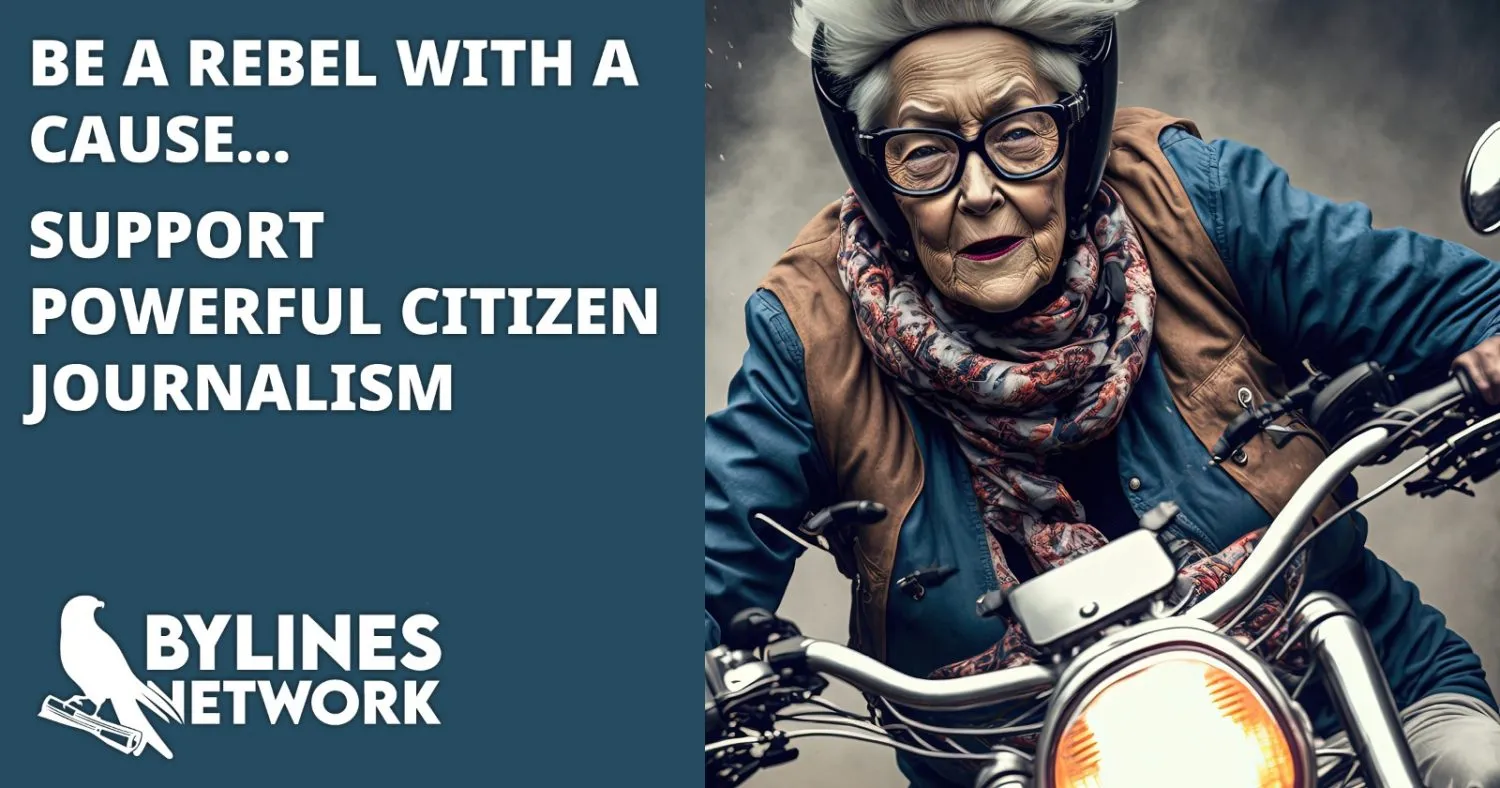 CLICK HERE TO SUPPORT THE BYLINES NETWORK CROWDFUNDER!