The National Conservative Conference was held from 15 to 17 May 2023 in London in an evangelical church that backs onto Tufton Street, a street where, as a matter of entire coincidence, a number of right-leaning think tanks and pressure groups have their head offices.
Although not actually a Conservative Party event, it featured as speakers, amongst a broad panoply of guests from all over Europe and America, a number of notable Tory party members, namely Suella Braverman, current Home Secretary, ex-cabinet members Jacob Rees Mogg and Michael Gove, Tory Party Deputy Chairman Lee Anderson, as well as a few less prominent MPs, such as Miriam Cates. In addition, famously right-leaning commentators such as Melanie Philips, she of Radio 4's The Moral Maze and contributor to The Telegraph, and Dr David Starkey, historian, would speak, as would Tim Stanley of the Telegraph, who had just published his vindication of Brexit on the strength of the Eurovision Song Contest (I did not make that up). Other names you might recognise were GBNews types (GBNews enjoying not exclusive, but privileged, press access) Calvin Robinson and Darren Grimes, although it occurs to me I could have as reasonably appended Anderson and Rees- Mogg to this part of the roll call since they both present their own segments on GBNews (that's the GBNews recently reprimanded for promulgating conspiracy theories and which avowed to do so less – not to cease so doing, but to do so less – this week)
Day 1: SODEM protest at NatCon
Well, it's not as if SODEM – the Stand Of Defiance European Movement protest group that has coalesced around Mr Stop Brexit, Steve Bray – was going to let that one go by without comment. Oh no. So, we protested all three days.
We were far from alone. A number of XR affiliated types got themselves inside the event. Indeed, Dirk Campbell (once of 70s prog combo Egg) took to the stage for Rees-Mogg's opening remarks, and was ejected for venturing his gracious attempt to remind the assembled as to the nature of fascism, and its early indicators.
Later, another couple of activists were ejected as Suella Braverman made her speech.
By all accounts made to us later, what they missed was a naked leadership bid, and so we may expect the Tory psychodrama to re-erupt shortly, which is great because they've had the same leader for months now, and that simply isn't what we've come to expect of the Tory party.
That afternoon also saw a rousing call to church and kitchen from Miriam Cates MP to the nation's women, a call to raise the birth rate, and to counter the excess of education that leads people to decline to breed, all of which was, of course, entirely without historical precedent and reminded absolutely no one of anything at all…
And this was just day one. Were we to expect a rising of pitch to a triumphant crescendo over three days?
SODEM's mode of protest is, quite famously (after all, the government invented laws to address it and stop us, and, according the Mail on Sunday, is about to step up those efforts) about noise. We don't impede anyone, we simply make our presence felt, once via Steve's use of a megaphone – sometimes still used – but now more usually via amplifiers. They could hear us in the event's venue, The Emmanuel Centre, they were aware of us. They had to walk past us to get in.
We had a few people attempt the argument that we were suppressing their freedom of speech. Which we weren't. That was a nonsense position. They were getting to say whatever they wanted. They just got to say that whilst the presence of a dissenting voice outside was made evident. It would seem, however, that the patrician does not welcome this plebeian's engagement with the discourse, does not even welcome a reminder of the plebeian's existence. However, I was happy to explain their error.
That evening the conference assembled for its gala dinner at the natural history museum, where Douglas Murray lamented that the Germans had given nationalism a bad name
Day 2: Michael Gove at NatCon
The big draw for the second day, but not until the afternoon, was Michael Gove. It was noticeable just how very much quieter the morning was compared to the Monday. We thought it would likely pick up for the big speech that afternoon, and there certainly were more people there as Gove's moment approached, but it simply wasn't as well attended as the day before. There were further complaints made by attendees that we were impeding freedom of speech, and they had again to be countered with the obvious observations made the day before.
The Tuesday saw the attendance of Calvin Robinson, curiously ordained persecutor of the trans community and alumnus of GBNews. But he seemed reluctant to talk to us. As did a few other clergy in their dog collars who appeared to be somewhat discomfited if we videoed them. Onward Christian Soldiers, but please don't tell the bishop.
I had spoken with a number of attendees by this point, and one young chap (I won't be naming names in this piece unless in reference to announced speakers or TV personalities) wryly mentioned later that the hall had many empty seats during Gove's speech, and that he had noted at least three people sleeping through it. Govey was not setting the world alight.
Day 3: an embarrassing dribble at NatCon
By the Wednesday the attendance was an embarrassing dribble that seemed to feature more media commentators than anything, although, because the afternoon was themed as religious, the anti-trans types had arrived to bolster the numbers a tad. Various discussions were had between SODEM and those coming in and out, indeed, there accrued something of a crowd on the steps suggesting that some preferred that they be outside the venue rather than in, and were therefore available to discuss matters with us, rather than listen to the likes of David Starkey's courageous rhetorical gambit that the left was jealous of the Jews and their holocaust. There emerged that afternoon a picture that, sure, was not universal, but was fairly consistent, of a gaggle of lost souls whose disillusionment with the world had just been deepened.
Takeaways
So, my essential takeways regarding the conference and its attendees would be as follows –
1) they weren't all fascists. Indeed, I doubt the majority were. But that may be why…
2) the number of attendees dwindled over the three days. It looked like about half of what attended on Monday were there Tuesday, and fewer again for the Wednesday. Which is likely because…
3) I'm known for debating with anyone. I had a number of conversations with reasonable but disappointed people who all offered slight variants upon the same complaint: it was billed to attendees as a philosophical interrogation of conservative (small "c", not the party) values and ambitions, in preparation for one day being worked into policy, but what they mostly got was a pincer movement of the American religious fundie right-wing agenda and the launching gambit of the Suella Bravaman leadership bid. When I asked "so, you were conned?" two separate individuals at different times began their response with "no, not conned, but…" So, I believe they did feel a bit conned.
All that said, do not run away with the idea that event was entirely harmless – there were out-and-out fascists, indeed, self-avowed fascists, such as one chap (Norwegian, I believe) who thought it might be quite a wheeze to impose authoritarian rule via Islam, which strikes me as indicative of a long-held thought of my own – we are not talking persons of true religious conviction, but rather people who see a utility to religion in advancing an authoritarian agenda. Push comes to shove, type of religion is entirely irrelevant. Terrify the plebs with god. Any god will do.
And so the whole sad affair dribbled to a whimpering end as Lee Anderson, darling of white supremacists and self-styled legal expert , addressed a largely empty hall whose vestige of an audience comprised of the last of the disillusioned and lost who preferred the comfort of the venue to waiting at a train station, and some religious nutjobs.
I would therefore say it wasn't really so much a fascist conference, as many have feared, but more a thinly disguised fascist recruitment drive.
And I *think* it failed.
It may even have backfired.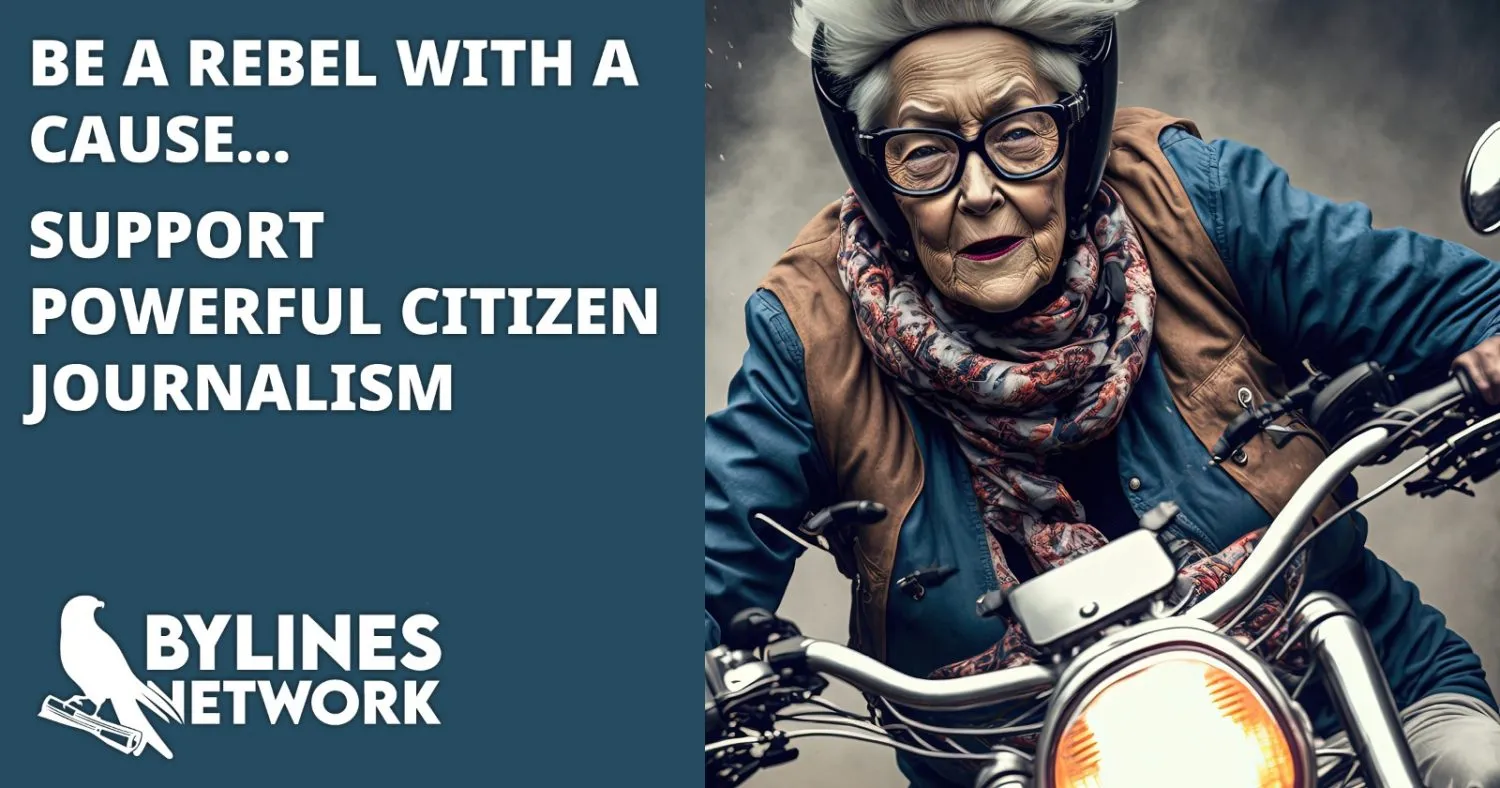 CLICK HERE TO SUPPORT THE BYLINES NETWORK CROWDFUNDER!