It was a false-flag operation by Nazi Germany that brooked the start of war in Europe in 1939, staging an attack on German soil by Polish forces to justify the ensuing invasion of Poland. This lie led to a war that killed tens of millions, including hundreds of thousands of British and Empire troops and civilians.
And yet it's for his weekend's Remembrance commemorations at the Cenotaph, the national memorial to our war dead, that our government has chosen for a false-flag battleground to further its culture war; to renew its assault on the very democracy that our venerated forebears died defending. That is desecration.
A fabricated threat from Palestinian Solidarity Campaign
Next Saturday is 11 November, Armistice Day, which precedes Remembrance Sunday commemorations to be held nationwide for those who died fighting fascism – but these solemn services are under threat, our Prime Minister tells us, from protesters seeking to prevent slaughter elsewhere in the world. Sunak has demanded the police make 'robust use' of all their powers to prevent any disruption to any commemorations, or desecration of the Cenotaph. The Home Secretary Suella Braverman has warned any 'hate march' pro-Palestinian protesters who vandalise the Cenotaph should face prison. They're condemning crimes which haven't even been committed yet, and framing those who exericse their right to free speech and protest as criminals-in-waiting.
But these threats are bogus. The Palestinian Solidarity Campaign's march is for Saturday, after the 2-minute silence, nowhere near the Cenotaph, and has been arranged, and agreed, with the Met Police. Now some days since, the Met has requested the protesters delay their march in case trouble flares – we might guess who inspired this change of tone as much as we can guess who'll actually start trouble, inspired by a party that readily frames protesters as vandals and desecrators, among other things.
It's disturbing to see the depths of slanderous deceit this government will plumb. But it's also disturbing how what was once grassroots paranoia has percolated up through the Conservative party to become distilled and micturated by the Prime Minister and his wicked Home Secretary. Only a few years ago it was mostly the vulnerably-minded, friends of Brexit Brian who'd gather to defend the country's statues and monuments from the lefties in their heads (see the Adam Curtis documentary series, The Living Dead, about how statues feature in the glorious rewriting of history, from Hitler to Thatcher). Now it's the folks who claim to be in charge.
No one's ever banned poppy sales
The kind of people who staunchly wave massive British Legion flags in anger at snowflakes banning Remembrance Day poppy sales, because they buy the lie so pernicious the British Legion has permanently listed it as no. 6 on its top 11 facts – 'no one's ever banned poppy sales'.
Stand up to Racism event in Newcastle
In 2020, my wife and I attended a 'Stand Up to Racism' protest at Newcastle's Monument against the far right. We'd turned out to protest them; they'd turned out to stop our orc-like woke horde from knocking down Grey's Monument and throwing the abolitionist (! Think, people!) Earl Grey's statue in the Tyne, like Bristolians had drowned Edward Colston's statue, which wasn't some surprise BLM uprising, but the isolated denouement of one campaign of many to eradicate the veneration of slave traders.
These defenders also turned out to defend The Response war memorial and the William Armstrong statue – versus precisely zero woke topplers. The latter weren't deterred by the former's presence – they simply didn't exist. Like those memorials weren't even on the list that the Mail and the Metro published as the 'list of statues that campaigners want pulling down'.
Because the list's creators, Topple the Racists had made 'judgement calls' about what to include – 'history is complicated', they said, 'we welcome feedback … to promote debate' and 'much needed dialogue'. And as per the question 'Are you saying the statues should be torn down?' they answered: 'It's up to local communities what they want in their local areas.' All seemingly strangely unideological, positively democratic – but nuanced words to the mob before us.
Previous showings of the far right saw a dozen or so turn out. This time there were around 100. But what really struck me was, standing point before these types, on lager for elevenses, all was this elderly, finely moustachioed chap, his beret tightly fitted, his blazer bemedalled, proud, stoic, the real deal of an old soldier who'd defended his country – a proven hero galvanised by lies spread to divide us all.
Lies like rising damp that have now permeated the walls, halls, and minds of our government and lawbooks.
And yet those who produce and buy this manufactured uproar about marchers seeking to prevent genocide front zero opposition to the far-right National Front, the anti-Semitic National Front, the National Front that says Churchill should never have turned down peace with Hitler.
Planned National Front march
The sproginators of the BNP, Britain First, and their besuited successors in UKIP sproginators and the Brexit/ Reform Party, planning their own defiling march for Remembrance Sunday, begging as 'many people as possible' to come in 'smart dress' as they march to the Cenotaph (to hold a 'non-denominational Christian service', go figure).
Who's up for this jamboree? Have a look at Laine14_88, the 14_88 in his handle, which as the Anti Defamation League explains, 14 stands for 'We must secure the existence of our people and a future for white children', and 88 is the eighth letter of the alphabet, 'H', repeated – 'Heil Hitler'.
Or former BNP leader Nick Griffin, who's one-time slating on Question Time saw him replaced in a long-term move to the far more urbane Gent of Kent, Nigel Farage. Griffin's into fake news, too, tweeting a clip from the video game Amara 3 as real footage of burnng Israeli army vehicles in Gaza.
But Sunak, Braverman, they don't promise to crush these desecrators of our war graves. Why is that?
Addendum: This was the route of the peace march, quite a way from the Cenotaph, so who were the police wary of?
Ah, maybe these guys: Sky News on X: "English Defence League founder Tommy Robinson was seen leading supporters through central London. Protesters were heard chanting 'you're not English anymore' towards officers as violent clashes broke out in Chinatown. Read more: https://t.co/rFzY33ZP0x https://t.co/lWy4UE9kl7" / X (twitter.com). Over 100 were arrested in the end for brawling with the Met – not peace marchers, but police officers – around the Cenotaph. How will the National Front behave?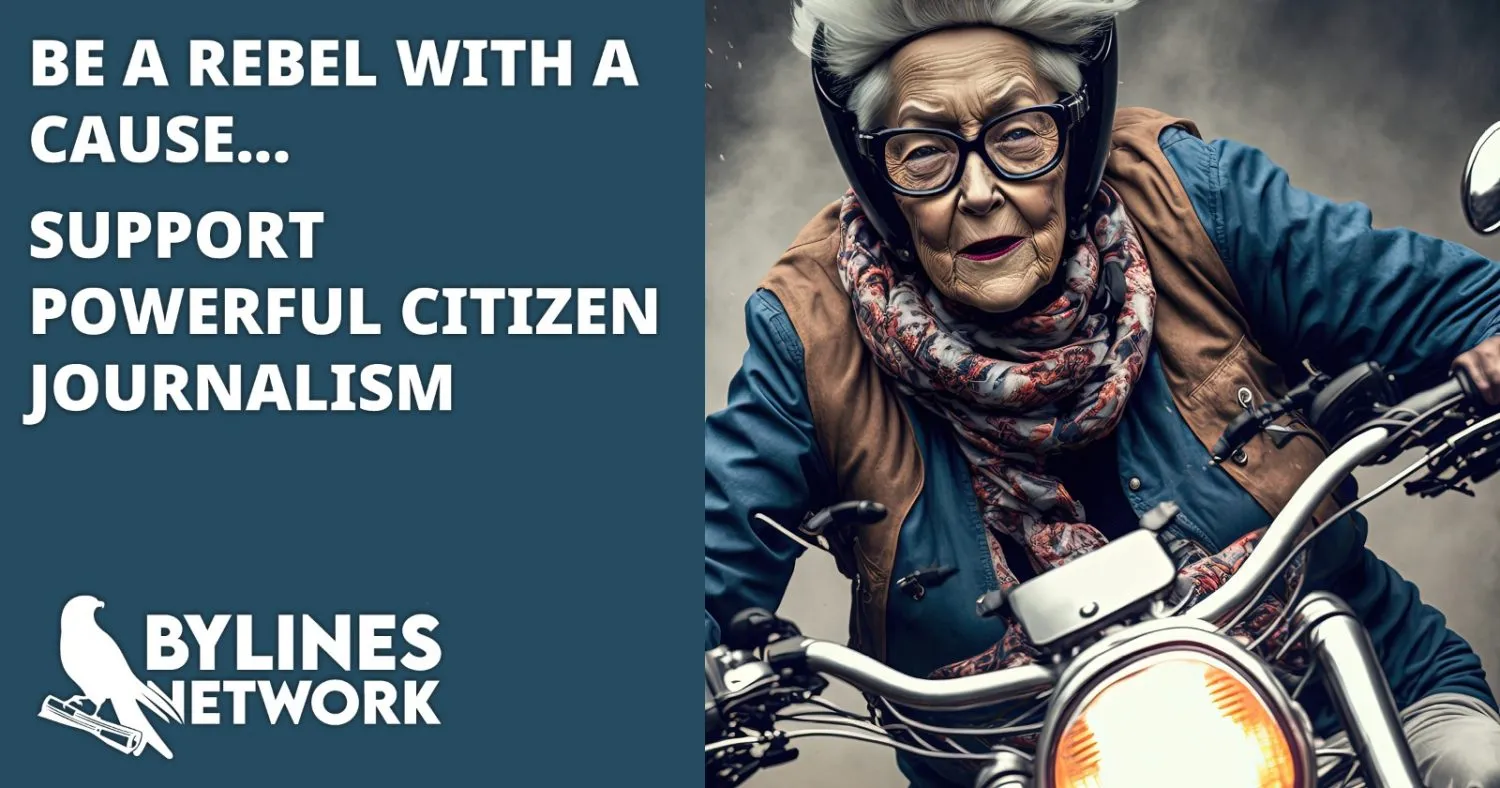 CLICK HERE TO SUPPORT THE BYLINES NETWORK CROWDFUNDER!