I think one of the best books ever written is "The Fatal Shore" by Robert Hughes about the convict settlement of Australia. He describes a hellish world of rum, sodomy, and the lash mixed with cannibalism, ignorance, genocide, and much hypocrisy; a kind of "Gulag Archipelago" with British names. The author, a noted art critic, paints the pictures with his words, as no cameras or artists were in Van Diemans Land when the men and dogs hunted the Tasmanians to extinction, or on Norfolk Island when they lashed the women naked for the entertainment of the British Officers. He has one poster from those times in the book though. It's, almost unbelievably, an anti-racism message from the 1830's, showing that the law would apply evenly whether a white man killed a black man or vice versa. It concludes its lying triptych with a picture of racial harmony as the black and white men embrace as brothers and their respective black and white wives carry each other's babies in a smiling embrace.
Nobody believed it, especially the native Australians who may have thought the whole thing was a sick joke as their society was destroyed. Reality, good, bad, or tolerable is what is implemented, and what is implemented isn't necessarily what governments say, it's what people do.
What's this got to do with the Gallowgate End, the Kingdom of Saudi Arabia, and the eternal fight for the dignity of humankind I hear you ask?
Football connects
The answer is that football connects to people and communities in a way that politics doesn't, and it is the people who decide what is really tolerated in their society. However, we the people are desperately vulnerable to conditioning, as Brexit and most democratic elections prove. Once people realise this, they fight fire with fire and we all suffer as simple propaganda overwhelms complex truth, (and if you listen carefully you can hear Goebbels laughing)… Britain's reputation for morality or right to lecture anyone about ethics wouldn't survive 5 minutes of truth and our "modern tolerant society" is very new and skating on very thin ice. Within my living memory drinking and driving was accepted as normal, seatbelts were ignored, smoking was everywhere, violence, sexism, homophobia and racism was so prevalent that they can't even repeat half of the stuff we saw on telly because it's so appalling. Homophobia was reinforced by Clause 28, the media didn't even use the word "gay" and such things as equal marriage would have been laughed at. Now, of course, we haven't won, constant vigilance is required but it's fair to say that most families know and respect far more diversity now than they used to.
Saudi visitors
Newcastle United was effectively bought by Saudi PIF in October 2021, there was literal dancing in the streets and the next home match saw Saudi tourists, welcomed in their national dress appear at the Gallowgate End in a pub, with fans of all backgrounds celebrating new possibilities. Having met a few lads from the Kingdom of Saudi Arabia (if there's ever a Queen, hold the front page), in the last year, (no ladettes yet), it seems apparent that they are friendly but guarded. Like the Iranians in the 1970s, the Soviets in the 1980s, the Libyans in the 1990s, they don't want to discuss politics, they know it can be lethal to them, and their families. Having said that many people don't want to discuss some politics or other issues here; especially online, as this pseudonymous author can attest. Our Saudi visitors don't appear to be strangers to Tyneside's hospitality and pubs, and to my certain knowledge, a couple of them have sat in the Gallowgate End which, whilst not the bearpit sometimes described is not, and never ever will be, a sanctuary of Wahhabist observance. Having said that, it has come a long way since the 1980s when it was a monocultural, racist environment with no toilet facilities at all for women. The change was made by the fans themselves who figured out eventually as society changed, that they were very happy with a multicultural team wearing black and white and those of us who opposed the National Front in the 1980s witnessed happy days 20 years later when a team with two Geordies called Ameobi and Chopra led the forward line. Change can happen, but it takes its own sweet time. Now it is announced that Saudi Arabia will play at St. James Park on 8 and 12 September against Costa Rica and South Korea. It seems likely that this will attract some Saudi football fans and lots of controversy. So what are we, Newcastle United fans who wish to live in peace and justice with all, going to do?
Some will demonstrate and the Saudi visitors will avoid the demonstration as the whiff of implied subversion could presumably go badly for them in their minds or in awful real life. Some will attempt to "educate" them in human rights and undoubtedly they will both attract more journalists than Saudis or Geordies. So I hope we'll not go in for performative signalling designed to increase a local political relevance. There is also a Yemeni community here, in South Shields, and their suffering as what seems to me to be a civil war rages with atrocities practised by all on all is something they're far more qualified to speak about than me. Apart from that, I'd be gratified if tens of thousands of Saudis came to Newcastle, hung around, went out and enjoyed themselves, and took a vision of decency, hospitality, friendship, and conviviality of all identities, races, orientations, religions (and heathens) and looked forward to coming back to work, study or visit.
United with Pride
I'm sure many will be aware of our United with Pride group which represents some of Newcastle United's LBGTQI+ fans who are highly visible with their rainbow NUFC Flags, they'll see my sisters and the thousands of other female fans who attend matches, out and more loud and more Newcastle United than ever before. This particular aspect of the club is enthusiastically supported by Amanda and Merdad from the ownership who are very visible at NUFC Women's matches and there is always an effort to ensure that one of the NUFC Rainbow Flags is on the East Stand for prime visibility to both TV and the Directors Box. Naturally, they will see the alcohol-fuelled sociability of Tyneside in their hotels, and the streets in the city centre. They may even like it. Why not, they're on their holidays…
"Just because someone supports the same team doesn't mean you support their cause"
If they win they may share some moments of euphoria and unity that makes sport special. I feel that politicians of all shades are slightly bemused and jealous of it. I remember a poem where the general message was "nobody shouted for justice like they shouted for Tino" (Asprilla that is). But that's only the half of it; it doesn't run both ways. Just because someone supports the same team doesn't mean you support their cause. Darren Grimes, Dominic Cummings, Guy Opperman, and worst of all, Matt Hancock all support NUFC, and I would help them if they broke down after an away match, celebrate with them if we were sat next to each other at the ground, but I'd never agree with them about political economy. Why should I? Sport by itself is not a shortcut to uniformity of thought or the totalitarian ownership of people's souls, it's a place where you can say anything and do much unrestricted by conventional regulations. That's what makes it remarkable, although it is seldom remarked upon, the good behaviour of football fans in self-policing to resist racism, homophobia and encourage the growth in female football as well as the many Fans Supporting Foodbanks organisations up and down the country that have done much to help and support their fellow citizens.
Ok, that's the propaganda you may say, however true it is. What about the thought that behind that joy the "bloody theocratic regime" is rubbing its hands as it turbowashes its dirty reputation away in our beautiful game? Maybe, but do you really think it'll work? After all, the Saudis aren't stupid and now more people are talking about them than ever before, and all know that their economy is dependent on oil and until the intervention of Vladimir Putin last February, that outlook was looking very short-term. Their Mission 2030 Plan requires construction and trade and communications with the world, and no one will do that if they don't feel welcome to be their authentic selves, as tourists, traders, or footballers as they fly into Riyadh to do business, or Neom to go shopping. The same applies to tourists coming here from Saudi too. They can do what is permitted; they should not be forced or educated against their will. It won't work. I'm a football fan, I know.
So the theory is that Saudi PIF buy Newcastle United, get an education in soft diplomacy from our friendly community, and develop into a more modern service-based economy with better human rights for all. Maybe avoiding the errors made when we transformed from an industrial exporter into a poverty-struck gig economy held up by underfunded education, health, and marginal retail. In exchange, we expect that they liberalise their society, they adapt to ours and we adapt to theirs. Compromises are made over mint tea and the Johnny Walker is held back for later. Or the atmosphere is poisoned by people who don't know the facts repeating slogans that appeal to the ignorant. Or maybe they just invest money in our football club and sell up for a huge profit and go home. Now it is no disgrace to be ignorant; we all are about many things, but it's a disgrace to pretend certainty if you're not. To paraphrase something important, I'm only certain that I'm uncertain about the past, the present, and the future.
However, the obvious enthusiasm of the Newcastle United hierarchy for such groups as United with Pride, NUFC Women's Team, and other institutions that could offend a Wahabist fundamentalist is apparent; I've seen it at all levels of the club. I'm told that the depiction of Amanda Stavely and the aforementioned NUFC Women on posters in Saudi, unveiled and enthusiastic is positive. I hear from a pal of mine who's done Haj and visited "The Kingdom" a couple of times that a multicultural, multiracial, multi-orientation organisation like NUFC who would have secured assurances that LBGTQI+ people would come to no harm on their visits does great good as an example to the people of Saudi. In short, the walls are coming down and the rules are being relaxed a bit. I'm sure, like 1960s Alabama or Mississippi (Goddam) they aren't coming down fast enough or far enough but the prevalence of digitally engaged youth in Saudi who all want what all humans want should help progress a gentler government one day. But ask Pussy Riot in Moscow or Just Stop Oil here if there are consequences for demonstrations, history shows there's no guarantee of human progress.
Let's forgive hypocrisy?
When people mention a blood-stained theocracy, I think of the UK. We permit a statelet called Northern Ireland to behave abominably towards many diversities and minorities. Women, LBGTQI+ etc all suffer disproportionate adverse treatment from government and society and, until recently it was almost totally illegal for them to be who they were. All societies everywhere, especially including ourselves, have done terrible things to the weak, the poor, the vulnerable, but that never stopped people striving and organising to make things better.
But, it's ok; football fans know that we're not perfect. Just because you're a hypocrite doesn't make you wrong about everything, we all share the feeling that we could be better and make a better world.the question is whether we get the people suffering injustices in Saudi (and British) jails out by engaging with them or protesting about them? Maybe we can do both? A decent society allows the expression of opinion and protects the rights of people to do that. A decent society wishes to welcome people to Newcastle as guests and not seek to lecture them about the benefits of democracy but just be what it is, and let them go home with a positive tale to tell. If the supporters of the Saudi National Team return home with stories of inclusivity, hospitality, and displays of happy diversity it may encourage them not to be as frightened of humanities identities as they may have been taught and to improve their society to allow the strength of the multitude to contribute to it. If they are met with a demo blaming them – and this is a football match, time for discursive debate is in short supply – and shouted slogans prevail over reasoned dialogue, they'll return as alienated enemies not the friends we want to change.
In short, the interests of the many; the citizens of Newcastle and the visiting subjects of Saudi Arabia are obvious and wide ranging. Exports, trade, education, research, tourism and cultural exchanges are all something that our own local Chamber of Commerce was no doubt trying to encourage in March 2017 when the British Arabian Chamber of Commerce came to visit our Universities and corporations. No doubt the venue of the Saudi Super Cup – Loftus Road, home of QPR – experienced no issues in August 2018, despite the VAR official being Newcastle's own Mark Clattenburg. I can find no trace of any demonstrations against these occasions. I could go on about the Marxist theory that "capital comes dripping from head to toe, from every pore, with blood and dirt" and that the power of petrol to permeate into every aspect of society makes hypocrites of us all. Football though has the power to engage with all, from the King to the billionaire, to the PM to the children playing on the pavements under the streetlamps. It has power, reach and influence but the fans are citizens too, just as willing to engage in meaningful philosophical debate and to judge the honesty and integrity of all participants. It would be a mistake to speak for them as a mass of opinion or blame them alone for humanities deficiencies. It is a terrible injustice to blame Newcastle United fans for the conduct of Saudi Arabia, but we've seen this level of insult from those who should know better.
Like most things in 2023, we are tired and probably relish the thought of an easy win, a definitive enemy and a proper black and white cause. I implore those of you that care about the welfare of the Saudi and Geordie people to engage rather than lecture. This isn't the home banker you think it is. Come to the Gallowgate End with slogans and you yourself might just get a lecture; blame the Saudi team alone and you might destroy a project that can improve people's lives both here and there. Posture and be damned. The history of Britain's relationship with Saudi Arabia is intimately connected with oil, power, diplomacy, spying and trade. We here know all about that, the first oil powered ship in the Royal Navy was HMS Spiteful built on Tyneside in 1898 and converted from coal in 1904. Britain has spent the last century engaging with Saudi Arabia with spies, diplomats, trade, war, peace and arms sales. Horse racing, boxing and F1 have been there for a while. Politics, religion and philosophy have all failed for milenia, to their utter resentment. Newcastle United FC and its fans have had less than 2 years with this and it is possible that football can have a more positive effect on Saudi and Middle Eastern society than anything else previously tried. However, if it fails and the St. James becomes a temple of hypocrisy and we sell our souls for a decent team, and leave our LBGTQI+, trade unionist, progressive and female comrades outside we'll deserve all that is coming; but we won't. Give us a chance eh? Things might improve in time, inshallah.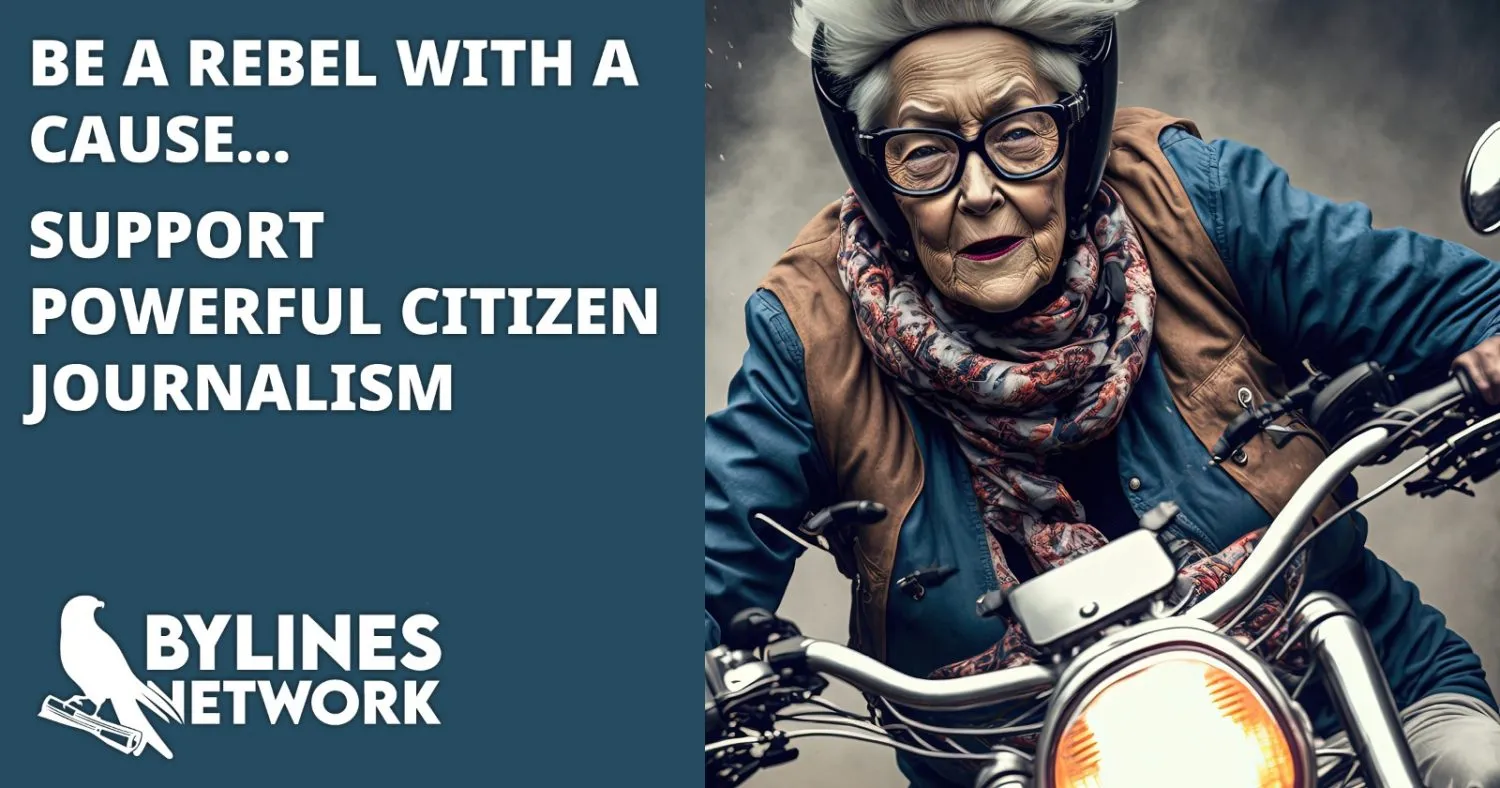 CLICK HERE TO SUPPORT THE BYLINES NETWORK CROWDFUNDER!