People in most parts of the North East are finding, as council tax demands drop through letter boxes around now, that their bills are going up by the maximum 4.99% permitted by the government without a local referendum.
Four of the region's seven councils (Tees Valley excluded) are raising the general council tax bill by 2.99% and the additional amount (precept) permitted for adult social care by 2.0%. Residents also face further, and in most cases larger, percentage rises to pay for the emergency services.
Council tax is raised locally to add to local authorities' so-called "core spending power" provided by the government in the form of grants. All but one of the councils are receiving an increase in their grant above the average for England (though three still have below-average core spending power).
Overall in England in 2022-23, government grants contributed roughly £55bn to council budgets, council tax £42bn and business rates £29bn. These are comparatively small tax takes compared with the three big tax generators for the Treasury of income tax, national insurance contributions and Value Added Tax. According to Paul Johnson, director of the Institute for Fiscal Studies, these three together account for nearly two-thirds of all taxes.
| | | | | |
| --- | --- | --- | --- | --- |
| | Government grant increase (%) | Core spending power per dwelling | Council tax increase (%) | Band D tax bill |
| England | 9.4 | £2,365 | n/a | n/a |
| County Durham | 10.4 | £2,194 | 4.99 | £1,842.25 |
| Gateshead | 10.2 | £2,487 | 4.99 | £2,070.54 |
| Newcastle | 10.3 | £2,372 | 3.99 | £1,919.32 |
| North Tyneside | 9.8 | £2,199 | 4.99 | £1,851.15 |
| Northumberland | 8.8 | £2,283 | 4.99 | £1,985.30 |
| SouthTyneside | 10.5 | £2,505 | 4.95 | £2,090.81 |
| Sunderland | 10.7 | £2,391 | 2.99 | £1,637.12 |
Source: author's research
In addition to general council tax increases and adult social care precepts, residents must also pay precepts as appropriate to the Northumbria Police and Crime Commissioner (PCC), Labour's Kim McGuiness (up 9.75%), or the Durham PCC, Labour's Joy Allen ((up 6.24%) and to either the Tyne & Wear Fire and Civil Defence Authority (up 5.79%) or the Durham and Darlington Fire and Rescue Service (up 4.56%).
Some places also have to pay parish precepts or make a payment to the Charter Trustees of the City of Durham, which ensures the continuation of the city's civic traditions following the abolition of the city council in 2009. Councils also generate relatively small sums through charges, such as for parking.
After more than a decade of austerity, councils are still struggling to provide the same levels of service with less money, though the further cut this year is perhaps not as severe as in some earlier years. When the government announced its £60bn package of grants in February, Levelling Up Secretary Michael Gove said:
"This funding package represents an increase of over 9% for councils on last year, ensuring a fair deal for local government that reflects the vital work councils do to provide key services on which we all rely."
Councillor James Jamieson, chairman of the Local Government Association, said at the time the grant was announced that it:
"confirms an increase in local government core spending power, which will help councils deal with inflationary and other cost pressures they face next year. However, this is based on the assumption that councils will raise their council tax by the maximum permitted without a referendum. Many councils are still grappling with significant challenges when setting their budgets and trying to protect services from cutbacks due to the deep underlying and existing pressures they face."
In spite of the cuts of earlier years and the continuing pressure on budgets, most North East councils managed to announce some improvements, however minor, in services for the coming year. But at the same time, there are continuing complaints about austerity
Gateshead
Council leader Councillor Martin Gannon said:
"It became very clear during our public consultation how important our environmental services are to our residents and we have listened to the views raised by, not only removing…savings proposals from our budget, but also by investing an additional £2mn in this area over the next 12 months. We hope this investment will restore more civic pride in our beautiful borough and will encourage everyone to take the time to help us look after the environment in which we all live."
He added:
"When giving councils their funding, the government assumes we will raise council tax to cover any shortfall, passing the financial burden on to those who can afford it least.
"Relying on council tax to fund local authorities is fundamentally unfair. It's particularly unfair to areas like Gateshead who have more properties in the lower council tax bands, A-C. This means we're not able to raise as much as other more affluent areas, meaning our financial gap is bigger when our need is greater.
"We know that raising council tax will not be a popular decision, but unfortunately, it's one we must make in order to keep providing our services. Our council tax support scheme will continue to help those who are most affected by the increase.
"We are working incredibly hard to minimise the impact of our reduced budget, particularly at a time when people need our support more than they have for decades, and we will continue to lobby government to try to ensure local services can be funded in a sustainable and fair way going forward. We know that everyone who lives and works in Gateshead deserves better from the support given by central government."
Sunderland
Sunderland City Council will make improvements this year to some bread-and-butter services which are nevertheless important to residents. It will make pest control services permanently free; provide free wheelie bin replacements to people whose bins have been stolen; and provide free bulky waste collections from April. The council is also investing £41.7mn in new infrastructure for quaysides, roads and bridges, plus further acquisitions of vehicles, plant and equipment.
This is in spite of Sunderland having the lowest council tax and lowest increase in the North East.
Sunderland's leader, Councillor Graeme Miller said the budget was "in line with the continuing city plan for a more dynamic, healthy and vibrant Sunderland, and providing help and assistance for residents with the cost-of-living crisis."
South Tyneside
South Tyneside, among other initiatives, will boost capacity in teams tasked with combatting poverty and improving accessibility to energy support schemes; support more people to live at home rather than having to enter residential care; strengthen new teams to support people with learning disabilities or mental health issues; and deliver up to 300 new homes for people with differing care and support needs. Some over-subscribed schools will get additional provision, including specialist facilities for children with special educational needs.
Councillor Joanne Bell, South Tyneside cabinet's lead member for governance, finance and corporate services, pointed out that the council's core government funding had been reduced by 52% since 2010 and the council would need to save another £3.7mn this year, bringing the total to £190mn. She said:
"Just like everyone else we are experiencing significantly increasing costs due to high inflation and demand. We've protected frontline services and targeted investment on things that deliver for the people of South Tyneside."
But she also had a vision for the future and related it to the current budget:
"Our 20-year vision is for people to live happy, healthy, and fulfilled lives and the medium-term financial plan absolutely directs our budget to that goal. It's vital that our spending supports the people's priorities. We've engaged with thousands of people to shape the vision and aligned our budget to that feedback…We've protected frontline services and targeted investment on things that deliver for the people of South Tyneside."
Newcastle
Newcastle will freeze charges for local services and school meals and pay a real living wage to its lowest paid staff and commissioned services. Council leader Councillor Nick Kemp had a mixed positive-negative message for residents. Positively, he said the council's budget and mid-term financial plan (2023-2027) was:
"about the things that matter most to our residents, like good quality education and skills; health and social care; jobs and economic prosperity; housing and transport; reducing poverty and inequality; and a local council that is well run, transparent and accountable to residents. It demonstrates how we understand these priorities, but also how we can deliver them safely and sufficiently."
But on the downside he added:
"This is an increasingly difficult and thankless task. The cuts from central government keep coming. This city has had 30% of its funding cut since 2010. We must maintain and improve quality and levels of service, for more and more people with increasingly complex and challenging needs, with less and less money."
Northumberland
Northumberland County Council, the only North East council to receive a government grant increase below the average for England, says it will deliver new school builds and ongoing education improvements and invest in leisure centres, open spaces and town-centre regeneration. County Council leader Councillor Glen Sanderson said:
"We have faced unprecedented and significant inflationary pressures but have been determined to ensure that we provide real value for money for our residents despite that challenge.
"Protecting frontline services is always a priority and we've also ensured we're expanding the offer for Northumberland with commitments around building, improving and maintaining leisure centres and the construction of new schools for future generations.
"Ensuring the county remains an attractive place to visit is crucial, so we've kept our free town centre parking commitments, public toilets open and first-hour free parking offer at our country parks, while investing in a range of beautiful environmental projects to celebrate the life of Queen Elizabeth II."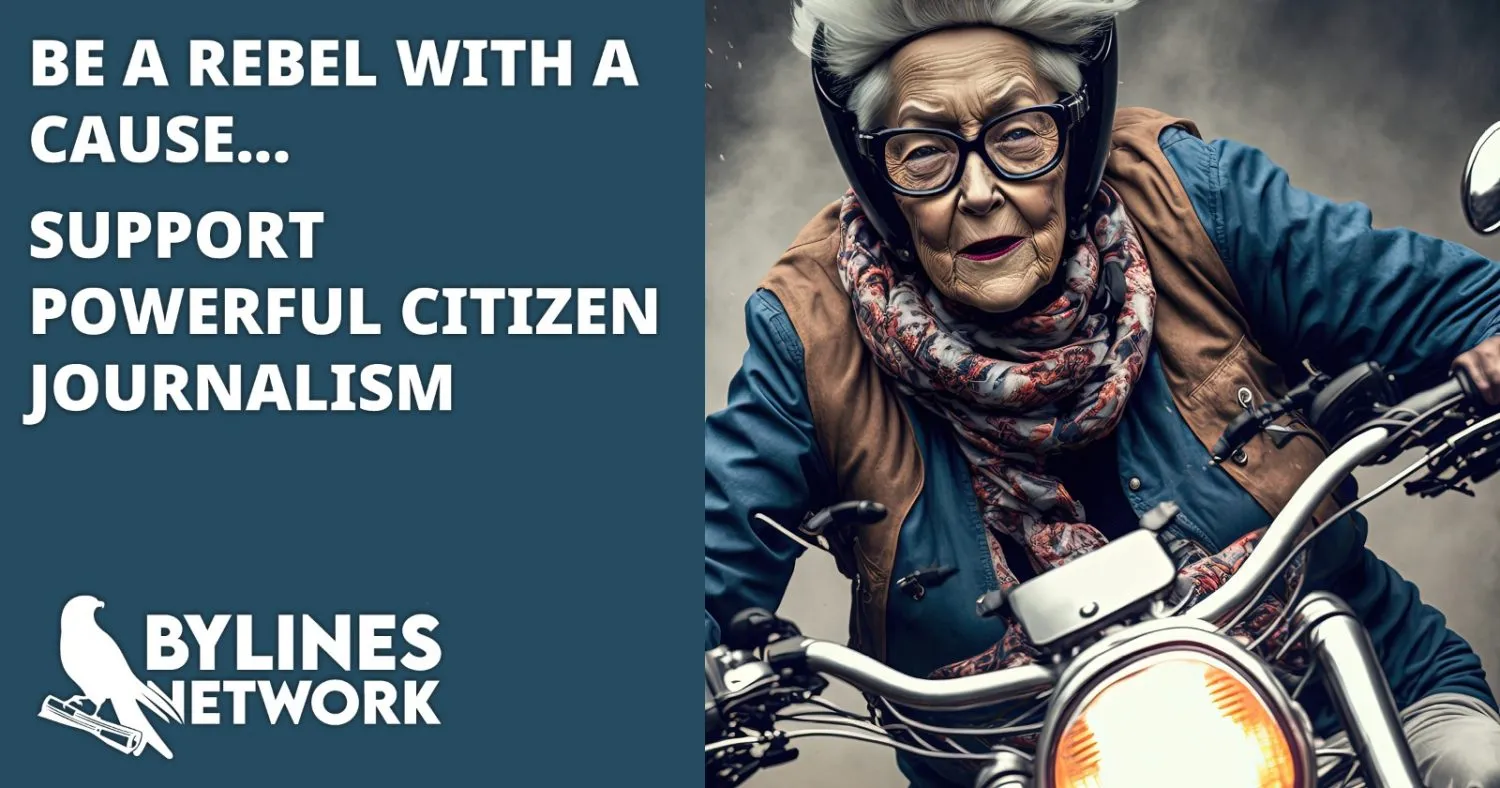 CLICK HERE TO SUPPORT THE BYLINES NETWORK CROWDFUNDER!