North East for Europe is now London for the National Rejoin March on Saturday 22 October. Some have travelled by train, some by bus and some by car. Members of the group want to send a message to the government that it's in the best interests of the UK to rejoin the European Union, and to cooperate with our European neighbours for workers' rights, trade, science, research, environmental protection and peace. They are taking the iconic North East for Europe banner.
Attending the march and rally is Louise Brown, co-founder of North East for Europe. Louise from Sunderland says:
"We simply cannot pretend that leaving the EU has not massively impacted us economically. Yes, of course, there are other factors at play with the cost-of-living crisis, but Brexit has so far cost the UK billions with the North East being one of the regions affected the most. This is not exactly "taking back control" or "levelling up" is it? I am attending the march to send this message to the government and also to show that the Rejoin movement isn't just a London-centric one".
Brexit lies
Jack Croft, who was 12 years old at the time of the referendum, and also from the North East added:
"We were lied to about Brexit and the 17.4 million people who voted for it deserve to know the truth. That's why I'll be on the National Rejoin March, to hold those who lied to us to account."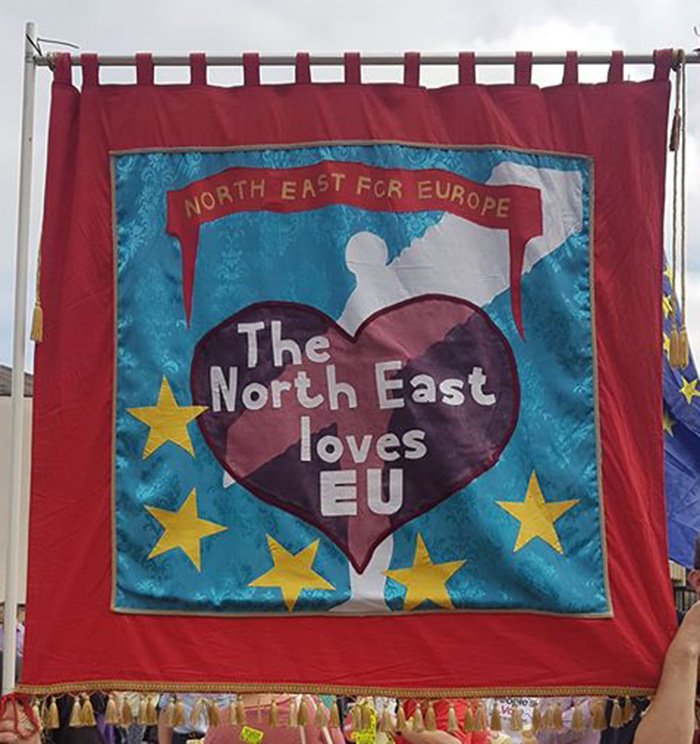 Climate change policies and the EU
Giuseppe Bignardi, from Durham, and a member of North East for Europe is concerned about climate change. He says:
"Whatever we do as the UK does not make much of a difference. It matters much more what a large bloc like the EU does and whether we use trade deals to influence the climate-changing policies of other nations. The EU is willing to insert climate-change policies in their trade deals. As a single nation we can't, and the government has not been willing.
"We cannot stop climate change or keep peace in Europe without close collaboration and solidarity with our European neighbours.
The NE4EU banner
North East for Europe plans to take their iconic banner to show a North East presence at the event. The banner, originally made for the Durham Miners' Gala, is in the style of the traditional miners' trade union banners. It shows the iconic Angel of the North, a symbol of welcome and unity, with a heart to show love and affection for our European neighbours and friends. The message reads:
"The North East loves EU".
Campaigner, Christina Muller-Stewart says:
"Although it is a long way to go, past marches have shown how much our North East presence is appreciated in London. Our beautiful NE4EU marching banner has long become a beacon of hope and resilience. We can't let the south fight the battle against a catastrophic Brexit alone, I would therefore encourage anyone from the North to be in London on 22 October."
---