There are several bodies — Amnesty International, Civicus Monitor, and the Human Rights Measurement Initiative to name a few — that carry out routine tracking and investigations to explore and display how good or bad a country's quality of life and human rights are.
Their job is to pay attention to bills that are being passed through each country's legislature, instances of cruel and state-perpetrated behaviour — such as the actions of riot police — statistics regarding a whole range of fields, statements made and opinions held by the country's ruling class, and more. From this, they will break down their findings and make a conclusion.
Mainstream media tends to focus their attention on the likes of reprehensible countries which are completely blocked off from the outside world and are known to be violators of basic human rights. Afghanistan and North Korea are examples of this. The issue with some countries — the currently democratic ones — is that the loss of its citizens' fundamental rights can be so slow and calculated that it goes without widespread notice until it's too late.
Democratic backsliding
This is called democratic backsliding, or autocratisation, defined by University College London as — simply enough — the process in which the state becomes gradually less democratic over time. Hungary, Poland and the United States are most commonly associated with it.
This is happening in Britain.
Human rights experts have picked up on this; the politically aware ('gladiators' of politics) have picked up on this; partisan journalists have picked up on this too, although they're more or less trying to injure the other side's reputation than spearhead any conclusive and well-rounded action.
However, large-scale traction and awareness has not yet been gained, and the Conservative Party — alongside its powerful supporters and donors in the media and financial sectors — vehemently oppose these findings and any suggestion that they are contributing to democratic backsliding.
The Conservatives have been in power since 2010, forming a rare coalition government with the centrist Liberal Democrats until Prime Minister David Cameron's majority win in 2015. Cameron resigned in 2016 over EU withdrawal difficulties and was then replaced by Theresa May who resigned three years later for the same reason. Boris Johnson was elected to a landslide majority government in 2019; that has been sustained since, although Britain has now cycled through Liz Truss — the shortest Prime Minister in history — and the current post-holder, Rishi Sunak.
Democratic backsliding was a largely non-existent concern under Cameron and May — in fact, rights were extended, most famously to same-sex couples with the legalization of marriage in 2013.
Elective dictatorship
Lord Hailsham — one of the most famous lords of the pre-millennium years — popularised the term elective dictatorship as a way to describe governments that can essentially legislate however they want when they have a large majority in government. The phrase goes hand-in-hand with a democratic deficit, which is used when individual government departments, institutions and organizations begin to fail to uphold their democratic principles. These are perfect ways to label the Johnson, Truss and Sunak administrations.
While the most obvious of the attempts to autocratise Britain are those to limit or near-enough remove asylum seekers' and protesters' rights, the Conservative government is also rolling back electoral freedoms, overruling the legitimately-passed legislation of devolved governments, and weakening the rules that Members of Parliaments abide by. Contributing furthermore to Britain's subtle backsliding has been statements made by ministers which signify a government-backed hate or vendetta, it seems, toward certain groups in society, chiefly asylum seekers and foreign people.
Obstructed democracy
The alarm bells are ringing. Civicus Monitor labels the UK as an 'obstructed democracy' — on a scale from closed to open. It scores 60/100, which is the second-worst in Europe outside of the ex-Soviet bloc. Only Greece scores worse. The HMRI's Rights Tracker states:
"A significant number of people are not safe from one or more of the following: arbitrary arrest, torture and ill-treatment, forced disappearance, execution or extrajudicial killing."
While Britain scores a 10 out of 10 on freedom from the death penalty — which was abolished in the mid-20th century — and eights on forced disappearance and extrajudicial killing, for a Western democracy Britain performs poorly within the fields of arbitrary arrest and torture and ill-treatment.
Arbitrary arrest and protest
Arbitrary arrest has most recently come in the form of the police's reaction to environmental protests. The media has popularized and often satirized the actions of Just Stop Oil (JSO), Insulate Britain and Extinction Rebellion, two pressure groups that use non-violent but highly disruptive public demonstrations to attack government policy and actions of specific companies, e.g. Barclays Bank.
Between April and November of last year, 2,000 protestors of JSO have been arrested, they state. Their demonstrations include blocking central London squares and streets, and roadblocking the M25 — the country's busiest highway surrounding the capital. The organization has also 'vandalized' artwork at the National Gallery and other art museums, and attempted to hinder the British Grand Prix.
While blocking highways and roadways like this is illegal, the Supreme Court itself knows the line is not clear and knows that there must be an accepted degree of disruption. Otherwise, protests wouldn't exist, as they depend on disruption to cause change.
2,000 is far. Quite far. These three protest groups are advancing quite common, fair and reasonable beliefs — maybe not in the best way — around reaching net zero and preserving the natural world. But it can, in some ways, be justified.
The Hertfordshire and Metropolitan police forces' track record with arresting journalists cannot be, however. At the M25 protest, a photographer, a documentary maker, and a presenter for LBC — one of Britain's most well-known talk radio stations — were all arrested for conspiracy to commit public nuisance. They were not immediately released either; it took thirteen hours to eventually be discharged.
Another photographer was held for sixteen hours after being arrested on a public footpath near the protest — Hertfordshire Constabulary admitted they arbitrarily detained him and violated his human rights.
This is becoming more common, not less.
The Police, Crime, Sentencing and Courts Act
If this wasn't bad enough, the government are making it far, far, far worse. The Police, Crime, Sentencing and Courts Act passed in 2022 and placed huge restrictions on the right to protest. The act allows police to control and forcefully disperse protests if they are 'noisy', or if they disrupt the delivery of products; the vast majority of protests will satisfy both of these.
This gives the police unnecessary, overarching and — simply — undemocratic powers to halt protests simply because they are protests.
In the process of the PCSC going through parliament, arrests happened in the 'Kill the Bill' protests, including of two legal observers — representatives of human rights agencies who watch over protests where human rights violations are possibly expected. If that doesn't signify autocratisation, then what does?
The Casey Report
The state of policing in the UK is also incredibly poor and is an aiding device to the government's backsliding. A few days ago, the Metropolitan Police faced the Casey Report, which stated that the constabulary was institutionally racist, misogynistic and homophobic. Rape evidence was destroyed, domestic abuse victims were groomed by officers, and — most famously with the case of Wayne Couzens — constables have raped and, in a few cases, murdered people from the street.
It has been two years since Couzens murdered a woman named Sarah Everard, and it's quite easy to say that the government was neglectful in implementing any preventative tactics or extra discipline on officers. Their non-existent reaction to this case clearly displayed an attitude of 'we don't care' — creating a national environment where the public is scared criminals will get away with abominable crimes.
Police used excessive and unnecessary force to disperse a vigil in her honour, adding to this concerning feeling.
This is just one piece of the puzzle of autocracy that Britain is solving here.
Ill-treatment
The second key part of Britain's democratic backsliding is torture and ill-treatment. Now, torture doesn't exist as such in the UK; we have not stooped to a level that low, yet. But ill-treatment which is backed — or at least waived off as being unimportant — by the state is becoming far more common than it ever has been.
There is no better place to display this than with the asylum seekers and economic migrants who arrive on boats at England's southern shores. Migrants are the most overrepresented group of people in the media at the moment (not in a positive light), and key government figures have been openly airing a cruel discriminatory campaign against them, through statements and new legislation.
Suella Braverman, the Home Secretary, described migrants as 'invaders' despite the UK having one of the lowest numbers of asylum seeker applicants in all of Europe. When challenged by Holocaust survivors and a prominent football figure over the language being akin to the rhetoric of the Nazis, she did not back down. Additionally suggesting 100 million could end up shoring up in England, Braverman was labelled "devoid of reality" by charity leaders.
This behaviour rather obviously promotes and attempts to rile up discrimination against ethnic minorities and settled migrants; several Conservative politicians and right-wing members of the public have already played up to this, and have even tried to undermine Britain's leading coast rescue organization and charity — the RNLI — because they opt to rescue people stranded in the Channel. Thanks to this, they are receiving the most abuse they have ever seen since their establishment.
Illegal Migration Bill
Braverman's latest criticism comes at the behest of the Illegal Migration Bill, which some have touted as being a complete ban on asylum-seeking in the UK.
She even had the courage to tell Parliament there is over a "50% chance" the bill does not adhere to international human rights law, but told the House to proceed with it anyway.
Impacts include:
migrants coming on boats will be detained for a month, or likely longer;
most appeals will only be heard after the person's deportation, and;
those deported will never be able to re-enter or gain British citizenship.
Take note that innocent migrants, if this legislation passes Parliament and isn't challenged in the courts, may be detained for twice as long as terrorists; the maximum length of detention legally permitted for those suspected of terrorism is fourteen days — it is only one to three days for an alleged murderer.
Aside from detention, perhaps most sickeningly, the bill does not protect — but rather criminalizes, vilifies and brutalizes — those who arrive in Britain as a result of modern slavery. Migrants cannot use modern slavery laws to challenge their deportation. Yes, the act says that those facing 'serious harm' in their home country can oppose their deportation, but if the government is permitting human traffickers and slave masters to wilfully continue their work, the 'serious harm' assurance is absolutely useless.
The Rwanda Policy
Tories also continue to promote the 'Rwanda policy' — where migrants who arrive illegally will be swiftly deported to the African nation for processing and extended detention, possibly never to see their families or a life of basic human rights again. Rwanda is noted for its violation of basic human rights of its own citizens; Civicus Monitor labels it a 'repressed democracy', being only five points away from being classed as a 'closed' — completely dictatorial and autocratic — country.
The other main issue regarding the human rights of asylum seekers is how they are treated when they are in detention centres. 'Scores' of children residing in hotels and buildings run by the Home Office — whose democratic and ethical duty is to protect those people — have gone missing and have not returned. The government department was warned that trafficking gangs would target these residences. They did not listen. And upwards of two hundred children are likely dead (or at best, being currently exploited) on the back of this inaction.
This is a perfect example of the democratic deficit.
In addition, infectious diseases which are rare in the United Kingdom have broken out in asylum seeker processing centres — even the name of which seems cruel and objectifying. The former Ministry of Defence airfield in Kent where diphtheria broke out held 3,000 migrants, even though the capacity is a third of that. Norovirus and scabies seem to be common too, say those previously held there. For a lengthy amount of time, the public heard little from Braverman and the Home Office.
Not only was the processing centre overcrowded beyond belief, but some describe sleeping on solid floors without food.
To add to the Illegal Migration Bill, Dominic Raab — current Justice Secretary and Deputy Prime Minister under Johnson and now Sunak — has repeatedly suggested repealing the well-established Human Rights Act and replacing it with a Bill of Rights since 2019. The difference between the two would be the removal of select parts, mostly to do with the rights that migrants and asylum seekers get from the current act, which was passed one year into Tony Blair's premiership.
The Law Society, the body that represents solicitors and the wider legal system in England and Wales, said of the Bill of Rights proposition:
"The bill will create an acceptable class of human rights abuses in the United Kingdom … overall, the bill would grant the state greater unfettered power over the people, power which would then belong to all future governments, whatever their ideologies."
Threatening basic human rights
The treatment and discrimination by the British government — sometimes threatening basic human rights — is wilful. The response you would expect a reasonable government to take, the Conservative administration is not; the reception migrants face from the state will easily be replicated to other groups in society before long.
Flaunting of parliamentary rules
The flaunting of parliamentary rules and barriers intended to limit government control of independent bodies has been a common occurrence over the past year or two as well; it is perhaps the clearest of examples of the UK and its politicians openly disregarding democratic convention in support of autocracy and 'dictatorial' tendencies. For example, the former editor of the Daily Mail — Britain's most right-wing and Conservative-supporting newspaper — applied to be the chair of the Office of Communications (Ofcom), a strictly impartial body that regulates TV and radio.
He was ruled out at the interview stage due to his partisanship and inability to meet other requirements, but ministers seemed to clear him through that stage automatically. Dacre eventually pulled out, to which the government's response was to change the job description to allow more 'confrontational' candidates and find a new slate of interviewers who would be more likely to accept Dacre.
If he were to become Ofcom's chair, it would open the British public up to partisan influence and, possibly, propagandistic content. GBNews and TalkTV, two news channels that were founded in the past two years, are already towing this line. In theory, they should have already been removed from the air.
Corrupt. Very, very, very, and obviously, corrupt.
Impartiality and the BBC
This isn't a standalone example of corruption. Under Ofcom regulations, all UK television channels are meant to be impartial. However, the current chair of the BBC — the world-leading news corporation and Britain's main broadcaster — has donated and given loans to former Prime Minister Boris Johnson. In response to the Gary Lineker situation — where the corporation's highest-paid sports presenter lashed out at Braverman's migrant language on Twitter, and was subsequently suspended from his show — Sharp fought demands of resignation, and he was defended by the Conservative Party on that front.
The former Commissioner of Public Appointments, Peter Riddell, stated that there needs to be clarity and transparency, alongside refraining from promoting political allies in the first place.
Corruption scandal
Arguably the beginning of Boris Johnson's downfall was the corruption scandal surrounding one of his Members of Parliament, Owen Paterson. He broke Parliament's lobbying rules by meeting with the Department for Environment, Food and Rural Affairs (Defra) and the Food Standards Agency as a paid consultant of two companies, attempting to gain contracts for them.
Paterson could have faced a fixed-term suspension from the Commons if he was found guilty, which would have opened him up to be recalled by his constituents. The government responded by frantically attempting to change the rules so that he could stay on in Parliament and not be found guilty. Similar situations have happened since. To avoid suspension and further embarrassment, he resigned — the Liberal Democrats won his seat in the by-election that ensued.
Circumventing Parliament's ethical codes
The current Home Secretary is not a stranger to circumventing Parliament's ethical codes. Braverman was accused of sending classified documents over her personal emails on several occasions; this was proven to be true. In normal circumstances, a minister who breaks the Ministerial Code — the document that regulates frontbenchers — is encouraged to resign from their post. Braverman fought hard against this until she was sacked by then-Prime Minister Liz Truss.
Then the Prime Minister changed. Truss was taken over by Sunak, and not even a week after Braverman had been sacked, Rishi Sunak gave her job back.
That's not the point of the Ministerial Code. Let's theorize something: if you get your car seized by the police because you were found to be driving drunk, but then the judge presiding over your case suddenly changes and orders your car to be given back and an absolute discharge is given, is that morally correct or corrupt?
The issue with the Ministerial Code is not one of its contents, but one of how it is handled. The code is in the hands of the Prime Minister. He or she can change it; he or she can deem what's against the rules and what isn't; he or she can give whatever penalty they like. The Prime Minister is very likely to not want to let go of one of their ministers, so they will choose to change it, rule that the minister abided by the code, and consequently give no penalty.
It is an incredibly dictatorial way to manage a democratic system.
A huge problem that almost caused an irreparable constitutional crisis not so long ago was the UK's blocking of legislation passed by the delegated Scottish Parliament. Alister Jack, the Secretary of State for Scotland, blockaded the legislature's gender reform bill from passing into law.
Voter ID
When a government wants fewer people to vote, it will typically first introduce voter ID under the false premise that there is widespread voter fraud and it needs to be prevented. Several Republican-led states imposed this rule in the 2020 presidential election in the United States, and a few more set it up after the election in response to Donald Trump alleging the vote was rigged against him (a claim he was always going to make).
Britain is getting into the swing of this rhetoric. Four people were convicted of voter fraud in 2019, the last general election year, but the Electoral Commission stands firm that there is no large-scale fraud, nor has there ever been in modern history.
The Conservative Party are adamant in saying they are protecting voters from this 'fraud'.
Former Conservative minister and current MP, David Davis, agreed with the Commission:
"The number of allegations and convictions for voter impersonation are so low that requiring photographic ID is a wholly disproportionate response: just 88 allegations of in-person voter fraud were made between 2015 and 2019, during which time a total of 153 million votes were cast, including at three separate general elections."
Voter ID has been implemented by the government regardless and will be necessary from the 2023 local elections onward. The government argues that voting should be no different from collecting a parcel or purchasing alcohol; however, it is noted that the government's Elections Act permits fewer forms of ID than the Post Office does.
There is a large suspicion that the government has used this to disenfranchise younger voters and ethnic minorities, who are far more likely to vote Labour. This is because several electoral organizations found that an Oyster card — London's top-up transport card — is permitted for voting use for the over-60s, but Oyster 18+ cards are not. It is a clear case of age discrimination and one which intentionally denies Labour a modest proportion of their London-based votes.
While those without a form of valid ID are able to apply for a free one through the Commission, not everyone is aware they can do it. There is a large swathe of the country that doesn't even know this change has happened. Up to 3.5 million may be unable to vote come May, with experts fearing that LGBT+ people (who currently face struggles relating to gender identity on their documents) and ethnic minorities (who are poorer and less aware of current affairs) will be most affected. The change leaves Conservative voters — who are older, wealthier and white — more able to vote.
Comparisons in Europe
But we're not that bad as a country, are we?
As mentioned, Hungary and Poland are leaders in the degradation of democracy. Hungary scores 49 and is labelled as an 'obstructed' democracy by Civicus, and Poland is only two points higher.
Viktor Orbán's name is a common and infamous one in the realm of European politics. While the government of Hungary is further into the spiral of autocratisation than the UK, there are several similarities between him and Sunak, and the countries' two governing parties. Leading these comparisons are their attitudes toward migrants and toward protests.
On migrants, the Hungarian government has already faced consequences for actions that Britain is currently attempting to undertake. For example, European Union's human rights court ruled it was illegal for the Rendőrség (police) to detain migrants at well-known 'transit zones'. This compares to British police patrolling certain points on the southern coast of England waiting to arrest migrants that shore up, or alternatively waiting for the Coastguard to escort them in.
While Britain is still a participant of the European Court of Human Rights — despite Brexit — Conservative politicians, especially Braverman, have long sought to take the UK out of its jurisdiction to permit the government to do things like this without the same reprimand Hungary faced. Euroscepticism from the Fidesz party in Orbán's country is headed down the same road.
Amnesty International notes Hungary also violated the European law banning collective expulsion by denying asylum en masse and encouraging deportation, again en masse, in 2016. The proposed immigration policy of Sunak's administration is a carbon copy, just with the Rwanda policy added on.
Hungary is considered a harbouring area for human traffickers, strengthened by the vulnerabilities created by their harsh policies against asylum seekers. This is the same issue that is currently growing in Britain as a result of the Conservative government too.
Britain and Poland have also got carbon copies of the other country's immigration policies in some regards. Andrzej Duda's recent 'Law on Foreigners' bans those who illegally enter from ever re-entering Poland once deported, prohibiting them ever seeking asylum in the nation. This is identical to the Illegal Migration Bill.
Read my article on President Duda and the deceptiveness of the Polish government here.
The reason behind noting the UK's similarities with Poland and Hungary is not to say Sunak and his government are currently at the same point they are, but that we are headed down that path and may end up as autocratic as both before the next election. There is still more than a year and a half for calculated movements away from democracy to be made. It increasingly looks like the Conservatives could pull that off. It's just a matter of when the public will latch on.
The discrimination against migrants might not seem like it's such a threat to democracy, but the reason it is so important is that illiberal countries such as those two will use migrants as an easy target before moving up the vulnerability scale, to the LGBT community, the ethnic minority population and disabled people.
The endpoint, with a bit of dabbling and teasing into this along the way up the ladder, is targeting birthright residents who simply occupy a different train of political thought from the ruling government. It happened in Nazi Germany, it's starting to happen in some European countries today — concentrated within the ex-Soviet bloc — and it's unlikely to be long before nations like the United States and the United Kingdom join in.
The basis of democracy is gradually being subverted before our eyes. In the way that Britons and the Western world think of democratic states, however, it is wrong to class Britain as being one any more.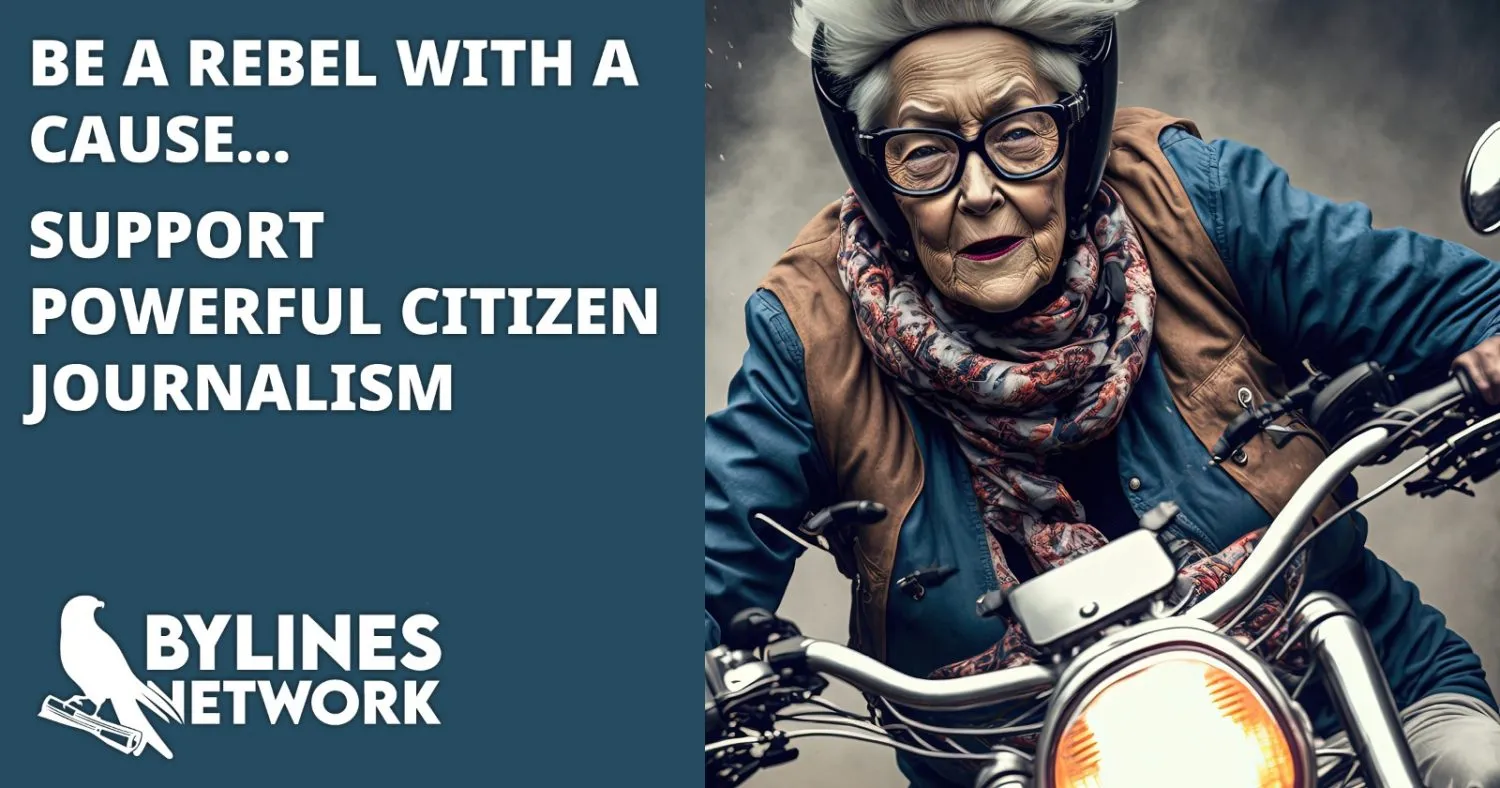 CLICK HERE TO SUPPORT THE BYLINES NETWORK CROWDFUNDER!