Our country has an ageing population and won't face up to that. We will not answer to the horror that we can see coming. Poor ageing people with an increasing multitude of medical morbidities, can't easily get a GP appointment, try to ignore the pain and struggle on; but even the rich and powerful face a future, in the words of Robert Conquest, of "sitting in slippers; then drooling." People with too much imagination or information hope for a quick death, (as Roger McGough said, "Grant me not an Old Man's Death"), rather than some diminished existence in a care home as their financial and personal legacy bleeds out and they look forward to the Tuesday afternoon trip to the Garden Centre. Their agency, power and influence gone; their words indistinct, their sources of information reduced to the Daily Express, afternoon telly and a 9pm drugged bedtime.
Meanwhile, this week, the government announced reduced provision for the care sector, whilst preventing healthy young immigrants, who may alleviate this problem from working. It's another in the series of farcical decisions more suited to saboteurs of the nation than a responsible administration. But that's now mostly for the over-85 year olds, and their families; the ones suffering pain and humiliation and a care sector workforce that struggles to survive on minimum wages. Those of us who are in the 30 year age bracket below that are ignoring that terror, maybe at best scheming to put possessions out of the reach of future Local Authority Assessment Officers and going through the five stages of acceptance and doing really well on the first of them.
Denial
We're loving it; those of us who did ok in lockdown can work from home (WFH), cycle, exercise, watch and play sport and enjoy our displays of wealth, health, community, and taste. Our hipster suburb booms with new real ale bars advertising community and quality. There are tea salons, posh butchers, industrial-space breweries, delicatessens, bakeries, and cafes for people with plenty of time to stare, not the ones who parked the van on the pavement wolfing a breakfast stotty in five minutes. Where these places exist there are sure to be "events"; readings, folk music, park runs, and festivals. A local councillor is quoted in the Chronicle saying the latest Heaton bar isn't for "lads" and "cheap cider", God forbid; but I hope it means they'll stay in a small room drinking warm, expensive fake unreal ale, complementing each other in the way that chimps in a community would rather make conscious mistakes than fall out with the herd. I hope it doesn't lead to the next stage…
Anger
I'm sure that every generation believes itself to be "angry"; it's a badge of authenticity in your 20s; unfortunately, despite the passage of the years, all of us 50 somethings are still trying to extend our youth. Considering the state of the world that we made and the "anxiety generation" of today's 20 somethings as they doomscroll, we really should be ashamed, but shame isn't in our public vocabulary. Instead, like some prisoner serving a long sentence, we search out disrespect to bring meaning to our lives. Progress is difficult but slogans and arguments are easy online in your approving bubble. Go and find the most extreme memes by searching thousands of posts on social media, then try to wind them up from a position of semi-holy authority. The Hells Angels used to call unusual displays of bad taste a "mind-snapper", but we send them on WhatsApp.
History has access to what was top secret information but we still don't know everything that happened. We don't know if Philby was played by Angleton or vice versa. We don't know if Hess was dealing with The Duke of Kent at Dungeval in 1941, we don't know everything about JFK and we don't want to know who blew up Nordstream, so we'll never know everything. Because there is always doubt, those who appear certain, the people who shout loudest, and divide society in a majoritarian comforting consensus dominate democracy and we're left, as the graffiti says, with an island of sheep, ruled by dogs and owned by wolves. Then one day after the stolen election with a complicit media, the chief of the know-nothings walks into the big office, sits in the big chair, and starts issuing orders. Our Civil Service says, "Can you imagine having to work with these truth twisters?" and some of the orders are carried out and some ignored. Panty liners will be banned again; the A1 will be dualled this time, and Care will get sorted….one day. It makes you angry; all of it, but you go after the worst of it and leave what you deem less serious for another day. You bargain.
Bargaining
Our latest municipal bargain seems to be a battle between whatever the WFH Real Ale Mamils want and "White Van Man", listening to Talk Sport, (more progressive than the BBC in my opinion),who park on the pavement as whatever needed is delivered, sorted, built or fixed. You can tell who's winning the argument (Heaton Hipsters) but who's winning the war (Lads in Vans).
Cycle lanes are built, slowly and cause dangerous confusion to all, so do not seem to be used much. Forgetting what Willi Brandt, thinking of Berlin, said when he saw the Roman Wall in Newcastle in 1961 that "Walls never solve anything", new bollards isolate all of Jesmond, (maybe in humble recognition of Leonid Zamyatin's book "The Islanders") and Heaton's bollards look like a Beirut neighbourhood watch boundary. They ensure that Warwick Street is monitored by tank-trap concrete and the double bollards on Falmouth Road look good for stopping landings by gliders. Social media wars where "@BadParking" is identified and reported and "@SpaceforHipsters" advocate active travel. Camera-carrying cyclists show the daily battle against death and injury that current road conditions impose on them by trapping drivers who rage that they never knew the Highway Code had changed. The atrocious culture wars politics of a failed regime impersonating our government is rightly deplored, but the holier than thou, higher pleasures of someone's commuting ability is seen as a righteous crusade in some circles for those unfamiliar with the customary rejoinder bargaining power of a slap in the gob. Unfortunately, if it descends to the latter, it's doubly valuable and goes viral.
Good people who make a mistake can be shamed and they suffer, whilst the shameless, (and Trump, Johnson role models cannot be shamed) prosper. Instead of bargaining, we get "whataboutery" and the endless cycle of noise. Telling someone who's done something bad how bad they are is unlikely to help, but who cares if you'll never see them again? If I may offer a controversial opinion, getting that filth who murdered the little girl in Liverpool out of his cell to hear a victim statement isn't really going to help the victim's families pain, and asking some G4S Security Guard on £11 per hour to risk his welfare to manhandle a dangerous killer on a 42 year whole-of-life tariff to the dock to be told off is gesture politics. A bullet in the skull would be better. Similarly, the criticism that is routinely doled out by everyone to everyone else about how you want to live your life is out of all proportion to the good that it does. Gay, straight, trans, black, white, Tory, Labour, Corbyn, Starmer, green and orange we're all of us heading to our own funerals, and if we're unlucky, a care home first. If that sounds depressing, it's because it is.
Depression
Ideals are always trumped by facts, and when facts fall to experience, futility takes over. The times of influence, security, and control are over, now it's man pads from the chemist, (not the armoury), soft socks, and a medicine cabinet like a vanity case. Your opinions are not sought by canvassers, the weather is the default conversation, and the 7 deadly sins available to you – pride, greed, envy, lust, gluttony, and sloth are all, to a certain extent made more available than ever before via social media or White Van delivery. The virtues of youth are abandoned and the above sins, which sound like Donald Trump's to-do list, are embraced. The only question is whether we accept this. The answer is NO.
Acceptance
We live in cynical times as Jerry Maguire said. Yet there's room for profound and justified optimism because we can change everything for the better, we have to accept this for it is true. The biggest lie ever told by the government and the media is that we can't change anything. "Don't vote for anyone, the government only gets in". They're all the same". "Their all in it for themselves" and variations of such ugly ignorance are all indulged and promoted by vox-pop news programmes beloved by the BBC. They ask some fool a question and he'll say he's entitled to his opinion, but he's not; not about our future he isn't. He's entitled to drink warm beer and bore his fellow bores; the lads are entitled to discuss Fury vs AJ (Fury by a mile btw) over whatever bevvy is trendy these days and people can wear, do, say, and be what they like.
We can't write down detailed laws about this stuff as no statute can encapsulate the kaleidoscope of humanity and one person's meat is another's vegan tofu, so we just have to care for each other and resource that care, our own care, appropriately. We need to accept that most things we have, do, and are – are constructed from our own development as human beings living in a society that is generally safe, friendly, and beneficial. I heard a tale on Radio 4 this week; a black woman was the victim of terrible insulting racist language from a woman outside the pub. Showing great humanity and incredible courage she walked up to the racist offender, looked her in the eye, and hugged her. She described how she'd seen the pain in the woman's eyes and wanted to help her but she knew words wouldn't work, and how they both ended up in floods of tears hugging tight.
The lesson of history and society is that we won't solve the situation that we're in by ideology or political policy initiatives. We'll solve it through implementation and cooperation, by feeding children at school, making the streets safe, paying people better, and funding adult social care properly. I spoke with an English Literature student who was very impressed by his pal studying "Medical Physics" ie curing cancer, but when I said that when the drugs fail and the cancer isn't cured, and someone has a week or so to live, they may well need the poetry more than anything else. We'll solve our future by looking each other in the eye and remembering that we are not united by our similarities but despite them. Whatever divides us, football, politics, race, orientation, fashion, or transport we are all human beings and we all live on this planet, and we're all getting older and that's enough. The rest is just noise and twitter. Let's switch it off, go outside, have a laugh and look after ourselves. Maybe then we can believe we're worthy of something better.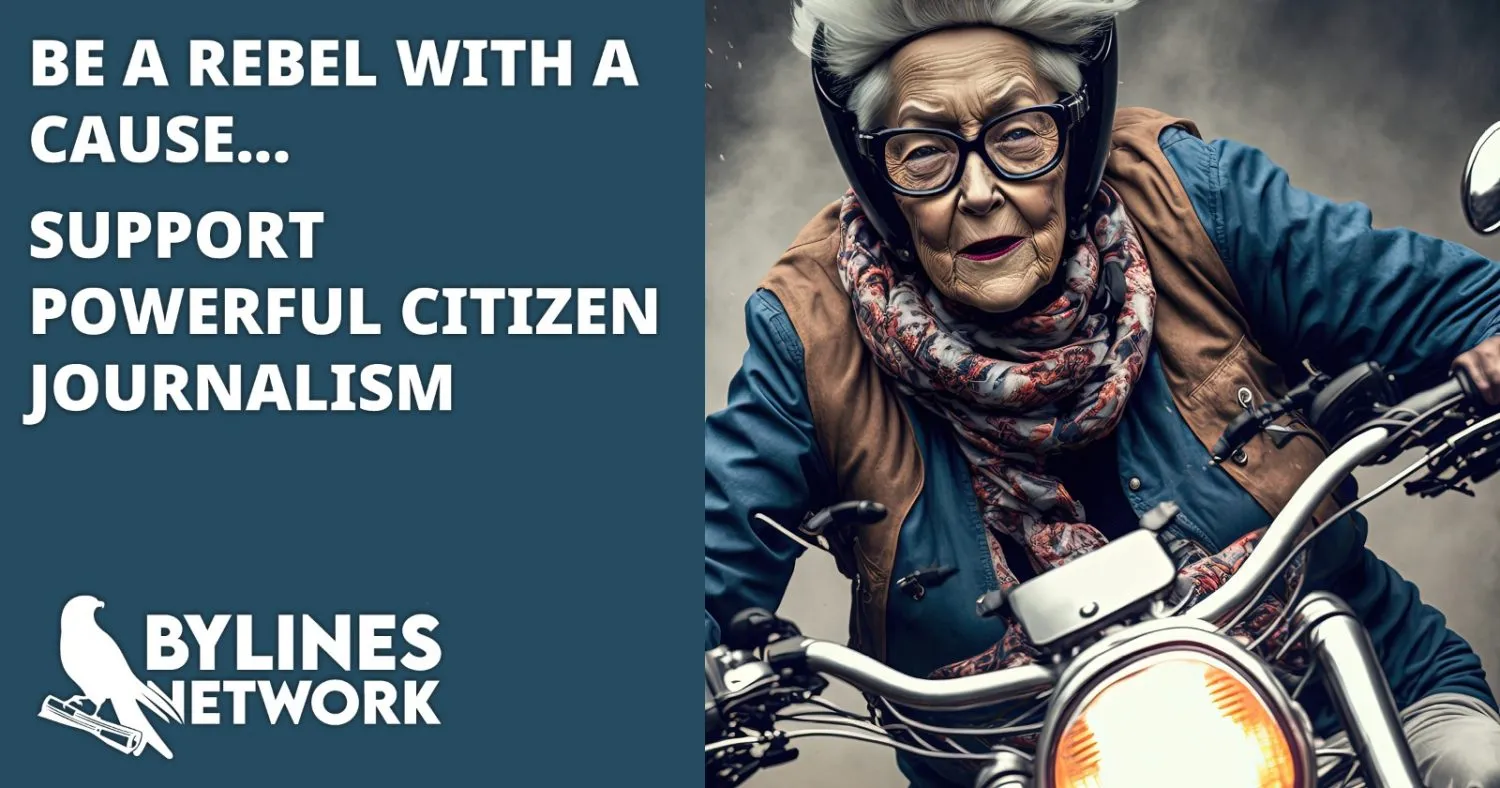 CLICK HERE TO SUPPORT THE BYLINES NETWORK CROWDFUNDER!