Recently I wrote an article about those of us who are concerned about the demonization of asylum seekers, how we should respond and how we should frame our arguments around the idea of universal human rights and argue that all people should have human rights, within the framework of a decent society.
This raises the question of how we can rebuild our now often fractured communities within the framework of a decent society.
Common enterprises
In the past communities in many parts of Britain were based around common enterprises, especially in my native north of England.
Depending on where a town or village was situated, this might have been a mill, a mine a shipyard or an iron and steel works.
In Lancashire, many towns were built around the cotton mills, while over the Pennines many West Yorkshire towns such as Saltmills were based around the local woolen mill. 
Further north County Durham towns and villages like Thornley or Consett were built around coal mines or iron and steel works, while shipbuilding towns such as Jarrow and Wallsend grew up by the banks of the rivers, Tyne, Wear and Tees.
This common enterprise meant that these areas could, to a large extent absorb immigration relatively peacefully as there was always a common purpose and workplace, which could bind people together.
When the work forces increasingly began to be unionised in the second half of the 19th century, this further helped people to coalesce into coherent communities.
Community
This can be seen by the example of the Irish community in the Northeast of England. 
There was an Irish community on Tyneside prior to the deadly potato famine of the second half of the 1840's, but it was that appalling event, which would see a major influx of Irish into the region in the second half of the 19th century.
It has been noted that in the second half of the 1800's, nearly 10% of the population in the region was Irish-born, families pushed out of the west of Ireland by the lack of both food and land and pulled towards  the Northeast by the prospect of jobs in mining, engineering, iron and steel manufacture and shipbuilding.
It wasn't always sweetness and light between the Irish incomers and the local Geordies.
In 1851, for example, there was what contemporary singer songwriter Ned Corvan called the 'Horrid War I' Sangyet', when an anti-Catholic preacher, who went by the evocative name of Ranter Dick, preached down by the River Tyne at Sandgate in Newcastle. 
At the time the areas there were many tenements, which were housed by Irish immigrants and Ranter Dick's provocative attempts to wind them up soon had the desired effect and a riot ensued.
This saw the local police trying to contain the enraged Catholics, while locals, who would normally have been fighting against the police, joined in on their side against the Irish.
This was not an isolated incident in the story of Irish assimilation in the Northeast as Irish immigrants, with both a different religion and language did seem to some to be a threat. 
Assimilation
However, this is still a story of successful assimilation and much of the reason for that can be traced to the very same large-scale work enterprises, which attracted the Irish to the region in the first place. 
The common purpose provided by a large single employer helped to develop bonds between people and to develop cohesive communities. 
While it is true that similar conditions in the west of Scotland did little to help bring about the same result, perhaps because the level of Irish immigration was considerably higher in the west of Scotland, people from different backgrounds did develop strong communities in Northeast England, against the backdrop of a single large employer and a common purpose. 
Jobs
Many of the jobs in regions like Northeast England, such as mining were very dangerous and this naturally also helped to bring people together.
If your life depended on your 'marra', then their religion or background didn't perhaps matter so much, deep in the dark bowels of the earth.
As we all know the old large employers in regions like Northeast England and indeed across much of the developed world have been lost since the 1980's. When Margaret Thatcher and Ian MacGregor decided to butcher the mining industry in Northeast England after the 1984/5 strike, without bringing in remotely enough new industry,,
they did more than simply destroy the local economy.
They also destroyed many communities.
This was partly because of the economic damage that the Tory government inflicted on the region, but also because of the sudden lack of the large employer, which had been the main force binding communities together.
It meant that if newcomers came into the area, there was no longer the shared, common economic purpose to help them to assimilate.
Indeed, the contrary was true; as the economic base fragmented into so many pieces, with well-paid, stable work becoming a rarity so consequently newcomers could be seen as a threat.
Zero Hour Contract
Alongside those changes, we have also seen the growth of the Zero Hour Contract economy, whereby workers work very much in isolation from their colleagues and indeed in many respects in competition with them.
It was reported in 2021 by the Chartered Institute of Personnel and Development that about a million employees were involved in a Zero Hour contract or in 1 in 30 of the workforce.
This has further fragmented both the workforce in particular and society as a whole, leading to ever greater isolation and yet more divisions in society.
Our social life is so much more fragmented today.
The days of the large social club serving a town or an estate are now largely over, while even our television viewing habits have changed in ways which tend to divide us.
I well remember as a teenager in the 1970's when there were only three television channels, how a particular program would be watched by a large percentage of the other students at school and we would discuss it on the playground or in the classroom the next day.
With so many channels and so much choice, it is now rare for such an occasion to bring people together to such an extent. Similarly many people are in social media bubbles or echo chambers, were algorithms ensure that we remain divided and apart.
The need to find common enterprises
Consequently, we now need to find common enterprises , which will bring people together and rebuild a real sense of community.
We need to find features of our modern world, which can bring people together. This will not be an easy task.
As mentioned, our modern world is a far more fragmented place than it once was and while this has in theory given us more choice, it has in effect meant that the binds that tied us together in the past, have become much looser.
So, we must search for new commonalities, for new times, which will help us to rebuild our communities.
Once we start to think deeply about it, there are many areas in which we can work to both improve all our lives and bring people together around common purposes, in the way that they were brought together in the past.
Environment
One of the most obvious ways of people working together is in the area of the environment.
This can be looked at a number of levels of course, but what is certain is that all humans need a safe and healthy environment to live in. 
There can be no false racial boundaries in that respect.
Indeed environmental concerns are one of those aspects of life that remind us only too clearly of our common humanity, especially as our very humanity is now under threat from the growing Climate Crisis.
Using environmental work as a way to bring communities together can work at a number of levels.
On a very local level, cleaning up streets and working together to make sure that sewage is not pouring into our rivers is something that can bring us together.
Similarly, communities can come together around demands for safe streets for their children to play in, for better parks and play areas generally and for less pollution from cars and other vehicles.
On a much larger scale, concerns about the existential threat of the Climate Crisis can also bring people together in communities at a scale from a small village to the whole of humanity.
All humans need safe environments in order to live and thrive and we can all come together in the work of ensuring that we have safe places to live.  
Health
Another example is in the area of Health. 
This has been on many people's minds in recent years of course with the onslaught of the deadly Covid-19 pandemic. 
On one level it was clear that there were some differences between ethnic groups in terms of deaths from Covid-19, with for example the Office of National Statistics noting that females of Black ethnic background aged 65 years and over had a rate of death 2.1 times higher than that of White females.
Such disparities need examining carefully and appropriate action taken to ensure that all people can live safer lives. 
However, it was also true that the pandemic badly affected people from all backgrounds and brought it home to us, just how important it is that we have a properly functioning healthcare system for all our people.
While some diseases can be more dangerous for some groups of people than other, often for a variety of reasons, we all need help with our healthcare from time to time. 
It is simply part of being human.
The running down of the NHS in England and Wales in recent years is a problem that is affecting people from all backgrounds, except perhaps those wealthy enough to be able to jump the queue and pay for private treatment. 
Communities can come together to demand, and work for, a good standard of healthcare among their people, no matter what their background. 
Educational attainment
Similarly, there are differences between ethnic groups in terms of educational attainment, which need examining.
In 2021 UK government statistics show that over 70% of 18 year old's from a Chinese background got places at university, while only about 50% of pupils from a Black or White background achieved this.
Clearly work still needs to be done to develop a level playing field in educational attainment.
However, it is also true that pupils from all backgrounds are currently being let down by the chaos in education at present, the lack of a proper coherent educational system, the ever narrowing curriculum, with its emphasis on a smaller range of skills and the continual withdrawal of support for pupils with a range of special needs and the lack of support for pupils with mental health issues, including the growing number of students who don't attend school.
Wanting the best for your children in terms of educational opportunities, like the desire for a safe environment and good health care is not something that divides communities.
It is simply a normal human emotion we all share.
Working for a better education system for our children is another way that people can come together and rebuild our communities in the post-industrial world in which we live. 
Sport
Another way of bringing people from disparate backgrounds is sport. It is notable that the North and to a lesser extent the Midlands dominated professional football in it its early days in the late 19th and early 20th centuries.
Indeed it was not until Herbert Chapman took over Arsenal in the 1930's that any London team had any real sustained success.
The Northern towns and cities were of course the crucible of the first industrial revolution and as a result they were the focus of a great deal of inward migration. 
Professional football then could and did act, as a binding force in many of those Northern towns and cities, which were successful in the early days of professional football and sport can play a similar role today.
This could particularly be true of non-league football teams with real roots in the communities they serve and without all the baggage of dirty money and sports washing that some of the large Premier League clubs sadly have today.
Music
Music and other cultural exchanges can be another way of bringing people together and helping to rebuild our fractured communities.
For a number of years now I have organised multicultural music and poetry events in Newcastle. But these are multicultural events with a difference.
I insist that the events must start and finish with Northumbrian and Tyneside music, while the rest of the event showcases traditions of people who have come to Tyneside.  This has included Irish music, Roma music and Bosnian poetry.
In this way we have celebrated all our traditions, honoring the great cultural traditions that have been brought to the banks of the River Tyne by incomers, while also valuing our traditional local and regional culture.
Similarly, it is relatively easy to organise events, when people from different backgrounds bring food along and people enjoy each other's food.
These are ways that culture can be something that brings people together, as groups pf people are able to retain their distinctive cultures, within an inclusive framework.
Civic pride
The last way of rebuilding communities, which I want to consider, is that of building civic pride.
This was done in many towns and cities, especially across areas such as the north of England, in the 19th century, with the building of magnificent public buildings and buildings that all people could share such as town halls and libraries.
We need to see a return to the building of well-designed and well-constructed public buildings, which can help people to feel a real pride in their locality, while also providing public space for people to come together. 
Rebuild
We live in a very divided society today and one in which the many ties which used to bind us together have been systematically broken over the last 40 years or so.
While this has meant more choice in some respects, it has also meant that some quite dangerous fissures have developed, which can be and indeed have been, exploited by unscrupulous populist politicians. 
So can a sense of real community be rebuilt?
I believe that the answer to that is a resounding yes.
However, we do have to rebuild a sense of common purpose, which was there in the past and find common enterprises, which can bring people together.
Rhetoric, I fear, will not be enough. 
People can be brought together in our fractured communities, by working together to improve the environment, whether it be on a local level or in terms of global threats such as the Climate Crisis.
Working for better health and education systems are also ways in which people can come together with a common purpose for something that we can all decide is important. 
Sport and cultural events can also bring people together, while lastly it is important that local government is rebuilt so that it can provide communities with a sense of civic pride, of the type that helped to bring people together in the 19th century and we desperately need again today. 
There are many positive actions we can take to rebuild our communities, build a decent society and help combat racism and division.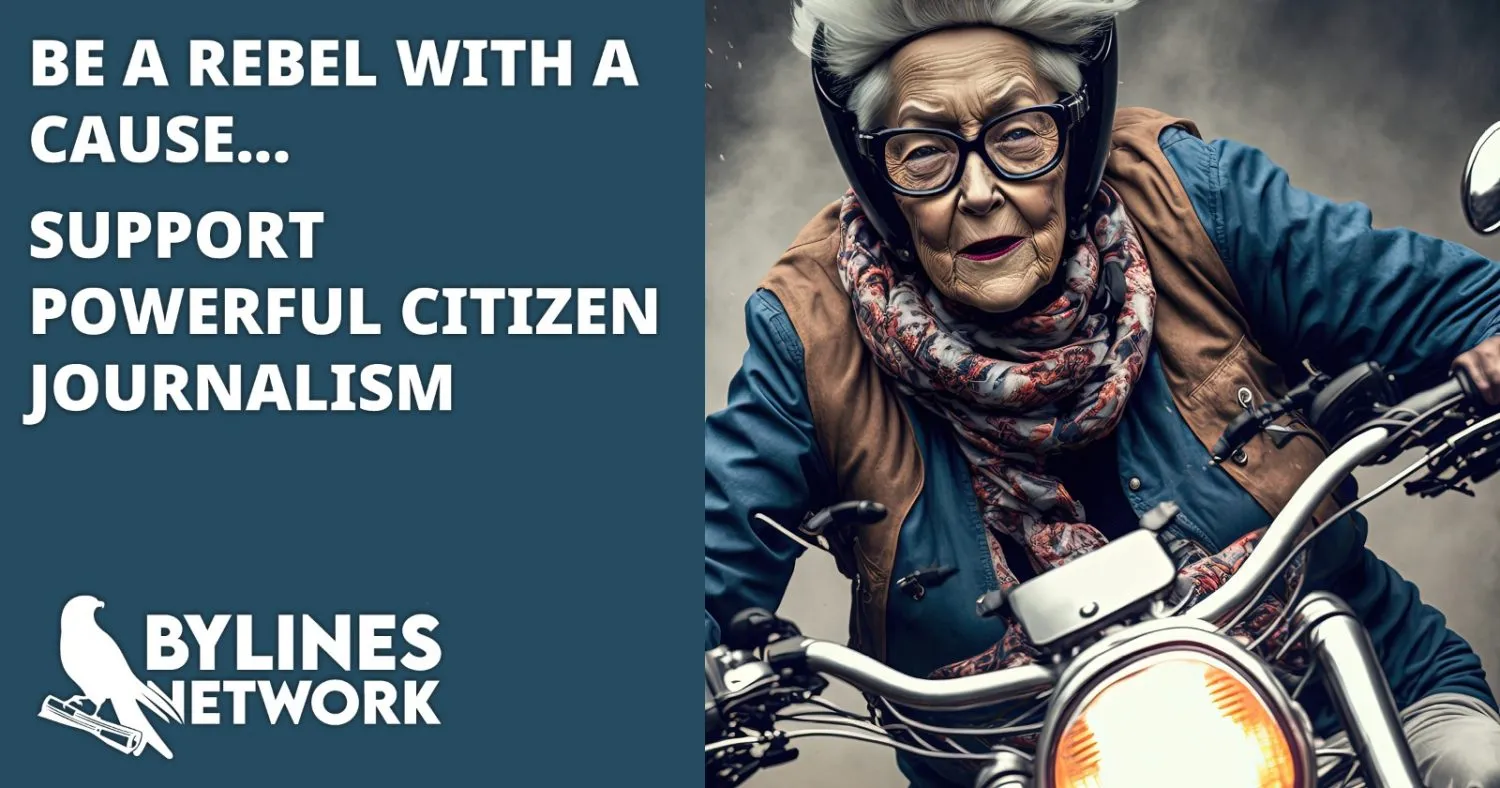 CLICK HERE TO SUPPORT THE BYLINES NETWORK CROWDFUNDER!