It comes to something when you have to weigh up whether to use a Thick of It quote or something from the Alien franchise as your headline, but Boris Johnson's desperately rapacious 2019 underlings have really taken the biscuit. But, which of the True Believers is it this time? Well, it's Old Faithful himself. As Richard Holden, MP for North West Durham says: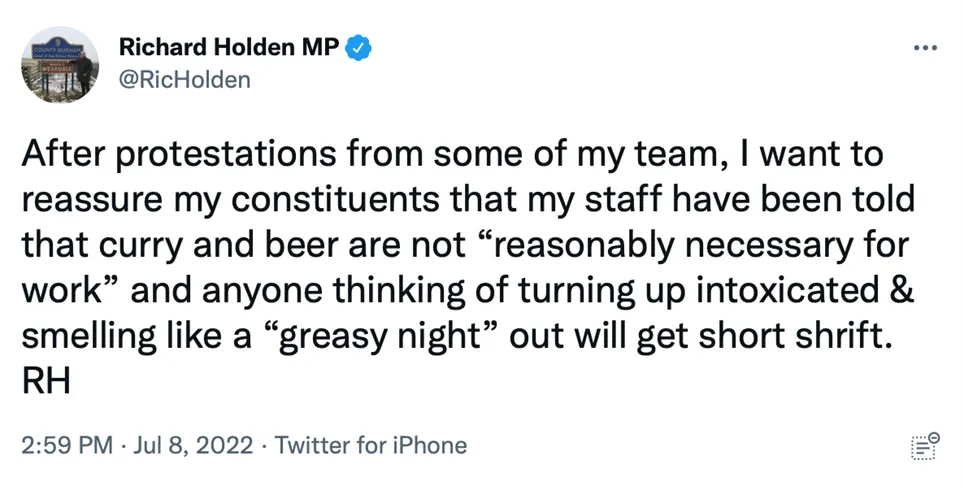 In the North East, it is always difficult to remember quite when or why you first heard of "Tricky Dicky". It might be that he cost the tax payer £86.6m while advising Chris Grayling, the same one who lied on the floor of the House of Commons about Northern Powergrid's response to Storm Arwen, you might have heard about him enjoying a curry & pint while actively breaking his own government's Covid-19 Lockdown Restrictions or even him being fined £100 for littering at the Local Election count for Durham County Council in Stanley.
Spittle flecked anger
The last week has shown that even the perennial truth evaders cannot escape the lies they have pedaled, in Boris Johnson's case it is impossibly difficult to imagine that a Prime Minister didn't know about Chris Pincher seeing as he's the head of the government which appoints Whips to keep a lid on things.
But, to return to Holden – he ran Johnson's Leadership campaign remember – all he really has left now is what playground bullies have, harsh language. As we can see in the tweet he posted today about Durham Constabulary concluding that there was no case to answer for Sir Keir Starmer and those who were campaigning for the Local Elections in 2021. Let's not forget that the person who took the now infamous photograph of people in a lit room at Redhills in Durham was the son of James Delingpole, former editor of Breitbart News. All Holden has left in the tank is spittle flecked anger at being found out for what he is, a culture war obsessive who has delivered nothing of any benefit for anyone in North West Durham.
While he may think that harsh language is fine, perhaps we should update Margaret Thatcher's dictum to:
"If all they have left is harsh language, it means they have not a single political argument left."
Given Mr Holden's "performance" on last week's Any Questions, the hot air which helps harsh language levitate has totally run out. Time for an exit stage left!
---