The year 2010 is a common starting point for negative comparisons, and, sadly, this issue is no different. Since the Conservative Party came into power, the levels of homelessness and rough sleeping have gone up significantly.
These figures should be a badge of shame for our government, and also a provide a deep desire to help these people get off the streets and into places of refuge, of safety, and a pathway to a home of their own.
The causes of homelessness (From Crisis website)
"People become homeless for lots of different reasons. There are social causes of homelessness, such as a lack of affordable housing, poverty and unemployment; and life events which push people into homelessness.
"People are forced into homelessness when they leave prison, care or the army with no home to go to. Many women experiencing homelessness have escaped a violent or abusive relationship.
"Many people become homeless because they can no longer afford the rent.
"And for many, life events like a relationship breaking down, losing a job, mental or physical health problems, or substance misuse put people under considerable strain. Being homeless can, in turn, make many of these problems even harder to resolve. However, in nearly all cases homelessness is preventable and in every case it can be ended.
"Homelessness is devastating, dangerous and isolating.
"The average age of death for people experiencing homelessness is 45 for men and 43 for women.
"People sleeping on the street are almost 17 times more likely to have been victims of violence. More than one in three people sleeping rough have been deliberately hit or kicked or experienced some other form of violence whilst homeless.
"Homeless people are over nine times more likely to take their own life than the general population."
Suella Braverman
The Home Secretary, Suella Braverman, has decided that she wants to take this problem head on.
About time too, I thought.
Cue a joint Press Conference with various charities to tell us how they were going to solve it.
Well, that's what I would have done.
It turns out that Braverman didn't have the decency to pick up the phone and have even the most cursory of conversations with them.
It would have been a good idea seeing as Braverman even wants to make it an offence to provide tents for them.
Compassion?
The words "compassion" and "compassionate" are often used by members of this government and Braverman in particular.
A cynical person would, on hearing her use one of those words, inwardly groan, because you know full well that there is a "but" on its way.
Braverman stated on X(formerly Twitter)
"The British people are compassionate. We will always support those who are genuinely homeless. But we cannot allow our streets to be taken over by rows of tents occupied by people, many of them from abroad, living on the streets as a lifestyle choice."
Lifestyle?
A lifestyle choice?
Imagine the conversations down the pub…
"Hiya, how's it going?"
"Good mate, I heard you moved. Where you at now?"
"Well, I decided to sell my house, gave all my money away coz I realised I would be much happier in a cardboard box round the back of the car park"
"So, is it working out?"
"Yeah, never been happier, you should do it, you won't regret it"
A lifestyle choice?
What is going on in Braverman's head?
A lifestyle choice?
My God, a lifestyle choice!
A person who espouses this belief has no business being in any position of power.
It is a despicable attack on vulnerable people, which seems to be a common occurrence with her.
How much lower can she go?
One thing that has become obvious is that, just when you think that's the furthest down she can dig, out comes the shovel, the pickaxe, and if needed the pneumatic drill.
All the while, her colleagues will not call her out. All we hear is that they "wouldn't have used those words."
Pathetic, shameful and disgraceful.
What does she have to say/do for our spineless PM, Rishi Sunak to sack her?
Does she have something on him?
Is he scared of her?
To finish
As a Teessider, living in one of the most poverty stricken areas of the country, I find it absolutely heartbreaking that not one of our Conservative MPs will condemn her.
I can only assume from their silence that they are either too cowardly and lacking in a moral compass, or that they agree with her. Whichever it is, they are culpable.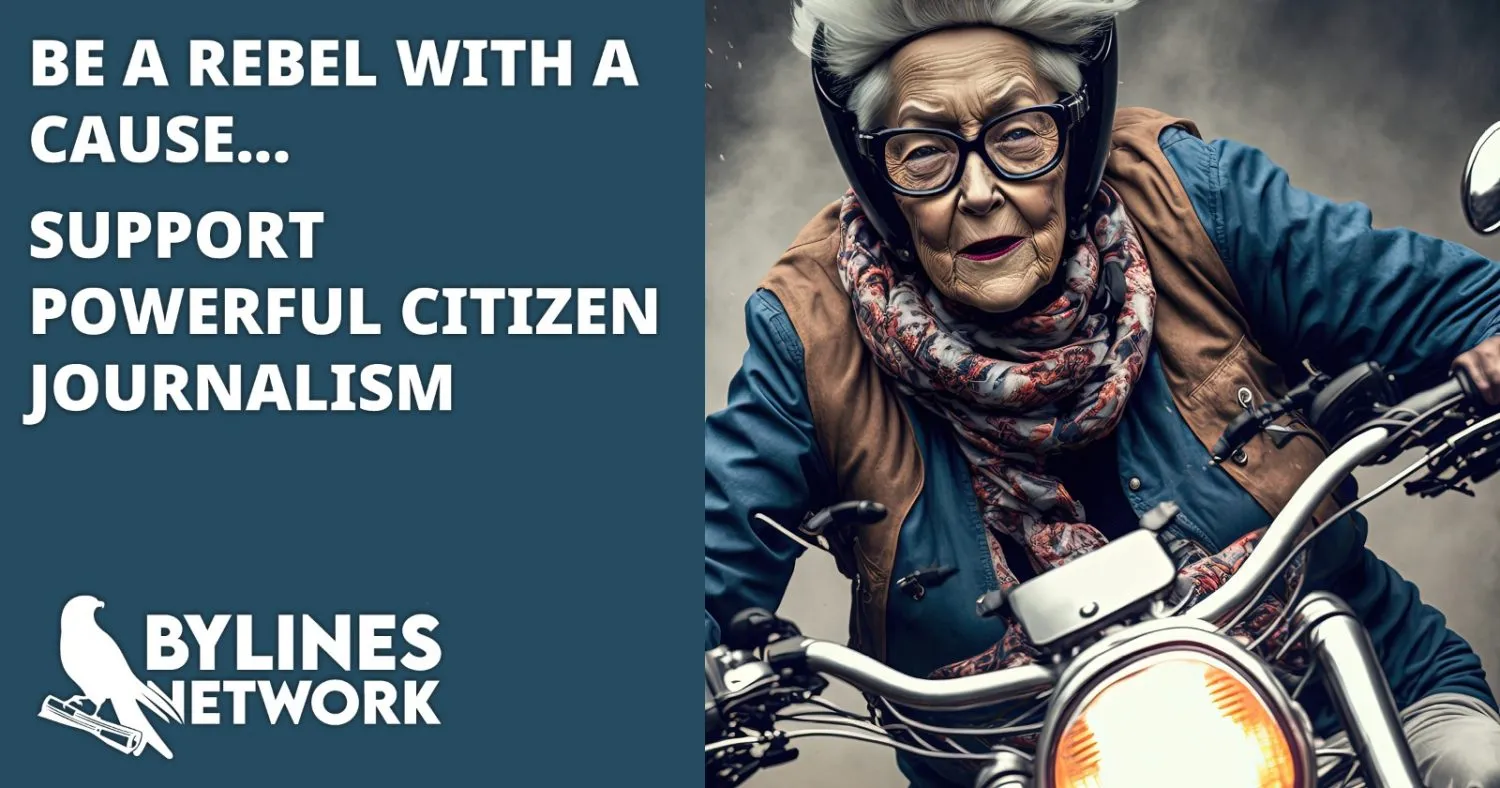 CLICK HERE TO SUPPORT THE BYLINES NETWORK CROWDFUNDER!