Avoiding A roads
"Take Cycle route 72" I was advised. I wanted to avoid A roads for my journey from outside the small village of Allendale into Newcastle upon Tyne. Travelling in summer meant I had longer days for my epic journey, which should take a day. not the time scale of Odyssey.
I packed light, needing to conserve energy. By 8 am I was on the road after kissing my wife and dog goodbye. It was overcast; not too rainy I hoped. At Hexham I stopped to refuel. I rested, drank coffee, and ate my packed breakfast. Although summer, it was cold. Cycle route 72, which I took coming out of Hexham was beautiful; narrow, winding roads, flanked by green hedges and trees. I loved the peace, with birdsongs and sounds of flowing water from the nearby River Tyne. Although a cycle route, this way was also a B road; for two cars to pass one would need to reverse to find a passing place, not such a problem for me. I had never been this way before and enjoyed the peace and lushness. I was making good time towards Ovington, Prudhoe, Wylam. Then, across a bridge, down a track and then … no. A barrier was partially blocking my way. A dog walker looked at me; I'm not sure what the expression was on her face. I did a U-turn and made my way using small roads, just not the cycle route until I met up with the cycle route 72 again.
Busy A roads
I was getting closer, the roads were getting bigger, there was more traffic. I had checked the map and would continue along the river into Newcastle. I was now on A roads, traffic, traffic noise, traffic lights, horns. Then oh no! Horror, it was the roundabout at Scotswood Road. I hadn't checked the map carefully enough. Going slowly, I breathed, it would be all right. Follow the voice on google maps, 'turn right in two hundred yards, second exit at the next roundabout, turn left, do a U-turn… With many rights, lefts, 2nd, 3rd, 4th exit I knew I was getting closer to my destination. Following the signs I started seeing blue motorway signs which I didn't think I was allowed on. My heart was racing, I concentrated on slow breathing. It was OK, the route did not require a motorway. I started to see familiar landmarks.
My destination
Google maps took me to my destination. The mechanic was waiting for me. I had been driving a 450Kg tin box, just over a metre wide, 2.4 m long. This quadricycle was my Renault Twizy.
The reason for my Newcastle trip was because at my most recent local car service, I learned I needed to change all tyres. They were so worn it would be illegal to continue driving on them. My 2013 vehicle had travelled a little of 4,000 miles when I bought it just over a year ago. I had added two thousand more. It was hard to think such low mileage would require a change of tyres. It's out of alignment, the mechanic said. The garage was unable to do the alignment as the wheels were too close together. I tried another three body shops and garages but got the same reply after they saw my Twizy. I talked to people, who talked to other people. I was directed to a garage where an employee had owned a Renault Twizy and had serviced another contact's Twizy. I booked my auto into this Newcastle garage.
After a few hours, lunch in Jesmond, and a very wet walk back to the garage it was time to say thanks, pay the bill and be on my way. The car was fully charged. It was gone 3.30pm. Rush hour was starting. I tried the cycle routes; all with the partially blocked entrances narrower than my little over a metre wide auto. Trying to find a small road was taking too much time and rush-hour traffic was increasing by the minute. The rain was heavier. I bit the bullet. I set google maps to find a route to start my journey.
Bad weather and traffic
When Odysseus hit bad weather, he was travelling to the home of Aeolus, the ruler of the winds. Aeolus gave Odysseus a bag containing all the winds and he stirred up a westerly wind to guide Odysseus and his crew home. For my journey, the rain was lashing down. I had no rain god. I was surrounded by big vehicles, creating big splashes. Before this car I hadn't driven for many years, and when I did it was in Canada. I was anxious. It's time to draw strength from my her-story. In the 1980s I was a non-violent activist promoting peaceful conflict resolution, protesting war-mongering nations creating real or potential catastrophes across the world. I broke into US military bases in the US and Britain. I was arrested, locked up at times, and went to court in both countries. Goodbye timidity, I don't need Aeolus to help me on my journey.
Google maps guided me to the A69. I travelled at my top speed of 52 mph until I recognized a place to leave the main road and re-find cycle route 72. In Hexham I partially charged the car's battery. I was in a hurry as I needed to pick Cleo, our dog up from doggy day care. Cleo was pleased to see me; in the rain we continued our journey as the battery gauge was dropping. Arriving at a pub close to home, my battery indicator told me I had two bars out of ten left, not enough to get home.
Chloe, my pooch in the back was a better passenger than Odysseus's shipmates. Within ten days, with help from the westerly wind, they are in sight of Ithaca. Odysseus's shipmates were an untrustworthy bunch and thought that Aeolus has secretly given Odysseus a fortune in gold and silver. They tore the wind bag open. The winds escaped and stirred up a storm that brought Odysseus and his men back to Aeolia.
Chloe looked at the person behind the bar. He melted. Can I charge my battery, I asked. Yes, if I could get an extension lead here. My spouse was home; she would bring the extension down. I had a glass of wine, followed by a family dinner, love, and treats for Chloe, and Twizy was left overnight to charge whilst my wife took the three of us home. The next day I brought newly aligned Twizy home and plugged her in the three-pin plug awaiting to refuel her. Her subsequent trips have been peaceful.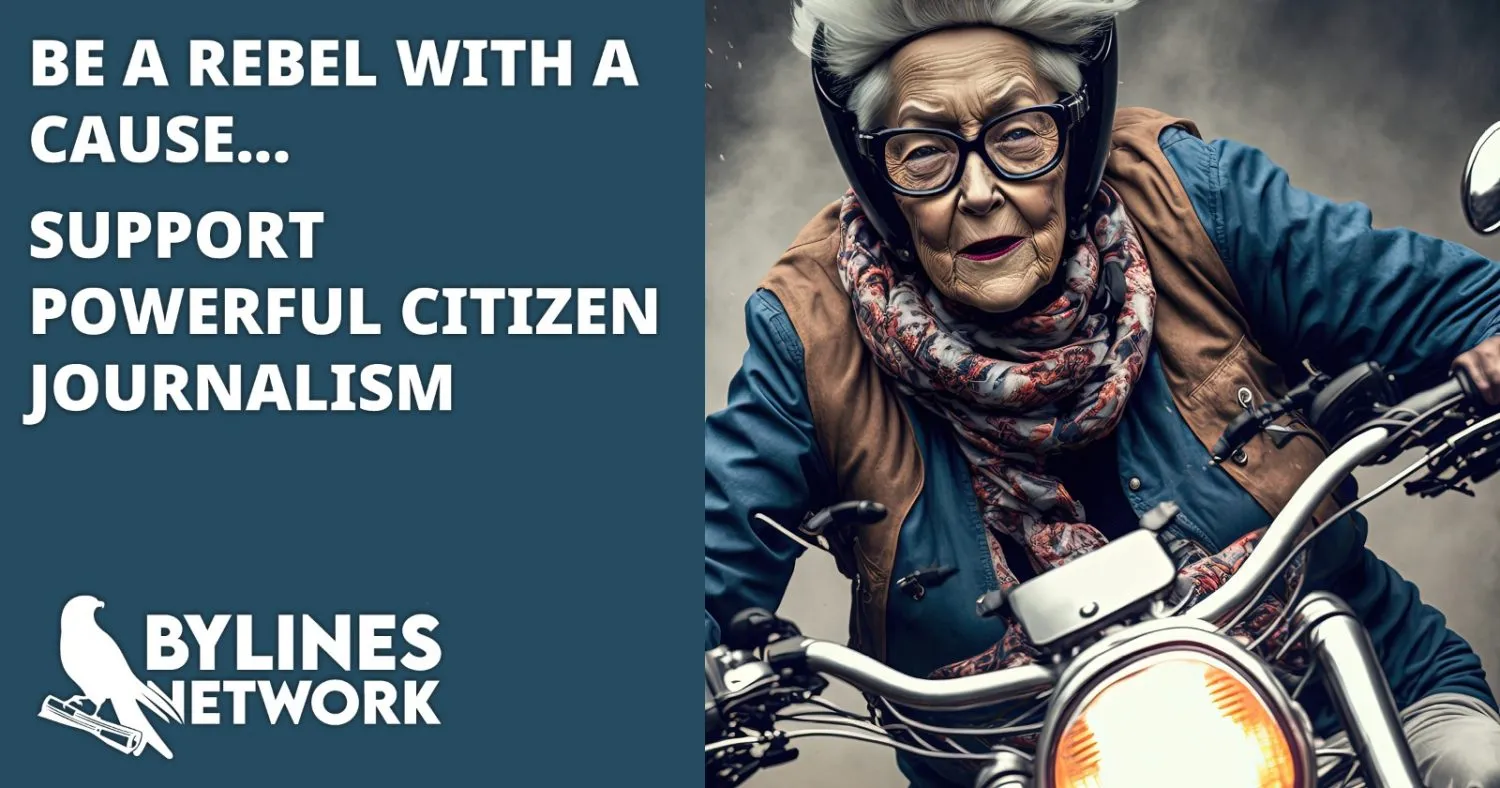 CLICK HERE TO SUPPORT THE BYLINES NETWORK CROWDFUNDER!