It's been one of the most incredible weeks in domestic politics and let's face it, there have been plenty of them in recent years. But the past week has to be right up there.
Last Wednesday, we had two opposition day debates. The first was focused on mental health and the appalling state of our services. I asked when we might get a decision as to whether there would be a public inquiry into the deaths of three young women who lost their lives whilst under the care of our local mental health trust. Will Quince, the minister at the dispatch box turned to his colleague Maria Caulfield, who whispered to him that a decision would be announced within weeks. About time. But they've been saying that for months!
A couple of days later Quince announced that he was another Tory MP who would be standing down at the next election.
Teesworks
The second debate was focused on the alarming dealings at the Teesworks site on Teesside.
I am being constantly threatened with lawsuits that would be used to shut me up about this issue, but I'm not going to be intimidated into silence by these people. The government's attempt to cover up this industrial regeneration scandal, with their commissioning of a rapid review, isn't going to fool anyone.
All the interested parties – the Labour frontbench, parliamentary select committees and indeed Ben Houchen himself, the Tees Valley mayor – had asked for the powerful National Audit Office (NAO) to investigate. But it was Michael Gove who ultimately had the final in say in this. He decided against the NAO inquiry and instead commissioned a government appointed 'independent review'.
The review panel and terms of reference were cynically released as the opposition day debate got underway.
That timing was clearly pre-planned to prevent any proper pre-debate study of the panel's make up or its remit. Quite typical of a government that has absolutely no regard for scrutiny, good governance or respect for parliament itself, as is evidenced by the regular reprimands of government ministers by the speaker for their discourtesies to the House.
Manipulating the machinery of government
They hold all the cards, and they play them for their own advantage without any regard or respect to the House of Commons or to the country.
As far as the Tories are concerned, the machinery of government is there for them to manipulate to their advantage and try and frustrate parliamentary scrutiny and to try and deceive the public. We don't have open government in the UK, and we should push back against those who try to tell us otherwise.
I've no reason to doubt the bona fides of the panel Gove has appointed. I now know their names, and they appear to be perfectly good professional people in positions of responsibility who will no doubt presumably cherish their professional reputations. But the bottom line is that those panel members are being expected to report very quickly and only allowed to devote a restricted number of hours to the task whilst still doing their day jobs. It simply can't be done.
They will have absolutely no chance of even beginning to understand the complexity of the Teesworks arrangements and the intricate web of corporate structures that has been spun, or to fully investigate the issues of significant concern within such a short timeframe. Their hands are being tied behind their back from the off.
A "deeply corrupt" country
Following Boris Johnson's resignation, I've been reflecting on all these years of his lies and deceits, his misleading of the British people – be that Brexit, Covid or his flagrant disregard for adhering to anything like decent standards of behaviour in public office – and then his scandalous resignation honours list and his petulant and narcissistic departure from the House of Commons.
I suspect many people shared my sense of abject despair at what has happened to our country, so badly served by Johnson. I also strongly suspect that millions and millions of people across these islands have totally lost faith in our government and our institutions. Who can blame them when all they see is blatant corruption, cheating, dishonesty, profiteering at the public's expense and sleaze at every turn; where no one is ever truly held to account or are forced to face any consequences for their indulgent and immoral behaviours?
We have to be honest about it. Ours is a deeply corrupt country.
There has been institutional prejudice, with the elite having had a stranglehold on our economy from time immemorial, and whilst none of that was ever acceptable, that hold, and abuse of power is now off the scale. There is so much fraud and naked profiteering going on in plain sight, that people, although weary of it, just shrug their shoulders as though it's become normal. As if to say: "That's just how it is."
We're drowning in a Tsunami of corruption, and we seem powerless to stop it especially when so much of it is happening under the control of the government under the guise of disingenuous and ineffective policies of alleged devolution and "levelling up". 
Pork barrel politics
Everyone knows that these policies are entirely deceitful.
It's lies and pork barrel politics pure and simple. Where relatively small and inadequate dollops of public monies – as against the devastation of 13 years of austerity and growing inequality and child poverty – are doled out to favoured politicians for their areas, whilst everyone else has to get their begging bowls out and put together bids through costly and time0consuming bidding processes, which are either doomed to fail or if successful, are expected to be gratefully welcomed as generous bequests from the government's munificence.
We're all expected to be grateful and tug our collective forelock and go along with the lie that this is so much better than it was under Labour. Utter nonsense.
This is not the irreversible shift of power to working people that our country needs. It's just another lie.
And one specific case in point: there are really serious concerns about how hundreds of millions of pounds from the public purse have been spent on Teesside, which has clearly made Houchen's friends even more wealthy than they already were. And there are very serious question marks over how he has conducted himself and how those few people have become so enormously enriched.
The honours list
Yet it is at this precise moment that Johnson bestows Houchen with a peerage!
This is about as arrogant as it gets. The Tories don't care about how offensive this is. They are in charge, and they are going to do what they like for as long as they can get away with it. It will be done. They'll get what they want, and the country will move on, and the focus will shift, and at that time Houchen will still have his privileged position.
It's obvious that the Conservatives can see the writing on the wall and are simply protecting their own while they can and give their blue-eyed boy in the North an escape route before the electorate delivers its verdict on them all.
As for the Lords, notwithstanding the sterling work of a great many brilliant people in that place, it is nevertheless a grotesque feudal anachronism in a modern democracy based as it is, on parentage and patronage. It's time for the Lords to be abolished and with it, the entire honours system. Like the Lords it needs replacing.
I know there are many people who rightly cherish their due recognition. They deserve it. But the value and integrity of the system is totally undermined when these honours are given to politicians who just go to work like millions of other people do. But to give gongs to those wrapped up in the Covid outrage is beyond the pale.
This business of automatically rewarding senior civil servants is ridiculous. What about the striking PCS civil servants? How about giving those civil servants a wage, they can live on?
"Ah but the Honours system is one of our traditions!" Well let's ditch the tradition.
And if some of those appointments hadn't quite made you feel queasy, along comes the knighthood for Simon Clarke MP. For goodness sake! Putting to one side that he doesn't think he has to bring people's attention to the donation he received from one of the Teesworks shareholders when debating that very issue, he was a key evangelist of the Liz Truss/Kwasi Kwarteng kamikaze budget that completely crashed our economy and what does he get for his efforts. He gets a knighthood!
Westminster stinks
Westminster totally stinks. For much of the time it has my stomach in knots.
It's a place where there's is simply far too much emphasis on the adherence to ridiculous and often childish pantomime-like traditions and a culture of politicians in government being as arrogant and condescending as possible. And currently where projecting the most extremist far-right policies, culture wars, hatred and division, the demonising of vulnerable and desperate people, blaming immigrants, the EU, Trades Unions – all delivered in poshest of received English tones – is the lingua franca of those in power, all to give it their poisonous policies the veneer of authority and righteousness.
This country is in real trouble. It has no moral compass from a government that's totally out of control.
I speak to fantastic people in my constituency and across the country, doing all sorts of brilliant work in their communities from running local football teams to volunteers conserving local nature spots and unpaid carers looking after others in the most difficult of circumstances. I meet the most wonderful businesses, as I did last Friday, producing sustainable aviation fuel from waste and another making a world leading product – railway sleepers from recycled plastic now deployed all over the world, avoiding the use of hardwoods and the perpetual destruction of our forests – both businesses focused on one thing, namely saving our planet.
These are the sorts of people and the types of businesses who are worthy or our support. Not the elite, the PPE spivs and the Covid profiteers and dodgy politicians.
We need to wake up to what is going on in the UK and demand a change of direction. We have to take this seriously now, or we run the risk of being totally unable to put it right.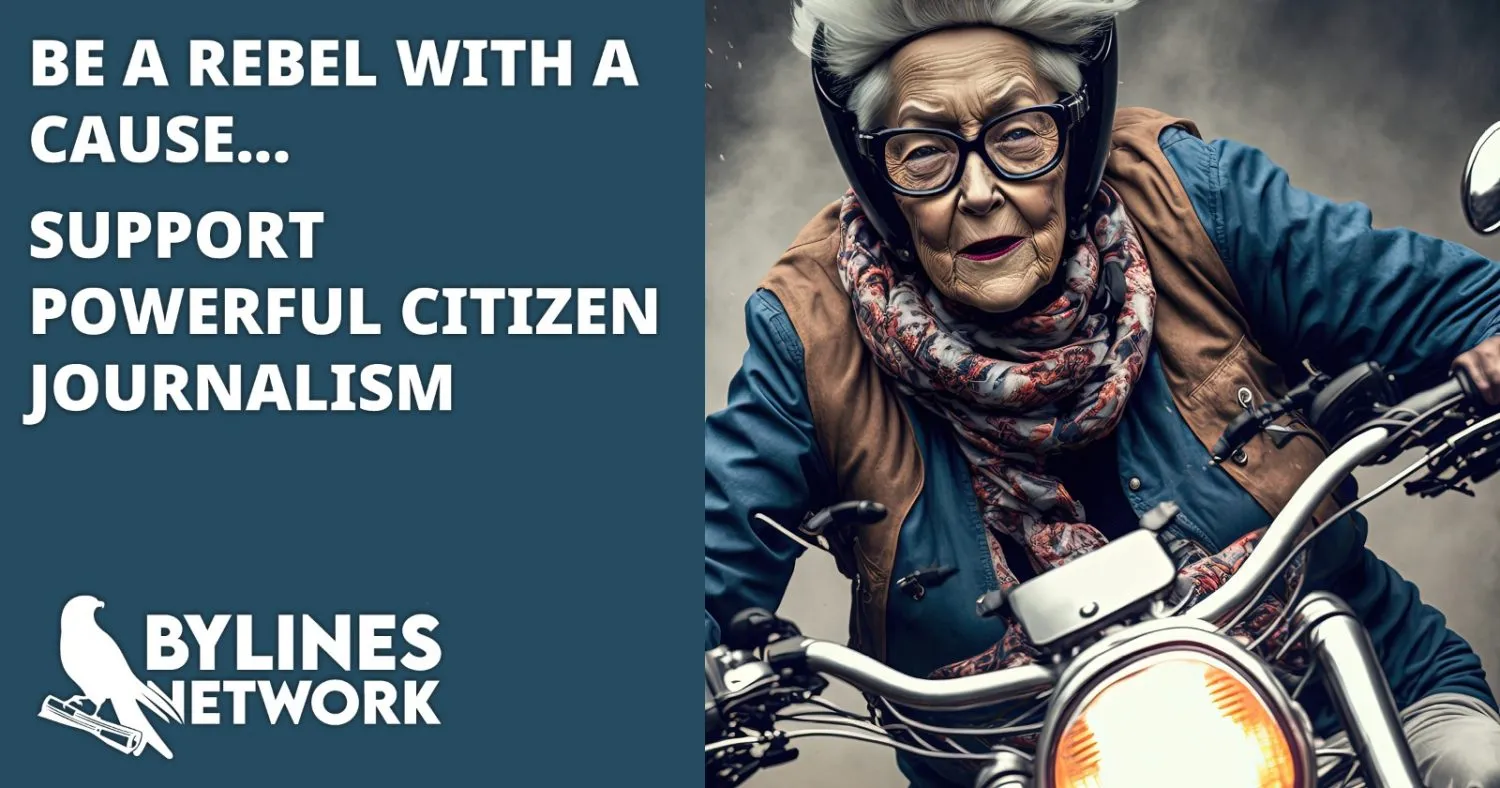 CLICK HERE TO SUPPORT THE BYLINES NETWORK CROWDFUNDER!