What is the current state of theatre in the North East? Just how bad is it?
On 2 September Northern Stage (NS) announced that it has begun redundancy consultations with its staff. It expects to lose 10 – 12 posts from its 45 permanent staff when furlough ends. The 35 part-time staff, currently on furlough, will receive no further payment after the end of October until they are called in to work.
Thus NS joins many other theatres, locally and nationally, to have to lose staff in order to stay afloat financially. The Royal Shakespeare Company, for example, is currently in redundancy consultations and the National Theatre has just announced that it has made 250 front of house and 150 backstage staff redundant.
Returning to the North East, the following 2020-2021 pantos plan to go ahead – Jack and the Beanstalk (socially distmnced) at the Tyne Theatre, Aladdin at Billingham Forum, Jack and the Beanstalk at Boulevard, Newcastle and Dick Whittington at Coatham Memorial Hall, Redcar. There will be a panto at the Theatre Royal.
The Sunderland Empire is an odd case. Although the building is owned by the City Council (it was the first lyric theatre in the UK to become a Civic Theatre) it is run by the Ambassador Theatre Group which operates seven theatres in the West End and 24, including the Empire, in the regions. The company's current policy is that all performances in all theatres are suspended until 18 October. However, they have not said that theatres will reopen the next day, although bookings are being taken for those shows; that will depend on government guidance at the time. It is still possible, therefore, that the Empire panto may be postponed.
Most theatres in the region are currently closed to the public except for Newcastle Theatre Royal where most shows this year have been cancelled but some are still booking and The Customs House in South Shields where the cinema is open, there are small cast shows in a socially distanced auditorium seating around 140 people (about a third of the normal capacity) and there are occasional open air shows in the amphitheatre outside the theatre. The restaurant/bar, Dame Bella's, is also open and a weekly quiz is held there.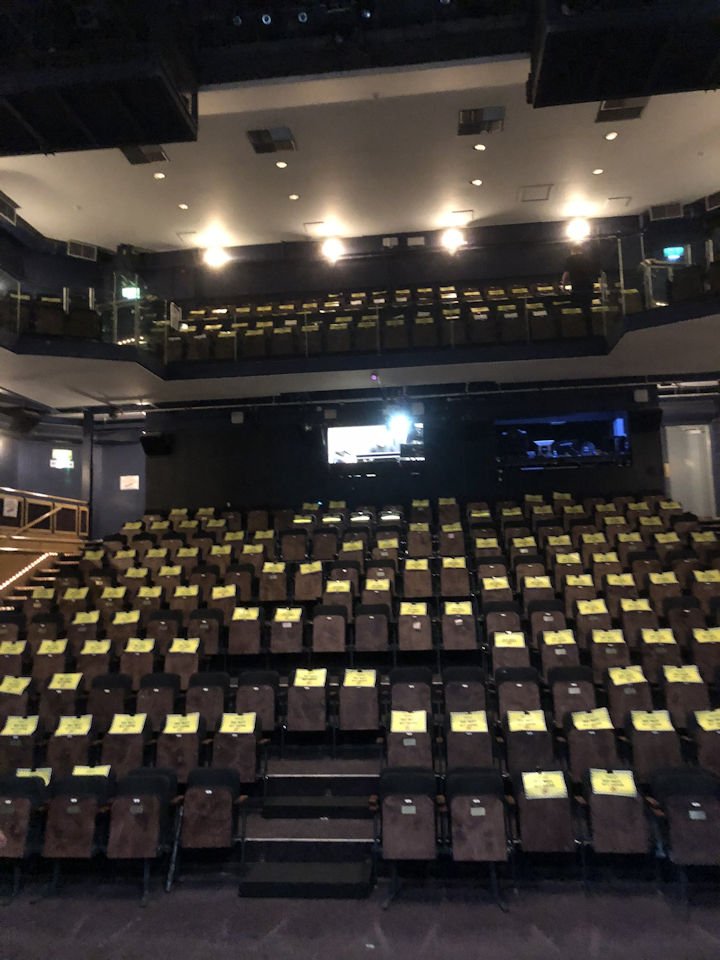 Middlesbrough Theatre is also putting on some outside performances.
Newcastle's Live Theatre has just announced its Live Wire programme of new plays which will be filmed and made available online.
Also in Newcastle, Alphabetti Theatre has three online strands to its work: Betti Recommends, a weekly updated guide to the best free arts programming online on its website, The BETTi Show, a theatre magazine programme introduced by Artistic Director Ali Pritchard, and the occasional filmed short play. The best way to keep current with what they're doing is to follow @Alphabetti on Twitter.
Theatre-based cafés/bars (in addition to Dame Bella's) which are open are at Gosforth Civic Theatre, The Exchange in North Shields, The Maltings in Berwick, Bishop Auckland Town Hall and The Witham in Barnard Castle. No 60, the cafe bar at ARC Stockton, has reopened now. Sadly McKenna's Restaurant and Bar in Northern Stage is closing because of the financial uncertainty about when the theatre will open. The Customs House has announced 27 redundancies, 9 full-time and 18 part-time.
At ARC in Stockton the cinema opens this month and certain classes will resume. Some live shows return to ARC Stockton in October and November. They are both solo spoken word shows and audience capacity will be reduced as they will be socially distanced. Both are 'Pay What You Feel.' Some classes are restarting at Dance City. There are some guided tours available at the Georgian Theatre Royal in Richmond.
There have been some personnel changes in NE theatres in August.
At the beginning of August Northern Stage announced the appointment of Natalie Ibu, currently Artistic Director and Chief Executive of tiata fahodzi, the only black-led theatre company committed solely to producing new work in the UK, as Artistic Director and Joint Chief Executive from November, replacing Lorne Campbell who left in October 2019 to become Artistic Director of National Theatre Wales.
Towards the end of August it was announced that Artistic Director Joe Douglas is to leave Live Theatre in mid-November for 'personal and family reasons,' citing the fact that that he has a young family and his close family ties are all in Scotland.
Live Theatre announced in February that they were looking to appoint a new Chief Executive to succeed Jim Beirne but when the pandemic hit and the theatre went into lockdown he agreed to stay on. Now, with lockdown easing, the search for a replacement will begin. Once that appointment is made, recruitment for the AD post will start.
For up to date details about all venues in the North East, please check their websites.
UPDATES
Unfortunately, we have just heard that Whitley Bay Playhouse's panto has been cancelled.
And only today we heard that the Customs House has announced that the 'rule of six' means it cannot continue to open the cinema and Dame Bella's. Socially-distanced performances will continue.
And we've just had confirmation from the Culture Minister that the "curfew" does not apply to theatres whose shows come down after 10, although presumably it does apply to theatre bars.
At 1pm today (23rd Sept) ATG announced that all their pantos, including Snow White at Sunderland Empire, have been postponed until 2021.
The Geordie Panto at Gateshead Stadium has just announced that it has cancelled its production of Beauty and the Beast.
Update on 10th October
Newcastle Theatre Royal will produce a panto this year under a deal brokered by Oliver Dowden, Secretary of State at the Department for Digital, Culture, Media and Sport, by which the National Lottery will fund some shows from the UK's biggest panto producer, Qdos Pantomimes. No other panto companies or theatres which produce their own shows will be supported.
Update on 17th October
There will be a panto at the Tyne Theatre and Opera House but not the one originally planned. Instead of Beauty and the Beast, a full length show running for over a month, Jack and the Beanstalk will be a 75 minute socially distanced (approx a quarter of capacity) show (no interval) running for one week, closing on Christmas Eve. Tickets for Beauty will NOT be valid for Jack.