No one alive today is responsible for the Irish Famine, and all would prefer to leave such atrocities to history and try to be tolerant in a better future – "For what's done is done and what's won is won and what's lost is lost and gone forever". But alas, we live in the shadow of those edited memories that our grandparents felt able to pass on to us. Their tales told so we could feel the truth of that knowledge cruelly won rather than have to live the full horror of the terror they felt.
My gran didn't tell me the full awfulness of living in the 1930s, that "low down dishonest decade", but she told me enough in one sentence to be grateful that I didn't have to. History is often commemorated generations after the events as the people who were there at the time don't want to talk about it for many decades, if ever. Historical ignorance is not something that should be condemned overmuch as it's often a protective instinct and none of us can ever know it all. We can't feel it or experience it, nevertheless sometimes the stench lingers. The comforting lies told in a British classroom in the 1970s were written in the 1940s by men born in the 1890s who suffered from being part of the shattered Passchendaele generation who wanted to wipe(rs) some of it away.
Thus we got an Irish History module that ended in 1913; and the last Home Rule Act was seen as Britain winning the argument and solving the "Irish Question" through the experience and tolerance of a civilising imperial overlord before those pesky continentals started the First World War and "events dear boy events" took Britannia's mighty eye off the ball.
To the surprise of all of us at Tyneside Irish Community News, Laura Trevelyan, an ex-BBC reporter and the great, great, great granddaughter of the infamous desk-murderer Charles Trevelyan, (featured recently in these pages), announced her knowledge of his murderous deeds on the BBC website last week. Ms. Trevelyan is now a professional campaigner for a slavery reparations organisation in the USA. She says that she was unaware of the morbid history of her family name until she was working in Ireland on "the Troubles", and a query was made.
Some names are so embarrassing as to be voluntarily erased; it is said that William Patrick and Bridget Hitler (nephew and niece of their filthy Uncle Adolf) moved to New York City after the war and vowed that there would be no ancestors and they would forever erase their polluted identity. Way, way down in the league table of offenders from him, but still close to the Pavelic or Franco level of deaths, we have Sir Charles Trevelyan.
Presumably following Laura's lead, the Trevelyan family has accepted their historical guilt for profiting from Caribbean slavery, and paid £100,000 to Grenada, but say that similar reparations to the Irish are not on the agenda. She says that as her ancestor Charles Trevelyan was working on official government business, any potential liability should fall on the British state. Great, great, great granddad was only obeying orders apparently. She said that she "tripped over" her own family's history as a reporter in Ireland having managed to avoid any knowledge of him at home from her family, but pleasingly reports no hostility apart from "The Fields of Athenry" being sung at her once, which many would deem punishment enough.
However, there remains the basic incredulity that the British Broadcasting Corporation would send someone with her name to cover Irish politics especially as no attempt was made to educate her in the fundamentals of the origins of the Troubles, meaning they were obviously as ignorant or uncaring as she was. Ignorance might be bliss but it can be expensive, and the stereotypical Englishman abroad with his linguistic restrictions is one thing, but the BBC with its multi-lingual World Service "calling the world from London" should be better surely? Unfortunately it's not, and a reappraisal of British history is long overdue because as Heaven 17 said "the strong are sometimes wrong, but the weak are never free", and our national strength fades as our freedom recedes.
A different history
The torture camps of Kenya in the 1950s are amongst the foulest of the deeds of the British Empire. They are made worse by the fact that they happened years after the British Liberation Army relieved the concentration camps at Belsen, Neuengamme and their various sub-camps in Germany in 1945. The Kenya Gulag system showed the same violent racist hysteria as the suppression of the Indian First Independence War, (known to my schoolteachers as the "Mutiny" in 1857, where 6,000 British died but up to 800,000 Indians were slaughtered), but Kenya was after Britain signed the Universal Declaration of Human Rights in 1948.
The conduct of the post-war Empire in Singapore, Malaya, the Andaman Islands, Kenya and half of Africa, Cyprus, the suppression and abuse of native Canadians and Australians, the killings, torture and abuse in Northern Ireland is still largely unknown but it is all ripe for historical attention in a Netflix world. The document destruction, the propaganda depictions of Victoria, Downton and the unending standing-alone misconceptions about 1940 which ignore large elements of the Tory Party's attempts to surrender to the Nazis are all attempts to pervert history which will not prevail against the rest of the world.
This diminishes the genuine heroism, solidarity and endurance of the ordinary British people who tend to get on fine with their Irish cousins and people from all over the old empire. But the message from government and media is different as ever from historical reality. Their mantra is "DARVO – Deny, Attack and Reverse Victim and Offender", exemplified by Sunday evening's BBC 1 hit show "Crimewatch 1857", (Sorry "Antiques Roadshow"), which has a never ending conveyor belt of purloined loot, and the basic BBC international lifestyle travel programme tends towards trains, cricket and cocktails at Raffles. The message presented is of a venerable Imperial family being rejected by selfish locals who preferred corrupt self-government to good government within a benign British Commonwealth. It's a bit like what Joe Biden said to the assembled naughty children of the DUP in the Northern Irish Assembly as he urged them to do the jobs they're paid for, instead of what they love doing and resisting human progress before he headed to Ballina to say those immortal words "Mayo for Sam", which is nearly as good as Jimmy Carter saying "Howay the Lads" in Newcastle in 1976.
The truth about history is that it always popularises what the powerful want you to read whatever the reality. The American- Irish Film Director, John Ford (Feeney) once had his character say "Print the legend not the truth" and our own Davy Douglass avers that "history is written by the winners, whilst the losers sing the folk songs", but singing songs doesn't change anything although it can alert us to being too indulgent to our own.
The average Irish song of derring-do rebellion usually has a traitor in the fourth verse before everyone gets hung or transported to Van Diemens Land. Anyone wanting to study corrupt government might find plenty of material with the Free State; its collaboration with Church concentration camps of the Magdelene Laundries, its shelter to Otto Skorzeny, Croatian Nazis and the ability of government leaders to retire very rich is a long way from the virtuous "The Quiet Man". But with a US President extolling Yeats and Guinness, maybe now the attention is switching to chaotic Britain, which is still just about rich enough to plunder but not powerful enough to defend itself.
With the UK's depressed economy, ingrained austerity, and three Prime Ministers and four Chancellors in a year it makes a target rich environment as its young talented medics and tradesmen are harvested by Canada and Australia, (with adverts for emigrants for Western Australia on Talk Sport), whilst we huddle in the cold at home and live on corned beef.
Appealing to love and making reparations
It brings to mind the scene in one of my favourite films, A Matter of Life and Death, where David Niven has to fight for his life and the love he has for an American woman he "met" on his stricken bombers radio before he jumps without a parachute. It features a judicial attack in the Court of Heaven by a Boston Lawyer who charges England with the crimes of the millennia. Nivens' clever defence counsel manages to turn things around by appealing to love and the basic innocence of the decent individual for the crimes of his government and society.
So may we, as British citizens appeal to the world that we've done our best; that we ourselves never tried to oppress anyone, that we boycotted apartheid products, that we voted for an ethical foreign policy and wonder what happened to make it all go so wrong, and there is the paradox. England, unlike the sectarianism of parts of Scotland, has many cities which are at the vanguard of humanity; activist anti–racist, pro LBGT, progressive and caring.
Our own great city of Newcastle has seen crowds supporting progressive causes, Garribaldi, Kossuth and many others every weekend for decades. Our brothers and sisters in the Fusiliers and DLI are known as fighters against men in other armies not killers like the Wehrmacht. Unfortunately, the real villains are in, or delegates of, Westminster. As Phil Lynnot says "Fools obey commands" and if an army moves in it's not much compensation to the occupied even if the occupiers play football with the kids.
However, we're trapped as a people until we know and own our own history better and can explain ourselves to the world because paying reparations is as futile as it is confusing. Who do we pay? How much? Who will lend us the money anyway? What is the security? Rockall? Does Priti Patel deserve anything? Or Kwasi Karteng? What about William Joyce's descendants if any?
Clumsy reparations are a lot more expensive that apologies, but ignorance is the most expensive thing of all and a willingness to listen to each other's songs and stories, hear each other's grandmothers' tales and accept that we're not always going to get on but we can still work together might get us through.
More fundamentally, your surname doesn't matter compared to your deeds, as Mary Trump shows; and your history only gives you the right to tell a story, not to claim revenge. Britain is now a small trading nation, cut off from its EU market, alienating people in its fury who wanted to forgive and forget but now are looking at us anew and wondering whether we should be allowed back into respectable international society.
All of a sudden, the debt forgiveness for Africa as implemented by Gordon Brown looks far sighted statesmanship as it de-escalated potential future demands for reparations and gave all the chance to trade and discourse in a better future as equals.
The US and the EU are watching events in Ireland and Britain will have to come out from behind the curtain with a coherent plan eventually, and then send the DUP to take their place next to a Sinn Fein First Minister, who will have attended the coronation of King Charles, televised by RTE. There is an example of compromise to be praised but it will still annoy multitudes all over these islands.
Britain is as unused to being beholden to its "other island" as an aristocratic family is to saying sorry and it's unused to anyone except its offshore tabloid overlords telling it what to do. Now our government is being tested and it doesn't have the answers so it deflects with flailing against boat people, wokeness and the anti-social politics of hatred and it won't come out of its room. That leads us to another minor Trevelyan issue.
The other Trevelyan
I don't think that she's related in any meaningful way to Charles or Laura but we have a more pressing Trevelyan problem here still. The presence in our government and influence in our region of Anne-Marie Trevelyan, MP for Berwick, and Minister of State in the Foreign Office for the Indo-Pacific does us little good when infrastructure is crumbling and sewage pollutes our environment.
I'm not privy to local Conservative Association selection protocols, and unlikely to be enlightened, but I doubt her surname was a problem for them any more than the BBC knew or cared about Laura's family heritage. No doubt the aristocratic whiff of sulphur and the fake Northumberland heritage of that name did her no harm in the ballot box either.
So, of the three Trevelyans we need to deal with, Charles Trevelyan needs to be given the due verdict of history and Wallington Hall should apologise for and publicise his crimes. Laura Trevelyan, the ex-reporter should be supported in her anti-slavery efforts and her previous family history ignorance forgiven, but I hope Anne Marie Trevelyan has to find decent alternative employment out of office soon.
We should welcome the Trevelyan apology and let's hope that any descendants of Lord Londonderry, Lord Muck, Sir Whathisname and all follow this example and recant their grotesque deeds. As for the Trevelyans; may they take their proper place in history; some damned and some saved.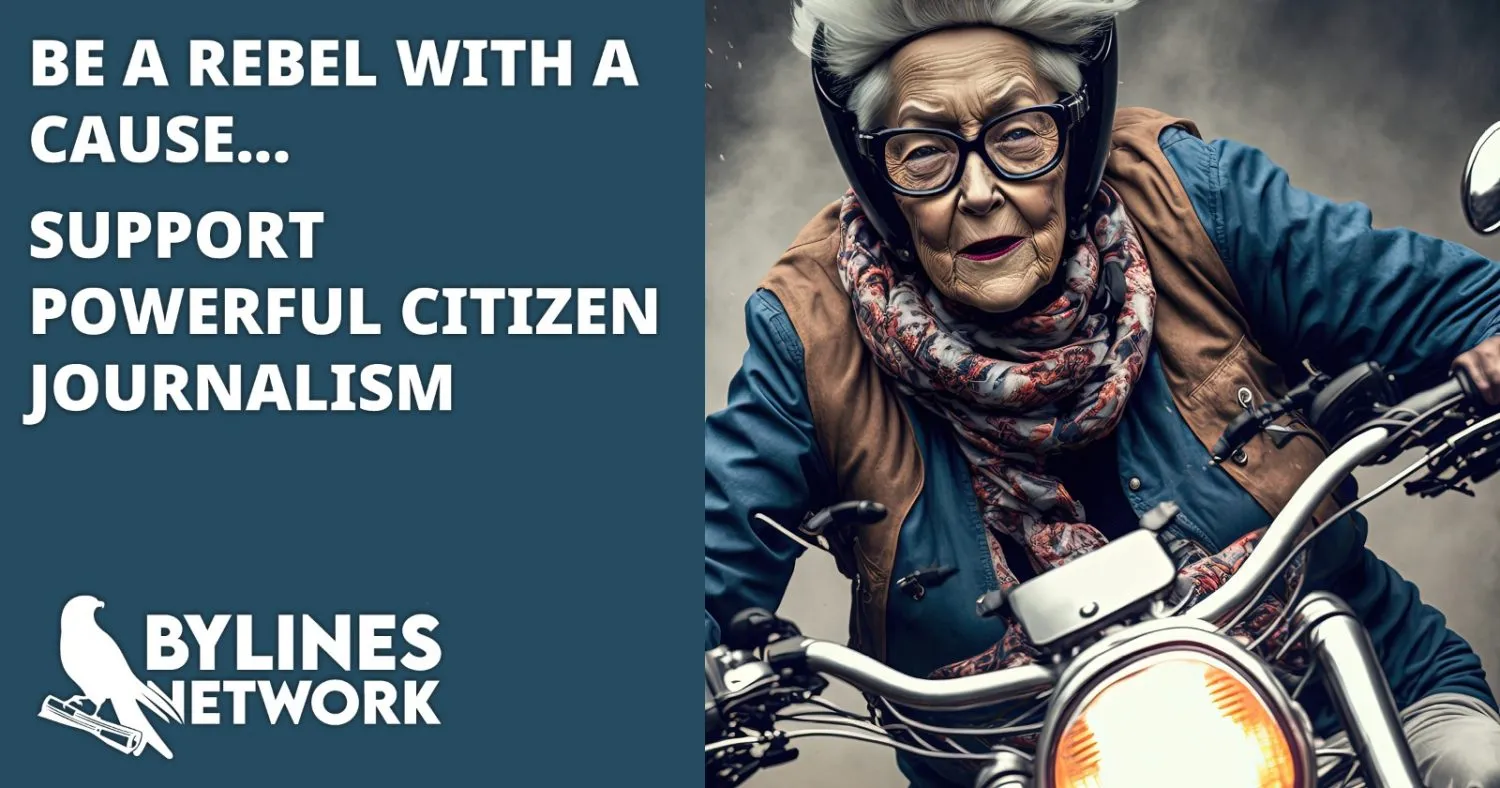 CLICK HERE TO SUPPORT THE BYLINES NETWORK CROWDFUNDER!