Local papers are great. Often you've grown up with them: the Northern Echo and Evening Gazette were part of my Teesside childhood. They were delivered to our door by the lad up the hill. I'd pore over the For Sale adverts for unattainable ponies while my parents would scour the local news and council announcements. 
The local press gives us information it would be hard to find elsewhere. Most of all there's an element of trust – we believe what they tell us.
What joy therefore that a stack of new titles – all free – have plopped onto doormats across the North East.
One such is the Darlington Champion. Next to the title is a list of good news: "INSIDE. More Police On the Beat. Extending Free Childcare. Extra Skills Investment." The front page is mostly taken up with a large photograph of local Tory MP Peter Gibson on a road. 
The new Stockton Chronicle carries a line below the title: News from Matt Vickers MP, Stockton South. It doesn't mention he's a Tory. That front page is dominated by a large photograph of Vickers in front of a demolition site. Next to the paper's title is the same list again: more police, free childcare, extra skills investment.
The Cleveland Chronicle carries a slogan underneath its title: "Your priorities are our priorities". Dominating Page One is a large photograph of Jacob Young, Tory MP for Redcar with Tory Levelling Up Secretary Michael Gove and Tory Tees Valley Mayor Ben Houchen, all in high viz jackets against a grey sky.
Next to the newspaper's name the same INSIDE list: police, childcare, skills.
There's Hartlepool Matters. The same INSIDE list next to the title. This time a big Page One photograph of local Hartlepool Tory MP Jill Mortimer, pointing at the sky in front of a "Coming Soon" banner.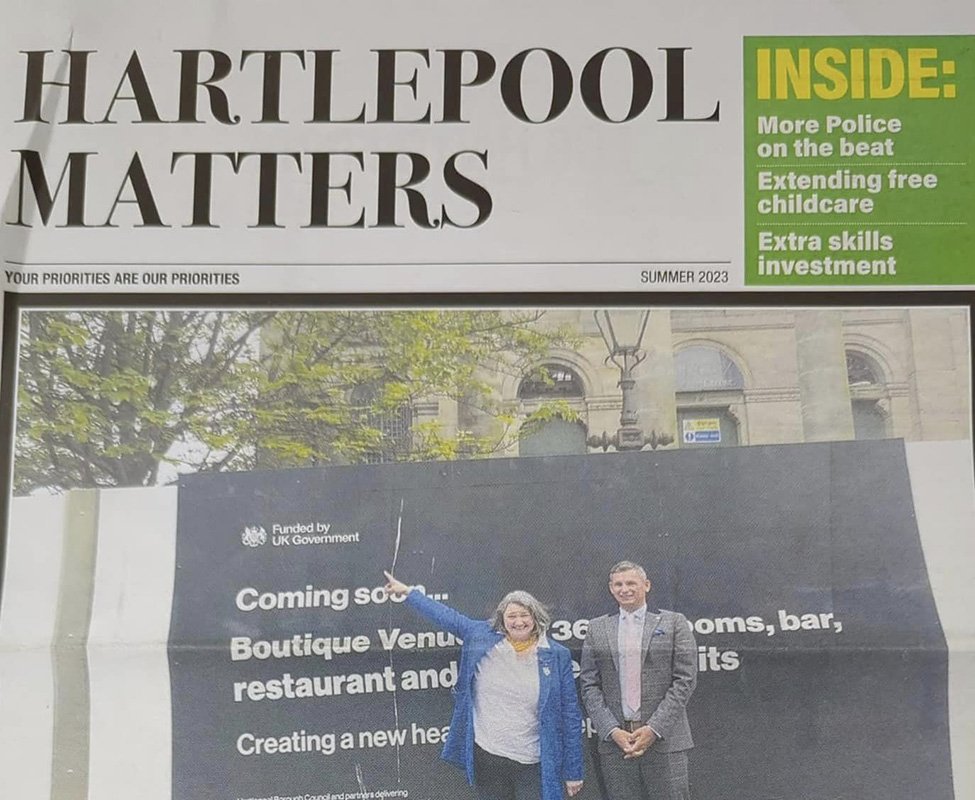 There's also the similar Aycliffe and Spennymoor Matters and the Bishop Auckland Chronicle, the latter with a photograph of local Tory MP Dehenna Davison in a fetching pink motorbike jacket.
Different good news but all have the same layout and font. It's as if they've all been designed by the same hand. 
Who are the beneficent souls who have invested so generously in the cause of local media? A tiny line at the bottom of The Cleveland Chronicle reads: "Promoted for Jacob Young by Curt Pugh." Curt Pugh (for it is he) is a Tory Councillor at Redcar and Cleveland Borough Council.
A similar line on the Darlington Champion reads: "Promoted ..by Jamie Bartch". Mr Bartch is a Tory councillor in Darlington.
In all these papers the word "Conservative" is barely mentioned.
The new crop of freebie papers isn't confined to the North East. They spread all the way down to the South Coast (Hastings & Rye Times), the South West (Cornish Chronicle) and across to Wales (Vale of Glamorgan Chronicle).
Labour's Redcar and Cleveland councillor Carl Quartermain has displayed his collection of phony front pages on Facebook – 36 so far. They have the same template with different Tory MPs in indifferent photographs.
The content is as well-balanced as a Conservative Party election campaign leaflet, because that is what they are. They are a triumph of targeted good news, Tory-style.
Charm offensive?
According to The Times, the counterfeit rags are part of PM Rishi Sunak's £1mn charm offensive in key constituencies ahead of next year's general election. CCHQ plan to slip 20,000 newspapers through the letterboxes of target voters by Christmas.
Byline Times reports that this isn't the Tories' first fake news offensive. A pseudo-publication was deployed successfully at the Uxbridge and South Ruislip by-election last month.
Nor is it illegal. According to Hold The Front Page, the Electoral Commission has confessed it cannot "control the style and presentation" of the Conservative pamphlets presented as genuine press, even when the fictitious Lincoln Chronicle lifts the title of an actual paper that closed in 2007.(3)
James Mitchinson, editor of the very real Yorkshire Post (founded in 1754), is not amused. He posted on Twitter/X:
"I would like to see this raised in the @HouseofCommons
– not only does this deceitful propaganda undermine hard-pressed local papers by conning unwitting readers, but it damages democracy by deliberately discombulating the electorate @LindsayHoyle_MP"
Conservative con or not, today's headlines are tomorrow's fish 'n' chip wrappers. Will the pro-Tory message of the artificial rags stay in the voters' minds until the General Election, expected to be held next May? Or is this alternative press campaign a sign of an earlier snap election?