Culture and ethnic identity are taken seriously, not only by Ukrainians themselves but also by heritage organisations like UNESCO under its Convention for the Safeguarding of Intangible Cultural Heritage, heritage which is passed down by generations and provides people with a sense of identity. In December 2021, a special Crimeans Tatar ornament used in both embroidery and jewellery was added to the UNESCO heritage list called the Örnek, a pattern which often feature trees and plants (A rose, symbolizes a married woman, a tulip stands for a young man).
Jewellery and accessories
Akin to the symbolism of the Vyshyvanka, beads carry with them symbolic power to protect the wearer from evil forces, disease, and harm. The Vynock (flower crown with ribbons) protects the head of the wearer, especially when herbs such as sagebrush, are woven into the flowers, oak leaves symbolized bravery and strength. Periwinkle (barvinok) flowers are the strongest symbol of immortality of the human soul, love, and feminine beauty. This accessory pays homage to mother nature herself and the land that provides crops to feed us (See Ukieology's lovely blog on the Vynok for detailed examples). Eve Conant's study, 'Beauty and opulence of Ukrainian bridal wreaths' goes into more detail and is a good read.
If a necklace broke and beads snapped and scattered, it was considered a bad omen.
Ukrainian women have worn beads down the centuries. the materials used to craft them changed.
Very early necklaces were made from seeds, shells, and berries. Various other materials include amber, which was reputed to bring health, glass, pearls, seed beads, small beads (Biser) and coral; colour in addition to the material has meaning. bright red beads symbolized health, beauty, courage, love, strength, and energy (See Ukieology).
Culture, trade, and immigration brough with them influence from the Celts, Greeks, Romans, and Scythian's Metalwork of various types from not only ancient nomadic tribes but these groups have an important influence.
The Greeks and Romans had fancy fasteners for clothes (fibula) Greeks were talented metalworkers, as were the Scythians (Asian people); animal motifs often appeared in the metalwork.
Metalwork continued to flourish from ancient times right into the Renaissance – ecclesiastical records describe Ukrainian goldsmiths as second only to the Byzantines. Furthermore, filigree was brought with all its finery and detail by the Scythians (from Asia) and the Huns. This influenced jewellery in Ukraine but also Russia, Poland and furthermore Enamel work came from the ancient Rus people.
Renaissance, Kiev and Lvivi were strong centres of creation Artistic influence came from both the West under the rule of the Polish-Lithuanian State) and East still especially via Turkey. Ukrainian jewellery became fancier at this time.
In the Renaissance, Ukrainian metal workers and goldsmiths formed a craft network (guilds) and were famous for this. In Lvivi, Ukrainians worked alongside Poles, Germans, Jews, Hungarians, Armenians, Italians, and Scotsmen. Lvivi became famous for silver belts with coins.
Elaborate techniques used included cloissone, painting enamels, casting, coinage with raised and low relief, etching, deep engraving and filigree. Jewellery became smaller and lighter.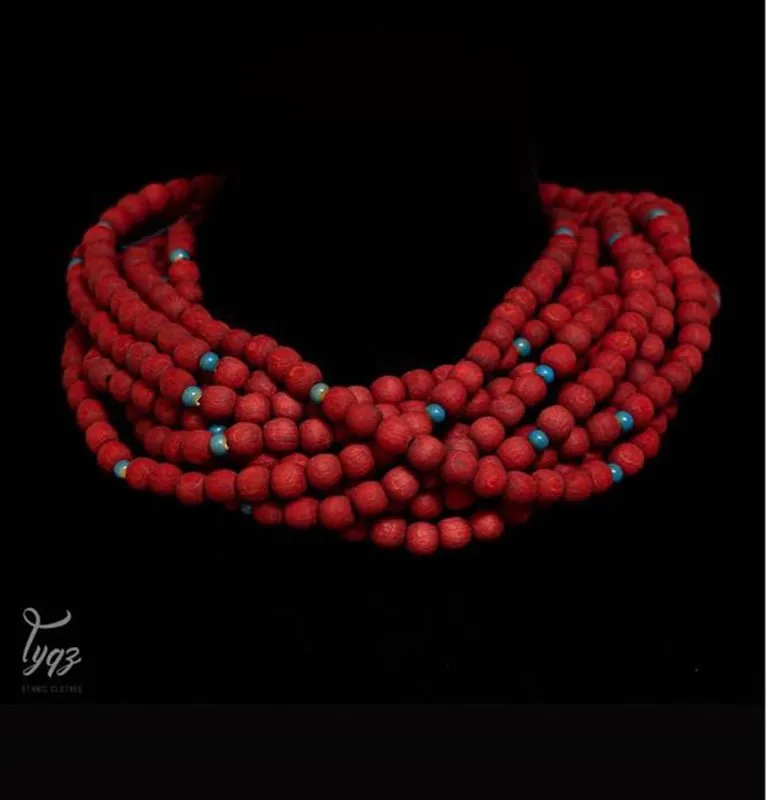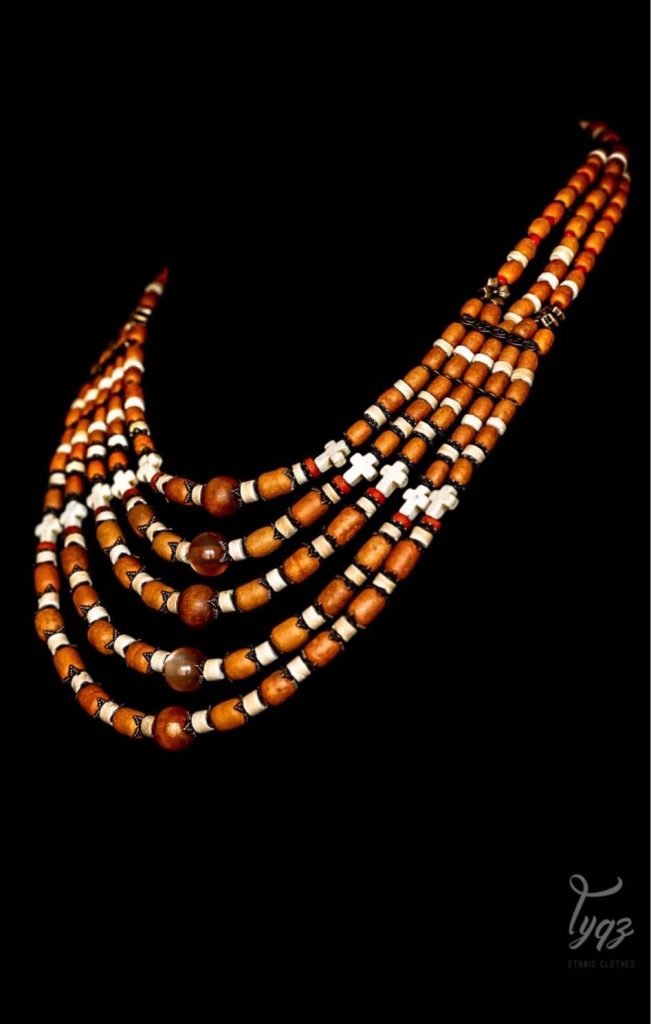 Prior to this period, the ancient Slavs created early metal pendants in the form of moons, used coins, casting metals and some enamel work); Slavic jewellery was in turn influenced by Scythian, Sarmatian, Hun, Hellenic, Celtic and Viking jewellery. The Slavs spread their own crafts up to Nordic areas, where that influenced Viking culture. The Slavic influence is still present in the metalworking, coins, and medallions. Pendants and coins with religious motif stem from Christian traditions and the crusades.
Both styles and materials stem from interconnected cultural influences and trade.
Red and orange coral was sourced from trade routes by various nations; use of coral is not unique to Ukraine. The Dutch had a passion for it in accessories as did the Italians who carved it, often into floral motifs. Belief down the centuries from the ancient Greeks onwards gave coral amuletic powers to protector against magic spells. (See Beach combing. Italians had a reputation in the 17th -19th centuries for using coral jewellery. Semi-precious gemstones were available in the Ukraine via mining.
Italian man-made materials influenced jewellery making, Handmade Murano glass beads were imported from Venice, although these were only affordable by wealthier people.
Social status historically determined not only the materials used for jewellery but its size.
The number of strings and material of a necklace projected the wealth of the lady who worse them. More modest necklaces had 2 – 3 strands of beads while wealthy women would wear 10 to 15 strands. It is said that six strands of coral beads could cost as much as a pair of oxen in historical times (Korneva)
Parallels with other ethnic trends
Curiously, some of the styles in the Ukraine and materials are quite like the beads in Zeeland and Volendam in The Netherlands, worn as part of the klederdracht (regional costume). Beads were made of glass, garnet, or coral. The fasteners were quite elaborate, some are gold, others alloy such as pinchbeck. The Zeeuws museum in Middleburg has a great collection of them.
The people of Zeeland also believed red coral necklaces would protect the wearer from evil influences.
Volendam and North Netherlands used larger coral beads with a rectangular fastening; in Zeeland, 3-5 rows of smaller coral beads were used with a fancy golden fastening.
Soviet repression
Once again, rule by the Soviet regime had its impact on jewellery making and the types of material used. Only state enterprises had the right to craft with precious metals. The "classic Soviet" design (berries, flowers, leaves) became characteristic of industrially produced patterns. Due to the shortage of specialized designers, flexibility in reacting to the needs of the consumer as well as innovation in jewellery design was greatly lacking during that era.
For many years Ukraine was deprived of the opportunity to participate in the processes of contemporary artistic jewellery creation due to the ideological prejudices of the Soviet regime, lack of contact with craftsmen in other countries, prohibition of individual artists to work with precious materials, and a lack of education in art and crafts.
Right now, the war has interrupted the creative processes of many modern jewellery designers.
Support for the resistance
Again, jewellery designers are supporting the resistance literally or financially.
Goodz donates a percentage of sales to the army from accessories and clothing.
Ukrainian brand, Guzema Fine Jewellery (Valeria Guzema) finances humanitarian aid and the army as much as she can, although the brand is forced to suspend most trading. employees left the country or are stuck in bomb shelters. Guzema created an Independence collection featuring floral and plant motifs in precious metals before the war, and now uses its social media network (Instagram, etc) to provide relevant supporting information and help for victims of the war.
Regional variations
As with trends in embroidery, there are regional variations in accessories, some feature beads, and patterns; others use medallions. Some names and descriptions:
Zgardas necklaces with crosses – The Gerdan, kryzy and sylyank are popular types in Western Ukraine featuring colourful woven patterns in strips (gerdan) or wide collars, made with seed beads sewn onto a backing cloth:
The Gerdan is thinner and longer; it consists of 2 long strips of beaded patterns sewn on cloth and is worn by both men and women. A tour of Etsy craft stores unearthed many examples of floral and geometric patterns but curiously, a gerdan featuring the image of President Zelinksi. (See Tanya Handmade jewellery.
Sylyanky or Sylyanka Collar (Pletinky) lines of bead with geometric diamonds, triangles, branching, zigzags, and curved lines to symbolise infinity (In the Carpathian Mountain region, these are sewn onto red ribbon).
Kryzy / Kryza / Lemko kryza-collars – wide round beaded collars that cover a woman's neck, chest and shoulders. There are several multicoloured collars of different length and width were worn from the neck down to the waist. 200 hours were needed to make such a collar, up to 20 cm in width. Beads in the form of a rounded lacelike collar create a vivid multi-coloured decoration over a woman's blouse).
Zhardy – metal necklaces consisting of two or three strands of red beads or metal pieces interspersed with crosses. Two discs connected the two ends behind the neck (cheprahamy), which are larger than the crosses on the necklace cheprahamy discs are often covered with solar symbols, a rosetta or concentric circles. (https://imgur.com/gallery/66pm2)
Patsyorky – large, small, and relatively expensive handmade glass beads. Craftsmen used an opaque alloy of different coloured glass – dark blue, turquoise, white, green, brown, black and red. The round beads were encrusted with gold and decorated with bright-coloured inks. (Korneva) Expensive Murano glass beads are an example of these imported from Venice ("venetsiyky")
Salba necklace consisting of a fabric embroidered with different coins, like a layered neck bib, which is very similar to Turkish, Tatar and Moldavian necklaces in this style.
Ducat – this is a form of pendant consisting of a medal-like coin with a metal bow decorated with stones, which has a central place among rows of beads at the neckline. Ducat sometimes depict images or biblical scenes.
Dukach – (Central and Eastern Ukraine, necklace with a large coin or medallion (In the Western region, zgarda – a rope of silver coins in the form of necklace is similar style)
This website has photographic examples of the various styles, Ukrainian folk jewels – vintage and stylized modern necklaces.
Discussion with Olya from Goodz
Jayne Hamilton
Goodz has very beautiful accessories Materials used vary: coral, mother of pearl, red coral. Others use brown stones, are these semi-precious stones?
There is also a mix of colours in beads. One of your pieces was a mix of green semi previous stones and pink beads. Another necklace is amethyst and rose quartz?
I noticed Murano glass beads, bracelets, crosses, medallions with religious motifs, but a massive variation of colours. These would blend in with some of the colours of your outfits.
Then there is a lovely mix of rainbow colours with a tree of life medallion in the middle on one piece. I see the evolution of Ukrainian themes in homage to nature and the earth with a very colourful twist.
Are necklaces ever made of wood too? Sometimes Dutch women who create regional costumes use wooden beads as these are lighter and cheaper
Olya at Goodz
It's so nice that you and all the world are interested in Ukrainian culture The accessories are usually made from semi-precious stones (yes, amethyst, coral, quartz, volcanic stones) and they can also be made from wood or ceramics. Also, old coins is (and was) popular.
I'll show you a few nice variants:
This is wooden (the thicker and shorter of the red necklaces with plait or twist, the orange beads)
This is ceramic – it's made like very traditional regional painting of jugs
Mostly women wore necklaces every day, and for holidays or celebrations they wear more jewellery, or more precious accessories. Accessories were an option to show social status – the more strands a necklace has, the more stones in that, the richer the family is

Also there was a popular style to wear a necklace like this – a coral base, and other necklaces over it. Like this:
(See folder necklace with underlying seed beads)
Ukraine was in a very strategic crossroads of trade routes of Asia – Europe. Also, the Greeks lived here, near the Black Sea, and they were extremely talented and clever. So, accessories were always a part of the regional story.
Also, you can check out the pictures of the Golden Pectoral from Tovsta Molyla this, if you like old and beautiful historical artifacts, an ancient Scythian treasure
Jayne Hamilton
This is very beautiful, and it has some of the air of the Czech jewellery, which in itself took some inspiration from treasures of the ancient world, such as Egyptian art and crafts, one of the art deco movements was called the Egyptian revival, Neiger being one of the exponents of that.

Olya
Also here is nice video with traditional Ukrainian dress in the 19th-20th centuries in different regions

Jayne Hamilton
Amazing costumes and the ribbons in those Vynoks are so impressive. It may well be the case that the Dutch traditional dress and jewellery got some inspiration from
contact with the trade routes and other nations. The embroidered caps are amazing with all the flowers.

Thanks again to Olya and Goodz for their comments, photographs, and references.