Vyshyvanka is an important symbol of Ukrainian culture. Traditional embroidered shirts are holiday clothes, invested with meaning by colours, shapes and patterned designs which represent aspects of life in regions of Ukraine. The skills and art have been handed down through generations by artisans.
An interview with a specialist in Vyshyvanka in Lviv
In honour of Vyshyvanka Day on 19 May 2022, I chatted to Olya Mruwka from Goodz in Lviv, Western Ukraine. Goodz is an ethnic clothing brand established by her mother Myroslava Mykhlina, a business which is currently supporting the efforts of Ukrainian resistance with 10 percent of takings from the shop. I asked Olya a few questions about trends in Vyshyvanka and modern Ukrainian ethnic clothing.
There is often a modern, innovative twist in the colourful crafted designs, but the power to protect is very much present. Goodz has a reputation in Lviv as being one of the go-to places for a well-made piece of wearable art, which is more authentic and unique than a factory produced shirt from a touristy store.
Olya explains perfectly how the shirts represent the Ukrainian identity. She greeted me: 'Hi, Jayne and thank you for your attention to our culture and us as a brand! My name is Olya, I do photography and media management for my mom's shop Goodz. The shop's name «Ґудз» (sounds like "goodz") means knot or tie in the western dialect of Ukrainian. I'll be happy to answer your questions.
The tradition of Vyshyvanka
First of all, I asked Olya about the tradition. Are Vyshyvanka pieces worn much more than for national holidays? What are the trends you have seen in your own shop over the years? Which sorts are the most popular with customers, are they flower embroidery or geometric patterns?
They are indeed worn more than for national holidays. Ukrainians have traditionally decorated holiday clothes with embroidery, putting certain meanings into patterns. For example, plant patterns often represented the "tree of life", prosperity and harvest. Also, a popular pattern was the star "alatir" which symbolizes the connection of man with space and protection from negative powers and misfortune; the cross gave protection from evil forces, and others. Colours were also important. These symbols were preserved and passed down through the generations by Ukrainians, and they have come down to us. The main goal was to preserve the traditions of the people.
Many culturologists and researchers travelled to remote regions of our country to record and photograph their embroidery traditions. The first embroidered shirts of the revived Ukraine were exclusively traditional, but since independence we have moved from preserving to expanding, rethinking and enriching this tradition. We began to combine embroidery from different regions, experimenting with patterns and colours, with the cut to adapt these for modern times. For example, if the embroidered shirt used to be a traditional holiday outfit, now you can order an embroidered coat that will perfectly match the spirit of the city and reflect your individual style. You can choose a pattern that "speaks" to you, the colour that you like best, the style that will fit your figure perfectly. This can be described as the main modern trend – individualization, personalization of embroidered shirts for everyone. This is what is currently in trend – a personal trend.
Is traditional dress for weddings still popular? Do some brides opt for western dress?
In the Soviet Union, when there was no church institution, people married in the registry office. Now almost all couples get married in churches, but the church does not have the legal authority to register a marriage, so couples still have to apply to the registry office. Therefore, weddings are often made in two separate celebrations. In one of them dressed in Ukrainian embroidered shirts, and in the other according to wedding fashions.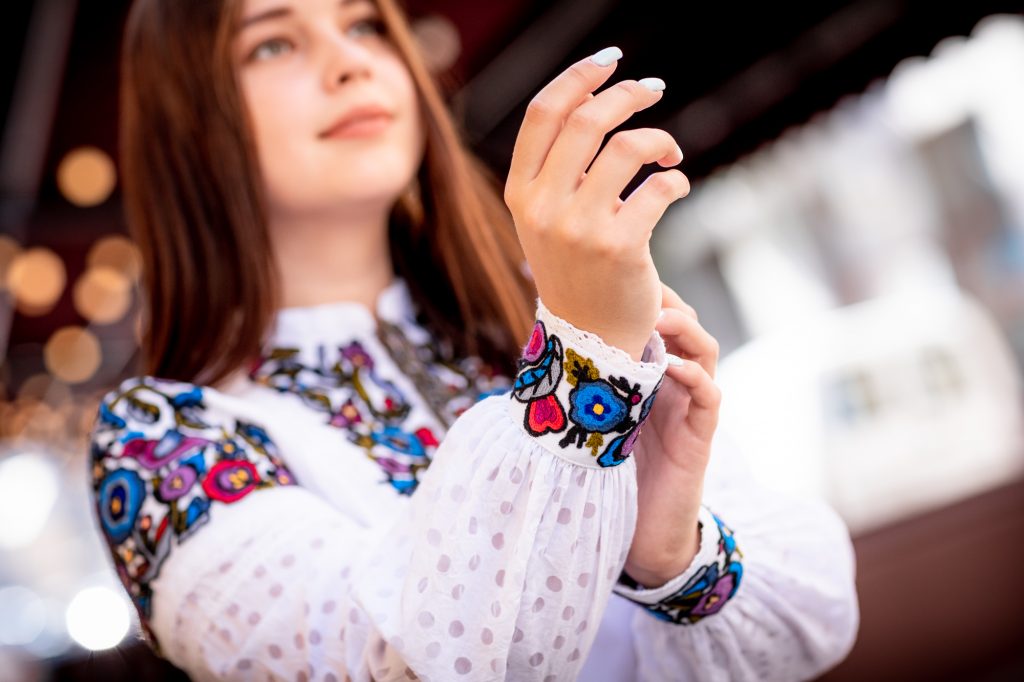 Is the felt work a traditional Ukrainian craft too?
Yes, felt work is a traditional Ukrainian craft especially in the Carpathian Mountains region.
Vyshyvanka today, and modern made-to-measure garments
Do customers visit you for individual designs like a wedding dress or do they choose colour and size for models you have created?
Most of our models are handmade pieces in a single copy made by different masters of folk embroidery. People come and choose in store as well as we accept orders for sewing made to measure. If someone likes the style that was crafted in an item – she can order the same style as is, or change everything in it from the colours to the fabric.
In modern life women probably have other jobs to do: is that tradition of learning embroidery from female relatives still alive? It can be hard to get children to put down mobile phones or engage in activities off the computer. I can understand why women are busy and might go to a dressmaker or buy an outfit from a shop instead…
Embroidery is a very careful and long process, it requires great diligence, appropriate character and great love for it. Embroidery is taught in schools, parents teach children, but only those to whom it brings peace and satisfaction can really do it. It's a kind of meditation, so as a hobby, embroidery is great. But to embroider a real embroidered shirt requires many, many hours of work. Therefore, it is easier to buy an embroidered shirt in a store and it is becoming more and more popular, as are many traditional home crafts everywhere in the modern world.
Goodz and Vyshyvanka in Lviv
How did you start off in the business of ethnic clothing? Did you learn sewing and embroidery from your mum and grandma?
My parents were modernized by the Soviet Union. So, they do embroidery, but as a hobby for themselves. They worked in factories and there were almost no holidays where you could wear traditional dress; there was no Easter celebration, or other holidays because of communism. In addition to this, the Ukrainian embroidered shirt in those years was labelled as a "rural" culture, which should be removed from society. This was the case before independence, until attitudes changed to the ancestral heritage and new thoughts emerged. For example, schools began to teach embroidery, that was interesting but only the basics were taught. Researchers and historians have begun to write about this traditional Ukrainian clothing, its beauty, its symbolism and its function as the identification code of our people, which we have preserved. Everyone saw this hidden beauty, these hidden meanings and interest in embroideries survived. For the first time people began to wear embroidered shirts for weddings and holidays not only in the villages but also in the cities. The embroidered shirt became stylish.
I'll tell you something curious: with each Russian attempt to destroy our culture, it became even more revived! The main shift in interest in embroideries was the moment when Russia sent troops to the Crimea and Donbas. People wanted to show it to themselves and to the whole world: I am Ukrainian, I wear an embroidered shirt, I love and appreciate my culture. Now it's the same. During the war in Ukraine, during the humanitarian and financial catastrophe that accompanies it, people continue to buy embroidered clothes! They gift it to themselves, to their children, even to friends and relatives abroad. Despite the fact that these are often very expensive things, as they are handmade and of delicate work, they still want to have this unique thing in their wardrobe. The embroidered shirt now has a lot of meaning in it. It's not just the traditional clothes of Ukrainians, it's a way to show the richness, diversity and sophistication of our culture through these intricate patterns, the work on clothes which can take up to several weeks.
The embroidered shirt is about the diligence of Ukrainians. It is about the cultural wealth of Ukrainians, about our style and taste. And of course, about the preservation of this rich culture. We opened our store at 2014 in Lviv, western Ukraine. We started to work with local designers, collect traditional embroidery clothes and think how we can integrate it into this modern world. I like this job, it's very interesting, beautiful and inspiring. People like our clothes, we get a lot appreciation and good compliments from all around the world, it's fascinating!
Olya thank you. You have enriched us with the story of Vyshyvanka and I have very much enjoyed our conversation.
I hope I gave answers to your questions, it was very interesting to talk to you about it. Thank you for chatting!
We would like to thank Olya and Goodz for their responses and gorgeous creations.